You can barely get through a day without hearing his voice - a radio-dominating stunner that turns teenage melodramas into generation-spanning anthems.
But for the first three songs of Khalid's New Zealand debut, it was hard to hear it.
Thanks to a blaring audio mix, an overwhelming light display, a ridiculously loud crowd, and a band intent on drowning the show's star out, the 19-year-old Georgia native could barely be heard over the cacophony at last night's Spark Arena show.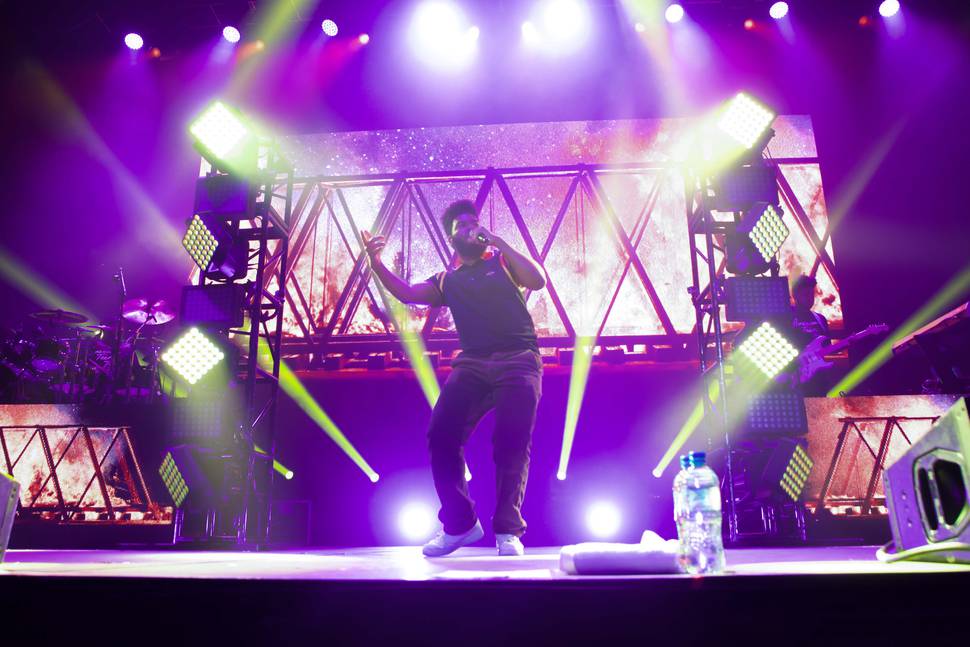 It's a crying shame because Khalid's blessed with a voice that's far older than his 19 years. It's cracked, soulful, confident and jaded, and one that's quickly and rightly become ubiquitous across pop radio this year.
Last night's show was an event too. Already upgraded after selling out the Auckland Town Hall, it was Khalid's first headlining arena show and the last night of his world tour, one that caps off a year that includes a No.1 single in Young, Dumb & Broke, a hat tip from Elton John and a support tour with Lorde.
Right now, Khalid has two songs in the top 10 of the New Zealand singles charts.
But that botched start showed that American Teen, his near-perfect debut album from March, didn't instantly translate into a great arena show.
Thankfully, after American Teen, Let's Go and Another Sad Love Song were given weird clubby makeovers, things settled down and Khalid was given a little more room to breathe. He punctuated 8Teen with that mile-wide smile of his and some perfectly-timed scissor kicks, while Saved was delivered in front of a cute slide show of intimate photos.
But it was the mid-set twin pairing of Shot Down and Coaster that really cut through. The relationship dramas came with slow motion tornado images that matched the mood of the songs, and when Khalid whispered, "F*** her," afterwards, it showed he's still quite not over the ex those songs are about.
When he followed those up with Angels, a touching ballad dedicated to a recently departed friend, it proved that Khalid really doesn't need the filler - like the confetti cannons going off during Young, Dumb & Broke - that goes with a stadium show.
It was a point proved by Location, which started by being given the sparse arrangement the start of Khalid's show desperately needed. Finally, Khalid's voice was front and centre. But by the time the last chorus came around, his band fired up, the lights started blaring and the cacophony took over again.
As that mile-wide smile of his shows, Khalid is already a star. Everyone else just needs to get out of his way so he can be given more room to shine.
Khalid
Where: Spark Arena, Auckland
When: Sunday, November 12