Sir Michael Parkinson is sitting in a back room of the Berkshire pub he co-owns with one of his three sons, reflecting on his BBC chat show glory days, when his modus operandi was to treat his male guests with reverence and female guests as potential girlfriends.
"Shirley MacLaine told me I was a male chauvinist pig, but laughed about it," sighs Parky, 82. "She always said she liked me because I flirted, but you can't do that now. You can't touch somebody, even like that," he says, brushing my hand by way of example.
"These were rich times and I indulged myself with all my fantasies," he continues in his undimmed Yorkshire vowels.
"I kissed Lauren Bacall. I wouldn't dare now. I kissed Ingrid Bergman, too. But these were times when people understood that Bergman was the loveliest woman in the world and I was quite right to want to marry her."
He chuckles, watery-blue eyes crinkling. "Now they'd think I was a dirty old perv."
Now, as always, Parkinson is unapologetically old-fashioned (he doesn't own a computer). He declines to acknowledge any connection between these touchy-feely encounters and showbusiness's general lack of respect for women, culminating in the Harvey Weinstein revelations. "What Weinstein did was reprehensible," he says.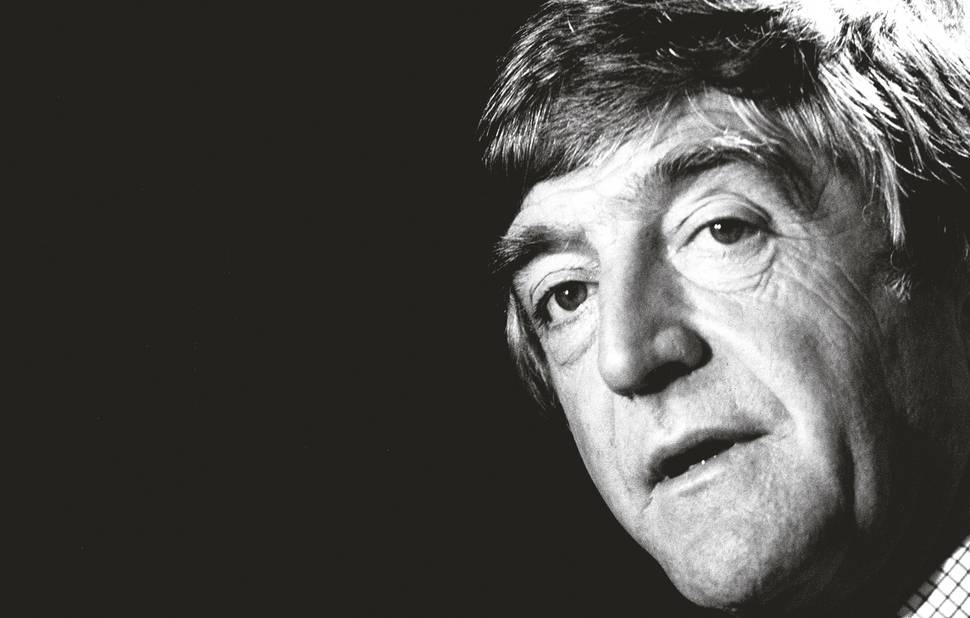 He's only mildly regretful about his notorious spat with Dame Helen Mirren that - after the clip of the 1975 episode recently resurfaced - had him branded sexist for asking the actress he introduced as "the sex queen" of the Royal Shakespeare Company if the size of her "equipment" hindered her professionally.
"That whole fuss was silly," he sighs. "You have to consider every situation according to the mood of the time, and at the time I didn't cause a ripple. We had a row but nobody considered me unduly sexist. But now some people are making out it was like World War Three."
So it was acceptable in 1975 to make disparaging remarks about guests' bosoms? "Only because she was thrusting them at me!"
Parkinson exclaims. "She walked on, carrying a rhododendron, in a very revealing outfit, which I wouldn't have minded at all but I did want an interview from her and instead she was sullen: 'Who's this pillock?'. I was not pleased with the way I handled that," he continues, pointing out he's since twice more interviewed Mirren amicably.
"I was cross and I made a mistake. Ten years later, I would not have done what I'd done, though I would not have been easy on her."
Instead, he says, he would have treated Mirren as he did the equally hostile Meg Ryan in 2003. "Then I said: 'You're not co-operating, what would you do in my situation?' She said: 'I'd close it down' and I said: 'Thank you, goodnight.' That was the way to do it."
Parkinson is as articulate as ever, but he's hollow-cheeked and walks slowly. He's in the clear from the prostate cancer he revealed four years ago, but only six weeks ago he had a back operation that left him, initially, unable to walk. "It's a rough time and it puts a big strain on your family. It's unfair on Mary [his wife of 58 years] but she's been wonderful. That's what long partnerships are about."
Still, he's refusing to slow down on the work front - "I've never missed a show and never will" - today promoting Our Kind of Music: The Great American Song Book, a collection of three CDs stuffed with classics from the 1920s to the 1950s, with artists such as Ella Fitzgerald, Tony Bennett, Frank Sinatra and the big bands performing jazz, show tunes and numbers by the likes of Cole Porter and Irving Berlin.
"The greatest-ever collection of pop songs was written in that period. It's America's national treasure," he waxes. On his former Radio 2 Sunday lunchtime show, he played them regularly.
"There's still a huge audience for them, but now the sadness is you can't find them on Radio 2, maybe at Radio 3 at two in the morning you might find a bit of jazz. I understand there are commercial reasons for doing it, but they've thrown the baby out with the bathwater."
Fings Ain't Wot They Used T'Be could be Parky's alternative theme tune. He's recently incorporated a section into his forthcoming touring show, honouring his old acquaintance Sir Bruce Forsyth. "It's the end of an era, that all-purpose family entertainment he did," he sighs. "He wasn't a dear friend but when someone comes into your house like that it feels like a familial loss."
The only current chat show host he admires is Graham Norton. "My only criticism is he'll have four Hollywood stars on his show - that's three too many. We'd have a mix - Jacob Bronowski with Ken Dodd, David Attenborough with Billy Connolly. But he handles them brilliantly."
What about James Corden, currently presenting The Late Late Show in the US? "Corden isn't a chat show host. He doesn't ask questions, he bounces around stage. That stuff he does in the car is genius but he's a comedy actor, not an interviewer."
Piers Morgan "is a very good journalist, but he's not a talk show host, though he's very good at the one-to-one [interview]."
One of the blessed postwar generation, Parky bought his house in Bray, a couple of miles from where we meet "for a song 50 years ago. I couldn't afford it now." The son of a miner, who left school with only two O-levels, he breezed into his first reporting job at 16, and in 1971 he joined the BBC.
"It was the time of cultural revolution; before that I couldn't have got a job at the BBC with my accent in a thousand years." Initially, he says, "I had a terrible inferiority complex about being surrounded by people who'd been to university, but we soon formed firm friendships and I got rid of that chip."
He snorts when I mention BBC plans to recruit more people from working-class and regional backgrounds. "That's embarrassing! None of these things should be on the table. What should matter is, are you good? I just get sick of all this categorising people nowadays. It's like putting people in clubs, I don't see the sense to it."
Returning to his native Barnsley last year, just before the Brexit referendum, Parkinson remarked he could see why his old friends were voting Leave.
"They'd been neglected terribly, they had highest rates of lung and prostate cancer in the country, the worst diet, it was unconscionable. I went to where my dad was born and the cricket ground had gone, they said: 'We haven't had it for 25 years.' I could have cried, it was awful, a Yorkshire pit village without a cricket pitch is incomprehensible.
"There've been profound changes and not for the better." He, however, voted Remain. "Leaving will be a disaster for us." He approves of Theresa May: "I think she's very bright and caring. I feel sorry for her, I cannot think of another politician who, given her brief, would actually come out triumphant."
None the less, Yorkshire loyalties mean he has never voted Tory and in the last election didn't vote at all. "I don't like to see the Labour Party in the state it's in now, mainly because it's had a kind of left-wing takeover, which is in my view a bit creepy, it's insidious."
If he ever revived his show, he'd like Jeremy Corbyn and Donald Trump on the sofa. From his facial expression, he appears to have reservations about the former, but only says: "He's done wonders for Labour and he's a very decent man. Next to Mr Trump, he's certainly the sensible one."
"I wouldn't mind the challenge of interviewing Trump," he continues. "But it wouldn't be a proper interview, you can't interview someone as barmy as that." Parky sighs again. "I've never known the world to be as uncertain and unprincipled as it is right now."