When the concept of "coulrophobia", an extreme fear of clowns, shows up in popular culture, it is often played for laughs, as seen in everything from Seinfeld to Modern Family.
What tends to go unacknowledged in these moments is that the vast majority of coulrophobia cases - fictional or otherwise - can undoubtedly be traced back to the same, decidedly non-comedic source: Stephen King's iconic 1986 horror novel It, in which a group of childhood friends is tormented by a creature of pure evil that [mostly] takes the form of a clown named Pennywise.
A well-regarded 1990 mini-series adaptation of the book helped to spread coulrophobia even further thanks to a memorably creepy performance from Tim Curry (The Rocky Horror Picture Show) as Pennywise.
The enduring legacy of the TV version has long given rise to talk of a big screen adaptation that wouldn't have to shy away from portraying the overt horror of the source material. Following a particularly long and tortuous development process that saw original co-writer/director Cary Fukunaga (True Detective) leave and be replaced by Andy Muschietti (Mama), that film has finally arrived.
Stepping into Curry's oversized clown shoes to play Pennywise in the new movie is 27-year-old Swedish actor Bill Skarsgard, brother of Alexander (True Blood, The Legend of Tarzan), and son of Stellan (Thor, Mama Mia!). Although he was born the year it was made, the younger Skarsgard is familiar with the original miniseries and the weight of Curry's legacy.
"I really appreciate his performance, but I never saw the point in doing what Tim Curry's already done because it's already been done," Skarsgard tells TimeOut in Los Angeles. "And starting to collaborate with Andy, we deliberately had a very different approach to it, a very different interpretation of it. I think that they're so different, you could be a fan of both performances I hope. I guess the closest example is superheroes or supervillains, you had a lot of different Jokers for instance, and they're great in their own ways. This kind of lends itself to that as well."
Skarsgard has been a working actor for several years now - he was seen on the big screen most recently serving Charlize Theron drinks in Atomic Blonde - but It is his most high-profile role yet. The casting was subject to more than the usual amount of fan scrutiny, but Muschietti tells TimeOut he knew Skarsgard was his Pennywise the moment he looked at his audition tape.
"There was a first, visceral reaction that is hard to explain," says Muschietti. "I saw him and I said 'Whoa whoa whoa, there's something very special here'. He has a couple of things that I'd been consciously looking for in this character, which is innocent, good-looking, cute features, but at the same time the moment that he starts performing as Pennywise, just the tiniest gesture turns the whole thing into this weird contrast of someone that is sweet and is basically transmitting a dark energy."
The look of Muschietti's Pennywise is markedly different to any creepy clowns that have come before.
"I wanted to basically paint a portrait of an ancestral incarnation," says the director. "I didn't want to be too specific with the style, but I definitely knew that I didn't want a twentieth-century clown with a baggy costume and colourful hair. That has been done and it's cool and there's a lot of people that fear that. We wanted to go for something that was more layered, even if you don't fully understand it. I think part of the creepiness of the whole thing is that you never know enough. Even Stephen King is vague about it."
So what is it that makes Pennywise so iconically scary?
"There's a lot to say about Pennywise," says Muschietti. "But the thing that probably is one of the most meaningful things to say is that he's a metaphor. He's a metaphor for everything that is wrong about leaving childhood behind. He's like the death of childhood basically."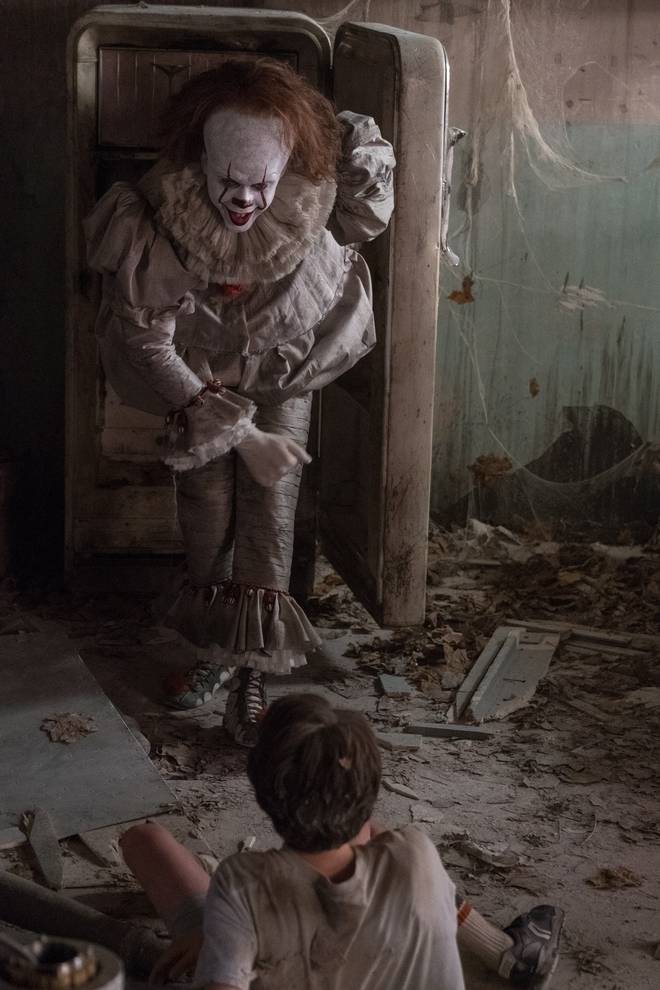 Skarsgard claims not to suffer from coulrophobia himself but says that portraying Pennywise throughout the shoot definitely got under his skin.
"For that whole three-month period, I was married to Pennywise," says Skarsgard. "You get all these ideas. For me, every character I do is a sort of relationship, it is sort of a marriage. Just like a very destructive relationship, you need to come out of it to know it was a really bad one. You're not aware of it when you're in it."
And when he did come out of it?
"I had two weeks of intense Pennywise dreams. Sometimes it was Pennywise and me. Sometimes it was me being Pennywise. The way I look back at it, it was like sort of an exorcism of Pennywise, me letting go of Pennywise, but Pennywise not wanting to be let go of."
LOWDOWN:
Who: Bill Skarsgard
What: Stephen King's It
When: In cinemas this Thursday
DID YOU KNOW...
Released 27 years after the original IT television series, the first trailer for the new IT film set a new record when it was viewed 197 million times in the first 24 hours.




Listen to our TimeOut Talks podcast below: