By Elahe Izadi
The events in Charlottesville, Virginia, and the ongoing fallout continue to dominate late-night comedy this week, where hosts have transitioned from serious monologues to telling harsh jokes about President Donald Trump's response.
Seth Meyers has been among the late-night hosts most critical of Trump, and he devoted Wednesday's A Closer Look segment to parsing Trump's reaction to violent clashes during a white supremacist rally that led to three deaths and more than a dozen injuries.
"After being pressured into reading a carefully scripted statement denouncing Nazis on Monday, President Trump has spent the rest of the week showing us who he really is - and this is exciting - a lying racist," the NBC Late Night host said.
Meyers spent 12 minutes going after Trump's delayed response, his Tuesday news conference, his tweets about the media and pushback against reporters.
On Monday, Trump denounced neo-Nazis and the Ku Klux Klan by name. But on Tuesday, he echoed his initial, Saturday response and said not all of those who participated in the rally were Nazis and white nationalists, and that they had been treated "absolutely unfairly" by the press. "You had some very bad people in that group," Trump added, "but you also had people that were very fine people, on both sides."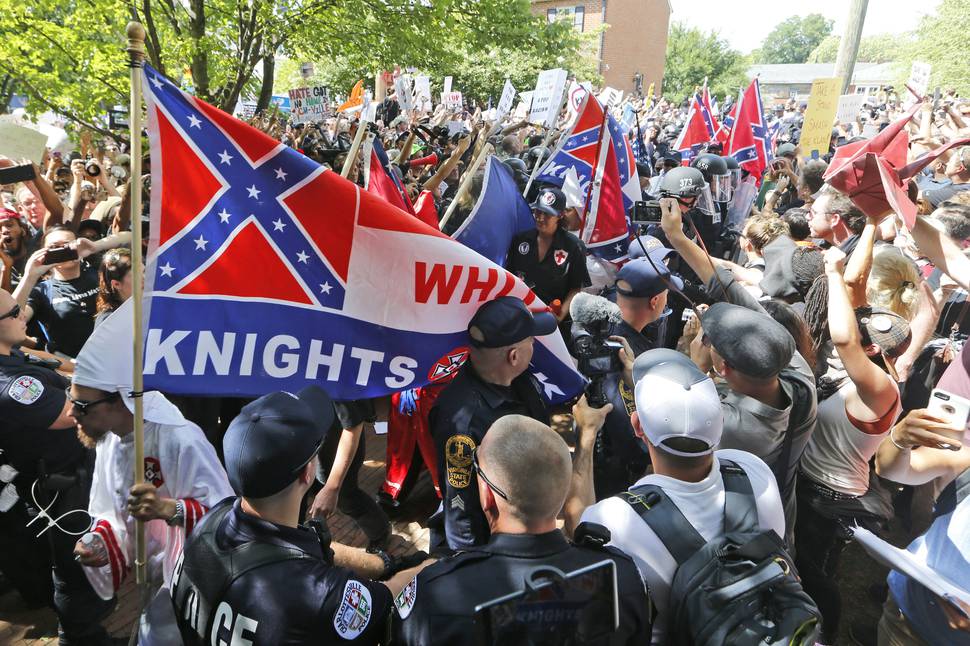 "No," Meyers said. "There are no 'fine people' marching with Nazis and white supremacists. No one gets accidentally caught up in a white supremacist rally. It just doesn't happen - except for that one time on Seinfeld. And I would argue even George Costanza isn't a very fine person."
Here's a rundown of Meyers's other jokes:
Trump said that "the statement I made on Saturday, the first statement, was a fine statement. . . In fact, everybody said, 'His statement was beautiful.' . . . And honestly, if the press were not fake and were honest, the press would have said what I said was very nice."
Meyers added: "Look at how fragile this man's ego is: He literally wants the TV to tell him, 'Breaking news: What Donny said was very nice. He is good boy.'"
Meyers said that "Trump tried to claim, of all people, he waited because he likes to exercise restraint," and then played a clip of Trump saying he didn't respond immediately to the events in Charlottesville because "I wanted to make sure, unlike most politicians, that what I said was correct - not make a quick statement."
"It's weird," Meyers said, "because that statement isn't correct."
Trump told a CNN reporter that while "it doesn't bother me at all" to be asked questions, "I like real news, not fake news. You're fake news." An exasperated Meyers responded: "Oh my God, fake news again?! Get a new comeback. Stop trying to make fetch happen."
Meyers then looked to Trump's tweets on Tuesday - which included retweeting an image of a "Trump train" smashing into a person covered by the CNN logo - saying they showed the president's true self. Aides told reporters the tweet was accidentally posted, and it was deleted as soon as it was noticed.
"As soon as it was noticed?" Meyers asked. "It's the president's Twitter feed. He has 36 million followers - or if you ask him, 300 million followers."