By Paul Thompson.
She is the action girl who has captured the heart of Superman star Henry Cavill.
Stunt woman Lucy Cork and the 34-year-old actor went public with their romance for the first time with a trip to the Wimbledon Men's tennis final according to DailyMail.
It was a rare sighting for the couple who met on the set of the latest 'Mission: Impossible' blockbuster where 25-year-old Cork is the stunt double for actress Rebecca Ferguson.
Stepping into the limelight is something Cork will have to get used to as friends and training partners predict she will soon achieve her ambition of becoming one of the film industry's top stunt women.
'She is still young but by the time she gets to her athletic prime, she is going to be a star,' says her personal trainer Harry Cloudfoot.
Another trainer, who has worked with the 25 year old, told MailOnline: 'She has only been a stunt woman for a few years and is already very well respected. She wants to be the best, and given how hard she trains and works she will reach the top.'
Cork has already appeared alongside Hollywood superstar Tom Cruise in 'Mission: Impossible 5' as well as 'The Mummy' and Jack Reacher.
In the latest film, currently being made on location in New Zealand, Cork stands in for Swedish actress Ferguson during her action scenes, often with Cruise's character Ethan Hunt.
Jersey born Cavill, best known for his role as superhero Superman, plays an as yet unspecified role in the sixth installment of the film franchise.
Cork and Cavill struck up a close friendship during filming, set insiders told the Page Six gossip column.
A source said: 'Their relationship is the talk of the 'Mission: Impossible 6' film set. When Lucy is around, Henry goes so weak at the knees it's like Superman has had a dose of Kryptonite. She is super excited to be getting close and personal to Superman. She jokes she's Lois Lane, the superhero's fictional lover.'
The couple had been planning to go public with the romance at the premiere of the movie 'Justice League' in November where Cavill reprises his role of the Superman.
But after details of the romance leaked out the pair decided to go public at Wimbledon.
Cork, from Cobham, Surrey, has a list of fight skills that are more than a match for those of the fictional character played by her boyfriend.
As well as being proficient in sword and knife fighting, she has also mastered kickboxing, Muay Thai, scuba diving and high diving.
Personal trainer Harry Proudfoot worked with her for 18 months to improve her ninja moves and help her learn jiu jitsu.
He said: She is very polite, very charming, very good looking, she is just a very talented, natural mover.
'Her brain works in such a way, it understands movement, the body expresses better than any other movement 'From what I can gather it is raw talent.'

Proudfoot worked with Cork at the Locker 27 gym in Weybridge, Surrey.
It is close to Shepperton film studios and popular with others in the stunt world. He said: 'She is always out there training on her own. If if no one else wants to train. She is a machine. Her work ethic is incredible.
'She realises talent isn't enough on its own. She's very driven. She's determined to get to the top.
'In three or four years if she keeps going the way she is going she will be at the top of the stunt game.'
Proudfoot said that while Cork is dedicated to her career she knows how to enjoy herself but is careful to stay in shape.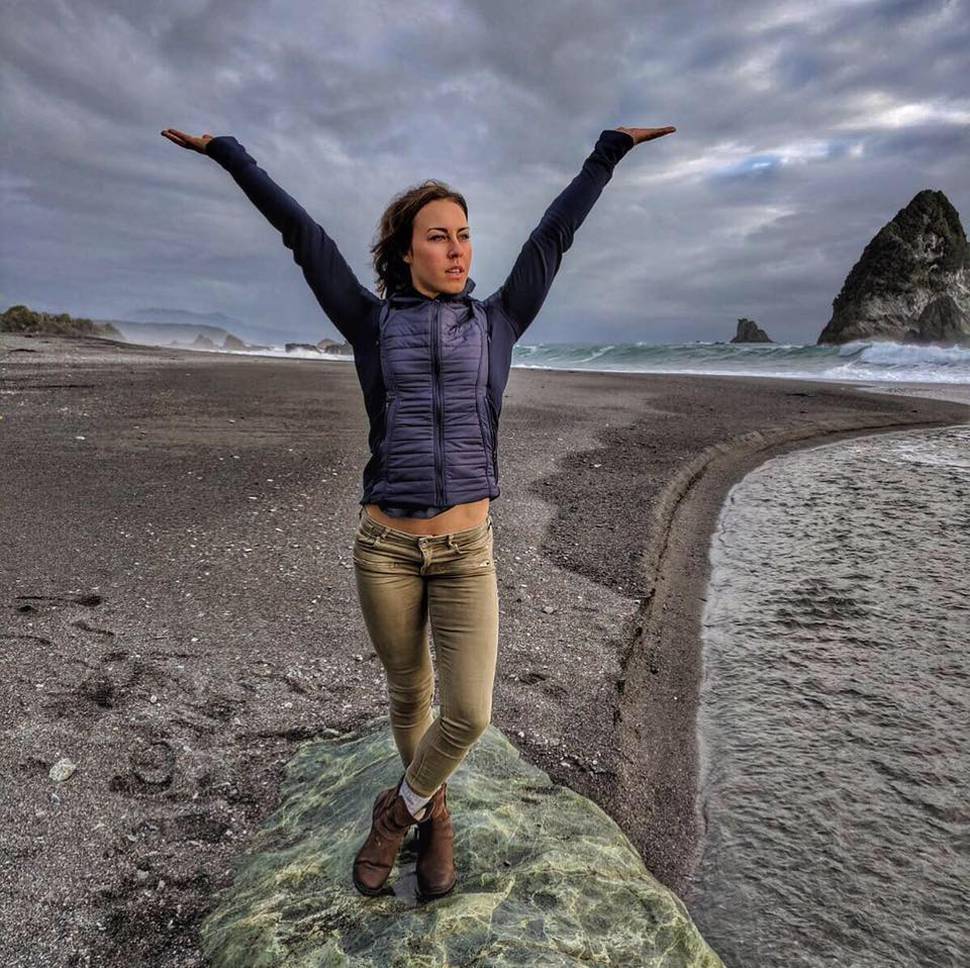 'Lucy's into yoga, she is clean living, hardly ever drinks and eats healthily,' he said. 'She won't go out drinking and have heavy weekends.'
Proudfoot, who first met Cork at a gymnastic class in Woking, Surrey, added: 'There is no such thing as a day off.'
Friends say Cork always showed 'natural athletic ability' and at the age of 17 took up competitive aerial pole dancing which combines dancing with gymnastics.