After two months of watching the bozos on Married At First Sight try and make their scientifically arranged marriages work, the time has come for the couples to reveal their ultimate decisions.
And, in perhaps one of the most touching displays of friendship, two separate friends attempt to undiplomatically derail two separate marriages at the twelfth hour.
On Monday night - among an onslaught of repurposed footage from the past eight weeks - we watch Andy and Vanessa and Simon and Alene move out of the luxury Sydney apartments they've been residing in throughout the experiment and return to their regular lives.
There's no communication in the next week - and the next time they see each other will be to deliver their verdict.
"This is a commitment for life," show expert Trisha tells us in what is such a dramatic overstatement it's basically a lie.
Watching these people return to the regular lives they lived as unhappy singles is an incredibly sad thing to witness.
Here's Simon in rural Queensland on his futon watching Two And A Half Men alone.
Meanwhile, in Sydney, Alene's psychic bridesmaid Amanda is trying to derail her best friend's marriage.
If you recall, Amanda didn't encourage this union from the get go. And, I have to say, her final effort to instil doubt in her best friend with aggressive questioning and her mild psychic ability is admirable.
"Whether or not he has what it takes to make it work - I am doubtful," she informs Alene after tossing some broad judgments around.
"Whether he's swept her off her feet? Nah, I don't think Simon has," Amanda tells us, impressed with her own attempts.
But Amanda and her tarot cards do little to sway Alene's final decision. She's in love with Simon and her decision comes as no surprise.
"I want to stay with you and keep our relationship going further into the future," she tells him in the middle of some kind of rainforest.
We knew this decision was coming - but Simon's verdict could swing either way. He clearly loves Alene but he's got a lot of other issues he needs to work through.
But it seems his gal pal with the statement eyewear and the gauge-two-on-the-sides-bit-of-length-on-the-top haircut has convinced him to stay with Alene.
"I know we come from different worlds, different lifestyles, different background. And I'm not going to lie I had no idea why we were even matched at the start," he tells her.
She gets nervous and he looks all serious like he may dump her.
"I've now grown to truly care for you and I can't imagine going back to my old life the way that it was," he says.
"Alene you're the best wife I could've asked for and with all my heart I hope to continue this relationship with you well into the future."
During his week off, Andy turns to his mother and father.
When they arrive at his place, they all introduce themselves to each other as if they've never met before.
The only people who are more vague and softly spoken than Andy are his parents.
Instructed by the producers to act natural, his mum fills in the silences with sporadic observations and "mmm" sounds.
"Mmmmm beautiful cups mmmm," she whispers, taking a sip of tea.
In a rare moment, Andy talks, telling his parents his lack of verbal skills may be a deal-breaker for Vanessa.
Serving up some unexpected sass, Andy's mum whispers: "It's possibly because you couldn't get a word in," taking a not-so-discreet swipe at Vanessa never shutting up.
And then she takes a sip out of her beautiful cup like she's the Kermit meme.
In a wise move, Andy decides to get a second opinion away from his parents.
We've all got one of those friends who gets drunk with authority when you ask their opinion and each time you make a mental note never to include them in any of your life choices ever again. For Andy, Tommo is that friend.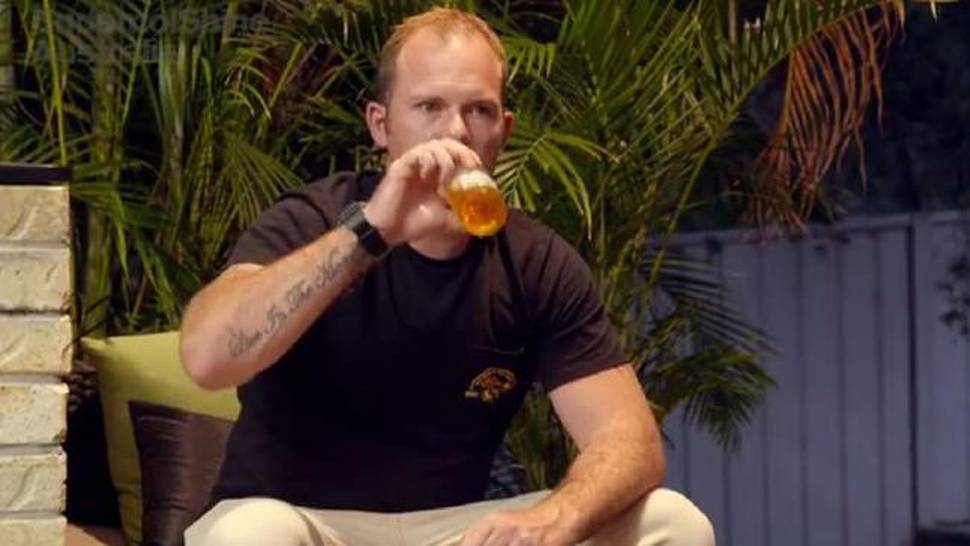 In a poorly-articulated question, Tommo basically asks Andy if he thinks things will fizzle out in the relationship once the excitement of the experiment wears off.
Andy doesn't really reply - but that's just because he doesn't talk in general. All of a sudden, this silence pushes Tommo over the edge and he turns into Leigh Sales.
"I ask the hard hitting questions here mate, so answer it," he says.
As Andy regrets including Tommo in the conversation, Tommo gets on a roll with his feelings about Vanessa and now his mission to derail his friend's marriage is full-steam ahead.
"She'd talk under water!" he throws out there.
"I don't think opposites attract," he booms.
"Sounds like a bullsh*t f*ckin' excuse, mate," he diplomatically offers about Vanessa's preference for someone who talks.
Andy still has nothing to say.
On the big day, Andy arrives at the beachside ceremony first and stands under the harsh sunlight in a linen suit. I imagine there's some major butt sweat going on.
When Vanessa arrives, her Uber inconveniently pulls up down the furthest end of the beach, and we have to watch her trudge from the carpark, through the sand dunes and up to the ceremony in real time.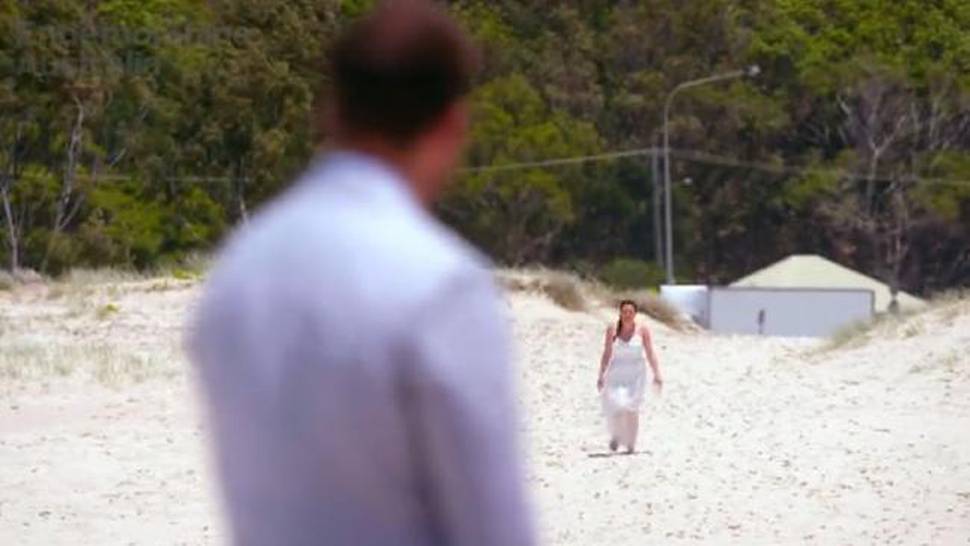 We know Andy will stay, and - in no surprise - he does. He even talks.
Vanessa keeps talking about "introverts" and "extroverts" until both words lose their meanings and then tense music begins to play and Andy gets scared of what's about to come.
She starts saying things like "it is my deepest concern we won't be able to offer each other what we need".
Things are finally about to get interesting. I screengrab this shot of Andy looking heartbroken and begin workshopping a headline along the lines of "tragic moment groom was dumped".
But then Vanessa takes a turn.
"However, I would like to stay in this relationship beyond the experiment," she says.
Vanessa and Andy have not featured prominently in these recaps in the past two months, and it's because of behaviour like this. If she did decide to dump Andy in his linen suit on the beach - and then trudge all the way back through the sand to her Uber - her storyline would've been far more interesting and this whole story could've been about her.
"I'm excited to see what happens with us," Vanessa laughs.
I wish I could say the same thing.