They're synonymous with the X-Men film series.
And Sir Patrick Stewart, 76, and Hugh Jackman, 48, shared a touching moment at a recent screening of their final film in the 10-movie franchise, Logan.
Speaking to Sirius XM, alongside Jackman and director James Mangold, Stewart explained: 'A week ago, Friday night in Berlin, the three of us sat, watching the movie.
'And I was so moved by it, much more moved than I had been the first time of seeing it.'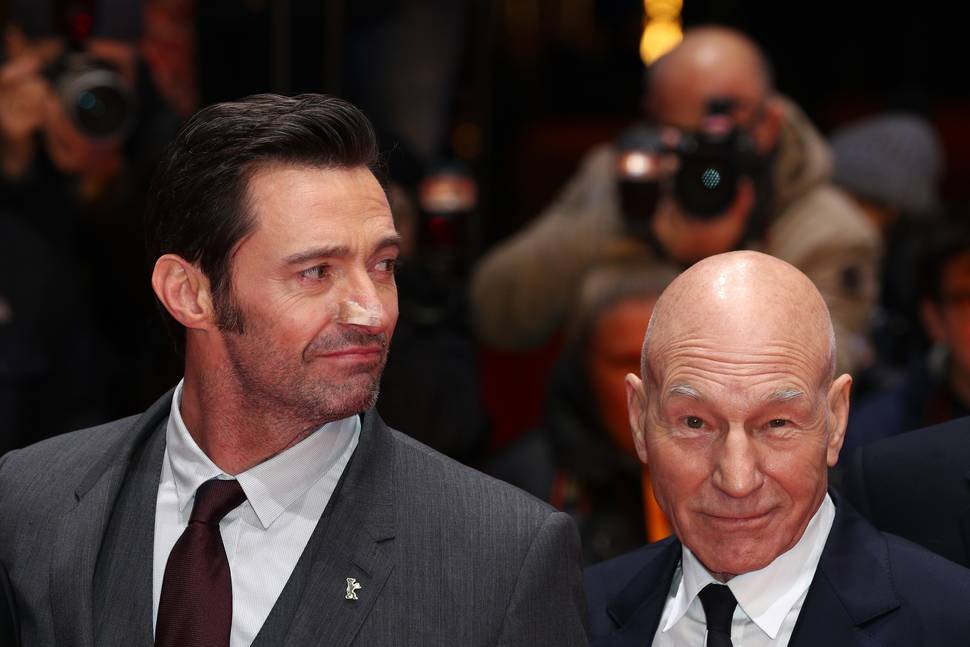 'Maybe it was the company of these two guys, but the movie ended and - this is an admission - but at one point [Hugh] reached out, and he took my hand in those last few minutes, and I saw him go [mimes wiping a tear from his eye] like this, and then I realized I had just done the same thing. Then, the movie ended... and we were going to be taken up on stage, but not until the credits were over.'
'So, we had some time to sit there and, as I sat there I realized there will never be a better, a more perfect, a more sensitive, emotional, and beautiful way of saying au revoir to Charles Xavier than this movie. So, I told [Hugh] that same evening, 'I'm done too. It's all over.'
Meanwhile, Sir Patrick left the film's crew jealous when his wheelchair-bound character was carried around the set by Jackman.
He told USA Today: 'There were numerous envious glances in my direction by certain members of the crew.'
'I think that is one thing I shall have on my CV in the future - a Knight of the Realm and also the distinction of being carried in the arms of Hugh Jackman all around the Deep South of the United States. I look on it as a significant distinction.'
And Patrick praised Hugh's strength as the star lugged him around the film set.
He said: 'There was one moment where he had to pick me up off the floor and all of this is done in one shot. And I am glad to assure you, and the world at large, that I was never ever in any peril. Even when he was carrying me quickly up and down deep flights of stairs.'