There's a new type of zombie in town on The Walking Dead and it just might be the coolest thing we've seen in the show.
In the latest episode of AMC's zombie drama, the show's heroes met with a new group of survivors and tried to form an alliance, but before they could strike a deal, the team's leader Rick Grimes had to prove himself in a gladiator-type fight with a zombie.
Wearing a spiked helmet and covered in razor sharp spikes, it looked like something out of Mad Max if it came from the mind of Guillermo Del Toro.
Oh, and its name is Winslow.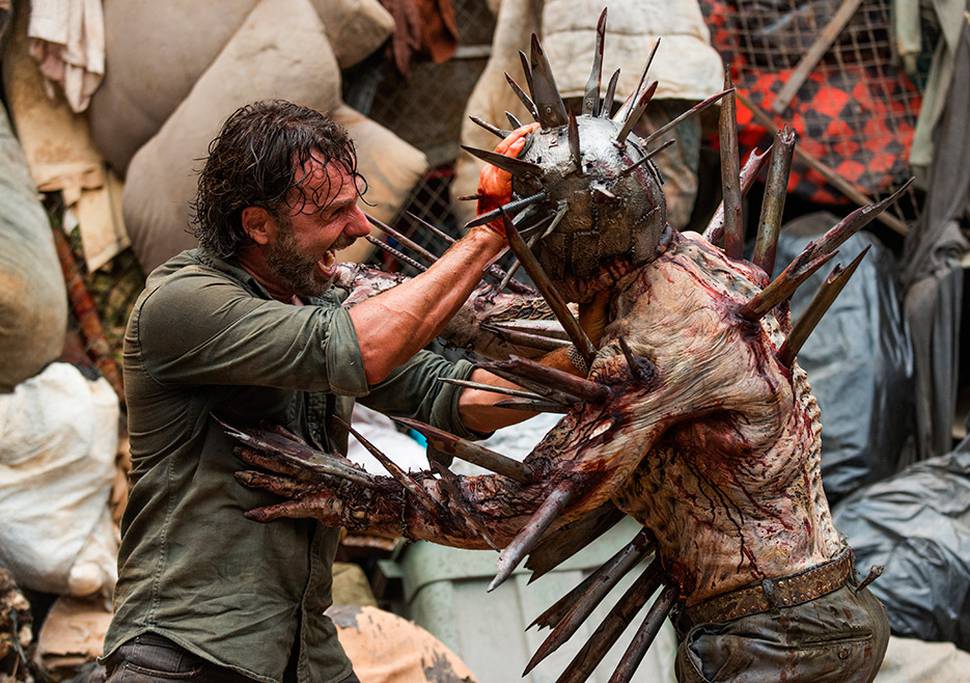 For the last few seasons, the zombies in The Walking Dead have been more of a hassle than a threat, moving slowly and behaving predictably - but Winslow changed everything.
He was made by Greg Nicotero and his special effects makeup team - including Gino Crognale, who also ended up playing Winslow.
In the scene, Rick had his hand impaled trying to push Winslow away and cut his leg trying to kick him until he was eventually able to use the surrounding garbage to bury him.
While Rick - eventually - came out on top, it would be a shame if this was the last we saw of this kind of zombie.
According to Comicbook.com, Pollyanna McIntosh hinted that this isn't the last we've heard of Winslow, saying she knows "who he is" and "who he was" but didn't want to ruin anything for the fans so wouldn't say anything more.
That said, with the season building up to our heroes' inevitable face-off with Negan and the Saviours, an army of Winslows is looking like an excellent idea.
Especially as the fans are completely on board with the new kind of creature:
*The Walking Dead airs at 9.45pm, Monday on TVNZ 2