A lifelong Bruce Springsteen fan says he "couldn't stop laughing" when his daughter was invited on stage to perform with the American rocker.
Chris Dockrill was at Springsteen's Christchurch concert on Tuesday night, the 10th time he has seen his idol live, together with wife Kerryn Larwood and their two daughters Chelsey Larwood, 18, and Hayley Dockrill, 11.
It was a sign about US President Donald Trump and drumming which Hayley was holding, that caught the singing legend's attention early in the show.
Later, during The Boss' classic Dancing in the Dark, he invited the Kaiapoi North schoolgirl up on stage to drum alongside a boy also picked out of the audience.
The pair had a drumstick each and played in time with drummer Max Weinberg, after which the drumsticks were autographed.
Dockrill said his daughter had never played the drums in her life but she was given the sign before the concert, by overseas fans they met while queuing for their front row spot on Saturday night.
"Bruce came along and he just pointed the finger at her so I lifted her over the security barrier and she ran up to the drum kit and started drumming away.
"It was perfectly in tune but I don't know how she did it because we don't have any musical ability."
Dockrill said Hayley was so excited by getting up on stage she was "absolutely shaking like a wet dog" when she returned to her family.
"I said 'How was that?' and she just turned around and she said 'Dad that was huge'."
He said he "never expected that in my wildest dreams".
"I couldn't stop laughing, it was the funniest thing ever.
"Bruce is my absolute idol and as soon as I get home from work every day on goes a live concert of Bruce from somewhere."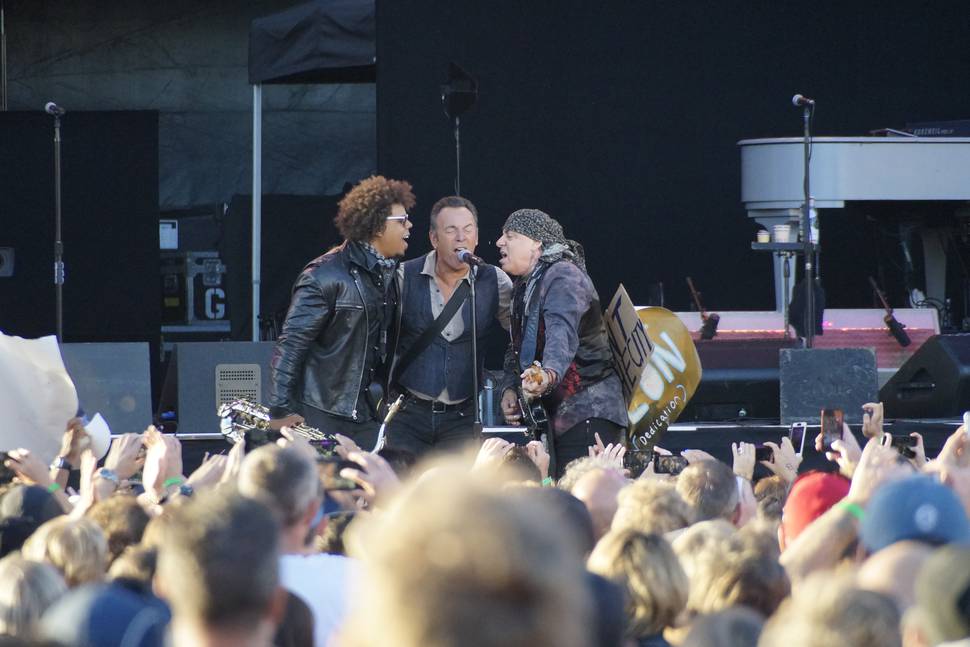 The 49-year-old baker has followed Springsteen since 1979 and said his daughters' knew the music well.
Tuesday's concert was also a first ever for his wife.
Hayley was still "buzzing" from the experience and took Wednesday off school, Dockrill said.
"It's something that she'll never forget. It's just an absolute bonus for us."
Inviting audience members on stage has become a recurring trend for Springsteen who catapulted Courteney Cox to fame in 1984 when he invited the then model up on stage during the filming of a music video for Dancing in the Dark.
The singer made global headlines last week when he invited an Australian teen on stage. Nathan Testa got to perform Growin' Up with his idol after skipping school, and the Brisbane teen has since become an internet sensation.
It comes a few years after Springsteen invited an 11-year-old on stage at his last Brisbane concert.
At his Christchurch concert, Springsteen played My City of Ruins as a tribute to the city and the victims of the earthquake and recent Port Hill fires.
Dockrill, who said there were 60 potholes in his street which had not been repaired for six years, said the songs brought tears to his eyes.
He plays Auckland's Mt Smart Stadium this Saturday, with the show kicking off at 4.30pm.