Kim Kardashian's chauffeur was among the 17 arrested in connection with her armed robbery in Paris.
The heist, worth around £8.5 million (NZ$15m), was France's biggest jewellery theft involving a private citizen in more than two decades.
The development appears to give weight to theories the brutal crime was an inside job and the gang knew exactly where she would be at any time.
The 27-year-old driver worked for an upmarket firm that was used by the Kardashian family whenever they were in Paris.
Police have confirmed the limousine driver would have known all her movements.
Pierre B - the alleged ringleader - was arrested after officers broke down the gate of his villa in Plascassier, a village near Grasse, in the south of France.
The accused men, aged mostly between 50 and 72, are suspected of stealing jewels and valuables worth £8.5m from Kardashian during Paris fashion week.
Barrister Jean Veil said his 36-year-old client had been left deeply traumatised after being bound, gagged and threatened with death in the French capital last October.
The robbers made off with her 20-carat Lorraine Schwartz engagement ring worth £3.5 and a case of jewelry with a value of £5.24m.
The reality TV star had a gun pointed at her and had her hands and feet bound with cable ties and was left in the bath after masked men with police badges on their jackets burst into her room at a hotel in the city's exclusive 8th arrondissement.
She was alone because her bodyguard, Pascal Duvier, was out at a nightclub with her sisters.
But three months since the heist, the gang - including a 'major thug' in his 70s - are thought to have been rounded up.
"I welcome this with great satisfaction," said Veil, who said he was due to discuss details of the raids with Kardashian when she woke up in Los Angeles today.
"These arrests are a nice surprise because on the one hand, it will perhaps make it possible to find the jewellery," said Veil.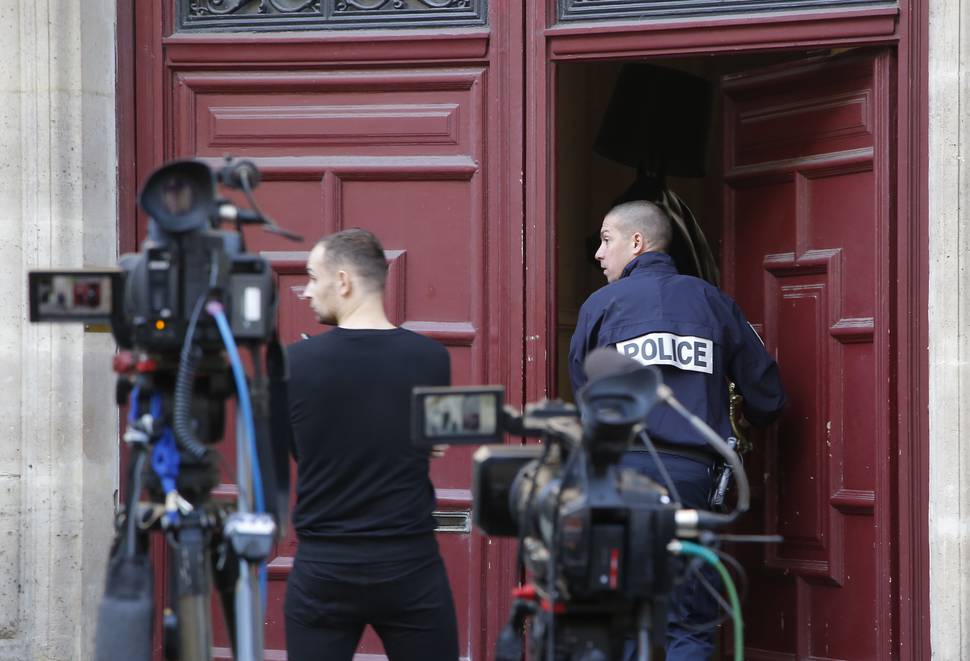 "On the other hand, it puts an end to the outrageous speculation by some, who thought it was intelligent to pretend that this robbery was staged, or a publicity stunt organised by Ms Kardashian."
Veil indicated that Kardashian would look forward "putting her nose up" at those who had doubted her word.
During recent conversations, Veil said Kardashian "still showed some form of anxiety. I think she was recently shocked and had the opportunity to say so on television.
"The money she lost during this robbery is not the only issue. Even though my client was not injured, this assault was very brutal and traumatic. Imagine yourself alone, at night, in front of armed people."
Kardashian feared "they're going to shoot me in the back," according to a Keeping up with the Kardashians trailer, adding: "There's no way out. It makes me so upset to think about it."
Today it also emerged that French police have failed to call on the key witness in the case - because the authorities will not grant him a temporary visa to enter France.