In what was one of the most bland ceremonies in Golden Globes history, the most surprising moment of this year's show came when the incredibly dreamy Brad Pitt made an unexpected appearance as a presenter.
It's the first time the actor has appeared at a major event since his highly-publicised split from Angelina Jolie.
If you've recently split from your partner and have a major televised awards show honouring the year's best work in television and film to attend, you want to be giving off the same vibes Brad Pitt was giving at Sunday night's ceremony.
As soon as the 53-year-old walked out on stage, the star-studded crowd visibly perked up as they pieced all this information together: Brad Pitt, total babe, currently tangled in a ferocious divorce with Angelina Jolie, first major appearance.
Pitt's pal Matt Damon enthusiastically led the cheers from the crowd.
While the actor dutifully delivered his part - reading the scripted introduction to a clip for Best Motion Picture Drama winner Moonlight - it was clear he knew what everyone in the audience and at home was thinking.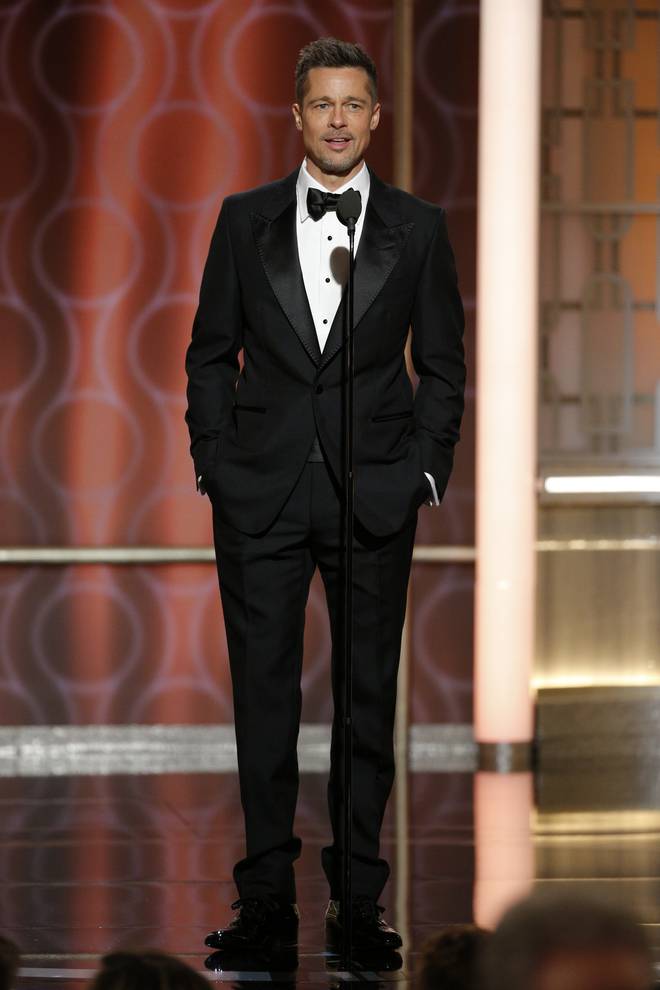 Pitt's appearance was one of only a few small moments that piqued the audience's interest during the three-hour long ceremony.
Host Jimmy Fallon failed to impress with his opening monologue, which was overshadowed by a technical glitch just a few seconds after hitting the stage.
Following a star-studded prerecorded musical number that parodied awards favourite La La Land, the host walked onto the stage in Los Angeles ready to gibe some of Hollywood's biggest stars, but things didn't go to plan.
"Already the teleprompter is down, so this a great way to start the show," he told the audience.
"I could do, uh, impressions. What do we do here? I could think of something. Cut to Justin Timberlake, please. Just wink at me or something."
While it wasn't clear at first whether it was just a cute comedy bit, it turned out to be true, with Fallon telling viewers a new monitor was being wheeled out.
"Already you have your Golden Globes moment ... it's already, like, a GIF. I'm happy I didn't trip," he added.
And once everything was sorted, it was straight into the Trump jokes.
"It's one of last places left where America still honours the popular vote," he said of the ceremony.
Giving a nod to Meryl Streep's role as "the world's worst opera singer" in Florence Foster Jenkins, Fallon said: "Even she turned down performing at Trump's inauguration."
Referring again to next week's inauguration, the host joked that in 12 days we'll find out what happens if King Joffrey from Game of Thrones had lived.
Fallon then poked fun at this year's award favourite La La Land.
"We have Ryan Gosling, right there! Amazing job ... such an amazing job in La La Land, playing a jazz pianist in Hollywood. By the way don't Google, 'Ryan Gosling penis'. It's a, uh, trust me, it's an HR nightmare," he said.
Bringing a serious note to the evening, Meryl Streep received thunderous applause from the crowd as she talked about America's political climate while accepting the Cecil B. DeMille award.
The film icon thanked the Hollywood Foreign Press, saying: "You and all of us in the room belong to the most vilified segments in American society right now, Hollywood. Foreigners and the press."
She called out Hollywood stars in the room and listed the places they were born.
"So Hollywood is crawling with foreigners and outsiders and if you kick them all out all you'll have to watch is football and mixed martial arts which is not the arts."
She added there was one performance that stunned her the most this year. "It sank its hooks in my heart not because it was good - there was nothing good about it."
Streep then described the moment she saw president-elect Donald Trump impersonate a disabled reporter, saying it "broke my heart".
"It filters down into everyone's life because it gives permission for other people to do the same. Disrespect invites disrespect."
Streep's message quickly provoked backlash from Trump supporters on social media, who called for people to boycott her movies.
Streep became tearful as she delivered her final words - a quote from Carrie Fisher.
"As my friend, the dear departed Princess Leia, said to me once: Take your broken heart, make it into art."