You may recognise her as a feisty inmate from Orange is the New Black but Ruby Rose has traded in her prison jumpsuit for a new role as a sniper in the new Vin Diesel film, XXX: Return of Xander Cage.
Rose is no stranger to the limelight. She started out as a MTV presenter and DJ at home in Australia.
This lead to her becoming a model recognised around the world, a LGBTQ advocate and more recently, a writer and actor.
But just where does her heart and future lie? According to the 30-year-old, it's definitely in the screen industry.
"Acting, writing and directing. That's my love. I don't DJ anymore, I don't model anymore. I don't really do any of those things. I am just fully focused on living and breathing film, which was my goal from the beginning.
"I just had to take a different road to get there and quite a unique one. Everything I have done on the way has definitely been something I have loved and been passionate about."
That's not to say she has any regrets.
"Music is something I am very passionate about and presenting was what really got me into the industry and I really enjoyed that. Presenting taught me how to learn lines quickly and ad-lib and be on live television and understand what that meant.
"DJing is performing to people ... on a stage in front of 50,000 people so that helped me with nerves and stage fright. By the time I finally got the opportunity to be in film I had a lot of experience in different sectors. Now I am where I want to be, I don't have any intentions of being anywhere else. As long as they'll have me, I'm there."
The filming of XXX: Return of Xander Cage wrapped at the end of 2016 and Rose says the experience was "phenomenal".
"It was such a blast to film because it's so action-packed and we got to do a lot of amazing stunts and work with a tremendous cast."
Playing the kick-ass sniper Adele Wolf, Rose underwent an intense training regime to get in shape - and on target.
"Physically, she was amazing to play. She's so active and fit so I had no choice but to get incredibly fit at the gym and get skilled and educated. It allowed me to get a better understanding about what she does and what people that compete in the Olympics do.
"It's about using your whole body, you have to really focus on your breath, your mathematics and understand what the wind will do to your shot and your target."
The role also required Rose to become a bona fide gunslinger.
"I never thought I would see the day because I had never touched one before I started doing roles in the States for action films and now I have pretty much handled every type of machine I could think of.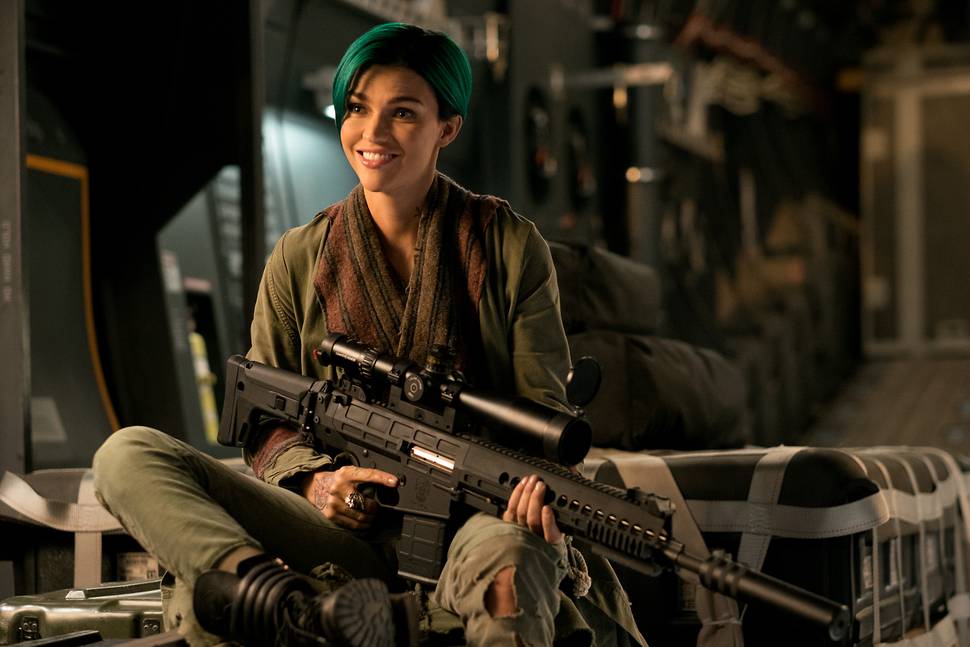 Starring alongside Vin Diesel - who experienced a spate of bad press last year after The Rock called him out publicly for his poor attitude and work ethic - Rose says there's another side to the tough guy.
"I wish everybody could work with Vin. He is so inspiring, so funny, he's so humble. He's an incredibly hard worker.
"Vin makes being on set like hanging out with your family and friends and it never felt like anyone was excluded or not taken care of. We all just had each others backs. If someone got sick or run down or a long hard day, there was just nothing but love and support from the cast and the crew. It was just phenomenal."
Having now earned her chops as an action star, Rose says she's ready to take on new challenges on screen.
"I definitely want to explore more vulnerable roles and drama and I would love to do comedy. There isn't really anything I wouldn't love to try."
LOWDOWN:
Who: Ruby Rose
What: Stars in XXX: The return of Xander Cage
When: In cinemas January 19