Marketing is an art form
Ad agencies are paid enormous sums to come up with a memorable one-liner that encapsulate the vibe of their country. And as tourism slogans go, our "100% Pure New Zealand" is pretty good (if not entirely accurate). Here are a few clangers: The Netherlands: The original cool; Colombia: Colombia is magical realism; El Salvador: The 45-minute country; Slovenia: I feel sLOVEnia; Ecuador: All you need is Ecuador; Ukraine - It's all about U; Latvia - Best enjoyed slowly; Bhutan: Happiness is a place; India: Incredible !ndia; and China: China like never before. (See more on FamilyBreakFinder)
DIY vasectomy
The head of the National Peach Council sent a letter to the United States Department of Labour in 1977 objecting to its proposed ban on a pesticide which had been found to cause sterility among male agricultural workers. "There are many people who are now paying to have themselves sterilised [sic] to assure they will no longer be able to become parents," he explained. "Could workers be advised of the situation, and some might volunteer for such work posts as an alternative to planned surgery for a vasectomy or tubal ligation, or as a means of getting around religious bans on birth control when they want no more children?"
I'm sorry, say that again
"My wife recently celebrated a significant older birthday," writes Mike. "I quietly spread the word among family and friends, requesting a text barrage. One of our mates used his hi-tech dictaphone texting thingy* to inform us, 'I hope Mike's balls you rotten'. Of course I did! LOL." (*aka voice recognition software)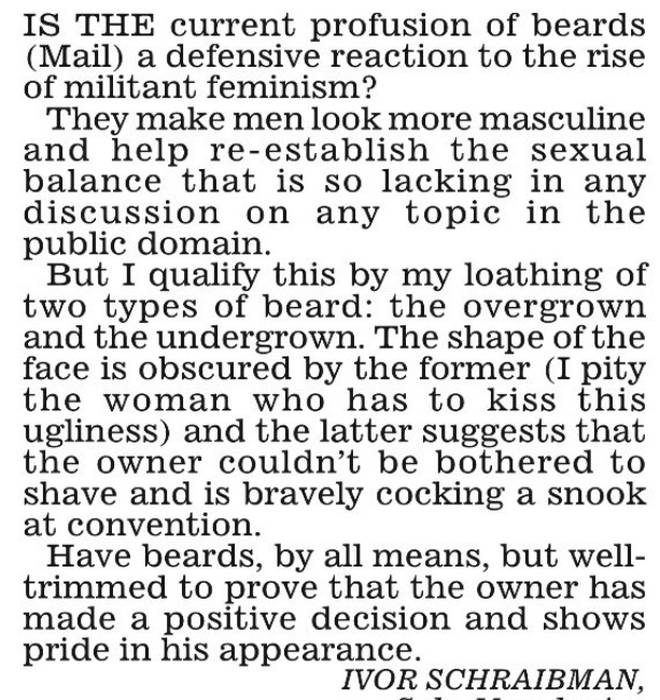 Large-scale disasters not manmade
"While you are on the Leviticus theme, I'm surprised the Kaikoura earthquake wasn't put down to a more obvious reason, by Brian Tamaki," writes David. "9. Of all the creatures living in the water of the seas and the streams you may eat any that have fins and scales. 10. But all creatures in the seas or streams that do not have fins and scales - whether among all the swarming things or among all the other living creatures in the water - you are to regard as unclean." Was the cause the sin of crayfish eating?
Video: The Flight of the Starlings, from National Geographic shorts, is quite spooky...
Herald app users tap here for today's video.
Got a Sideswipe? Send your pictures, links and anecdotes to Ana at ana.samways@nzherald.co.nz.