School posts missing N for all to see
On Friday, Sideswipe posted this picture of the sign (below) outside Parnell District school with the caption: "Pssst. Parnell School ... You missed an N." Yesterday, this is how the school responded to the swipe.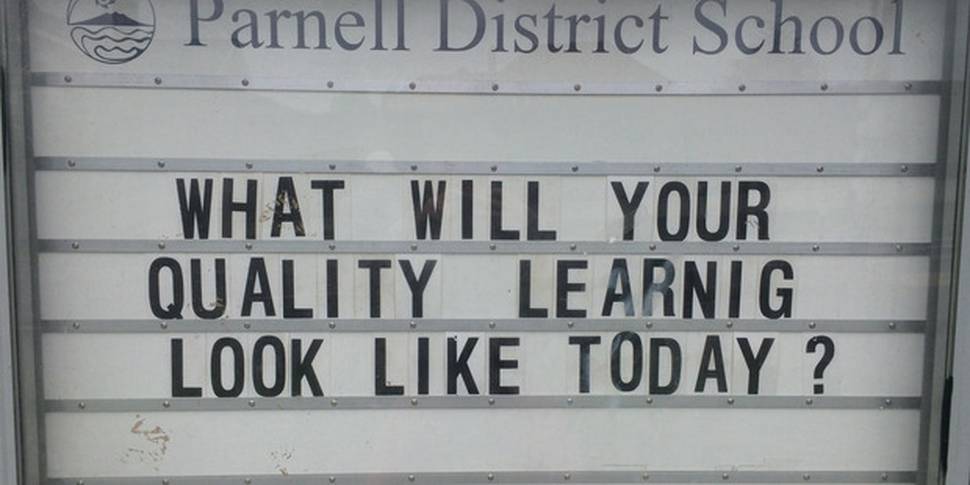 Polar bear 'patting' dog misinterpreted by gullible humans
A video of a polar bear "patting" a dog on its head in Churchill, Canada has been making the rounds on the internet - with people cooing over the cuteness factor. A Facebook commenter said, "We are fortunate to be able to see with our own eyes how animals of all kinds are capable of love." But animal behaviour experts have criticised the interpretation, saying the polar bear isn't expressing love for the dog. It's playing with its prey and shows the dangers of anthropomorphisation: the projection of human personalities on animals. "People have only recently begun to recast vicious predators as furry extensions of humanity, according to an analysis by NPR. As nature content has shifted from informative [science documentaries] to entertaining [YouTube videos] over the past decade, our impressions of wild animals have been removed from narrative context. And so we readily accept stories spun to showcase naturally violent animals as surprisingly sweet - perhaps because that's how we wish the world worked for us," writes Ali Underman on Quartz.com.
Reserve or roadside?
"When I asked council why some grass was mown and some not, I was informed that different contractors do the areas because one is the reserve and one is the roadside," writes Raewyn. "The reserve areas gets mown regularly while the roadside gets left. Why can't the same contractor do it all?"
Station staff and police put duck family rescue first
Christine wanted to "sing out to the good people at the downtown Auckland Britomart railway station who diverted trains at rush hour last week to rescue a mother duck and her nine ducklings out of the station". Police rushed to the scene and took her and her babies away to a safer spot. Despite that heroism, one duckling was accidentally left behind and ran up and down along the railway lines in the trench back and forwards to the tunnel. Staff continued to divert the trains to other platforms until they were also able to rescue the last lonely duckling. No trains were delayed or passengers inconvenienced by the train diversions but a whole family of ducklings were saved.
Picture this:
Kimiko Nishimoto learned how to use a camera at the age of 71 then mastered digital editing. skills she used in a series of hilarious self-portraits involving random costumes and staged falls.
.
Video: The most dangerous GoPro footage I've ever seen (although it's possibly fake)...
Herald app users tap here for today's video.
Got a Sideswipe? Send your pictures, links and anecdotes to Ana at ana.samways@nzherald.co.nz