It's been one week since Brad Pitt and Angelina Jolie split and possibly forced Naomi and Liev to delay their own break up news in the process.
And Brad's ex, Jennifer Aniston, is responding in the old fashion way: Through statement jewellery.
Since the news broke, there's been much speculation about how the Friends star is feeling. I've become familiar with Aniston's entire body of work from her three decades in Hollywood just through reaction GIFs alone.
"Yeah, that's karma for you!" she apparently said of the news, according to an insider who spilt the details to Us Weekly, exclamation point included. I don't know why she yelled that statement. I like to think she was in her ensuite at the time, applying an Aveeno face mask, and yelled it out to close friends who were huddled on her bed, reading all about the news on her iPad.
But now I'm just being speculative.
To read Jennifer's true feelings about her ex's split we need to dig deeper. In her jewellery box. I'm not talking about a mood ring because that would just be silly. It's all in the necklace.
When Jen stepped out of her Manhattan apartment yesterday, she looked cute. She rocked a black tank, a cuffed boyfriend jean and a smart loafer.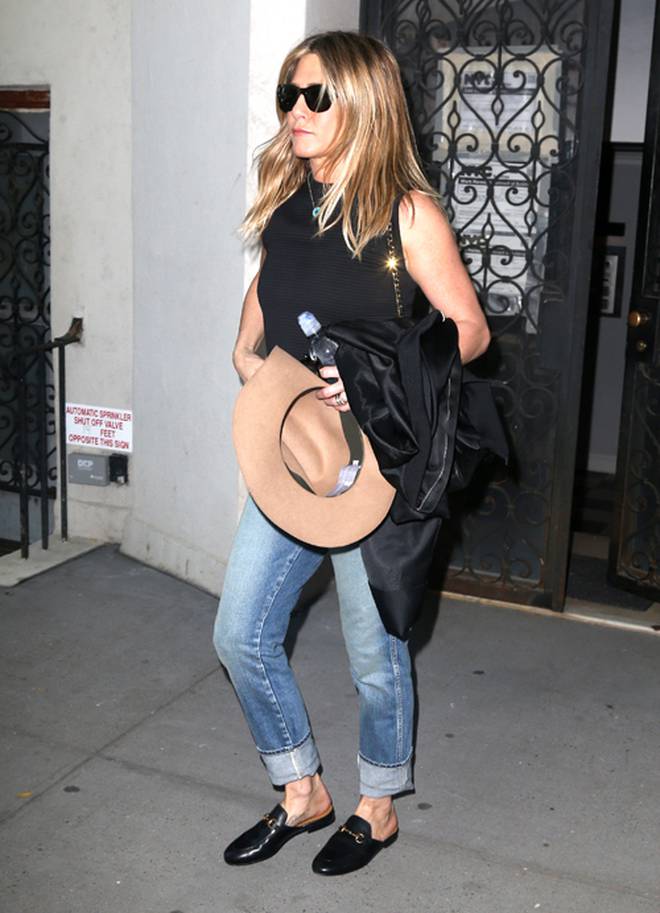 She held onto her Pharrell hat. Probably because a Pharrell hat seems like a fun purchase at the time but when you wear it outside you feel like an idiot and some bozo heckles you to sing Happy as they drive by in a taxi.
Anyway, topping the look off was a necklace with a small, round, blue pendant on it. But it wasn't just any necklace. It was the "Evil Eye" necklace.
While it sounds like a piece of junk you'd buy from the crystal stall at your local markets, it's not. The pendant, by celebrity jewellery designer Jennifer Meyer, is made up of 18k yellow gold and turquoise and hangs off a 14k gold chain. It costs $3,500.
More from Spy:
• MAFS star hits back at 'bitter' castmate
• Why Katy Perry's getting naked for Hillary
And according to ancient tabloid folklore, the pendant is believed to ward off bad energy and curses. Apparently, a panicked Jennifer has strapped the pendant to her chest to ward off the evil spirits Angelina is summoning from her Malibu rental.
While it all seems like just a convenient tabloid theory, if Angelina Jolie ever happens to turn into her character Maleficent, Jennifer will be protected and this whole story won't seem so ridiculous.