If you liked season one, you ain't seen nothing yet. Chris Schulz chats to the stars of Ash vs Evil Dead ahead of its blood-splattered second season.
If you thought the first season was a blood bath, Ash vs Evil Dead is about to step things up.
"In the first five minutes alone of season two, we clear the bar," says Dana DeLorenzo, who plays Kelly Maxwell in the horror-comedy that kicks off its second season on Tuesday.
"It's double the gore, double the laughs and quadruple the blood."
DeLorenzo's co-star Ray Santiago, who plays Pablo Simon Bolivar, admits the show isn't for the faint-of-heart.
"I rip my face off in the first episode. We're not going to back down. This season I'm tortured not just in the last two episodes but in every episode. It has become a thing."
Fans of the New Zealand-based show have come to expect plenty of blood, guts and gore from Ash vs Evil Dead, Sam Raimi's TV spin-off from his successful horror franchise.
The show, the result of decades of constant fan pressure, placed Bruce Campbell's cult character Ash in the lead role forming a gang of misfits and forced into a fight against the undead.
With a 75 per cent approval rating on Metacritic, the show's mix of black comedy and blood splatter across its 10-part first season was well received and fans were more than happy. But Campbell admits it could easily have gone the other way.
"I was worried. Hell yeah. (Fans) could have easily gone, 'Eh, nice try'. It's been very gratifying because fans are always honest and very direct, and they've been very accepting of this show," he says.
"They made so much noise for so many decades. They did not shut up about these films, so we didn't want to let them down."
Season two's biggest cast addition comes in the form of Lee Majors, who plays Ash's father, Mr Williams.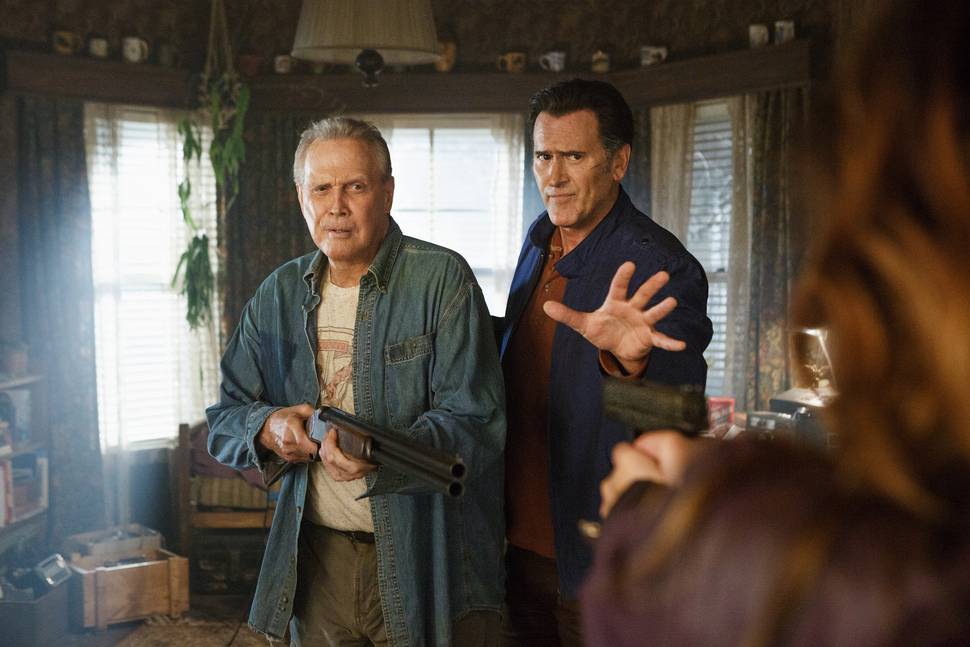 The 77-year-old veteran character actor says "horror wasn't my thing" until he was asked to join the show and binged on season one in one sitting.
"I wasn't familiar with the show, or the movies. I sat down and watched all 10 episodes and said, 'This is really fun'. It's actually a comedy. It's great. You can get away with doing terrible things with a chainsaw (by) throwing out funny lines," he says.
Then he found out he'd have to fly to New Zealand to be part of it.
"I said, 'Well, I was there 28 years ago, I did a Toyota commercial. I guess I can go back and see if anything's changed'. I went back and forwards twice. It's a long way down there but once you're there it's very pretty."
From a South Auckland base, several locations around Auckland are used to stand in for the show's smalltown America setting.
Lawless says the overseas actors quickly made themselves at home after relocating here.
"Ray in particular - he's got a whole community. He's the king of K Rd. He folded into the community perfectly. Dana too had a whole bunch of friends outside of production."
It might not be noticeable in the show, but Santiago says New Zealand creeps on screen in other ways.
"The way that it influences the show is (through) the bonds we create as cast members. They're this motley crew of people who have been thrown into a situation and they're forced to live within the circumstances of the evil dead force. That's what happens to us as actors. We form those bonds and you see that on the show."
DeLorenzo: "There's a magic to New Zealand and I think it's its own character."
Where and when: The Zone, Tuesday, from 9.30pm
What: Second season of blood and Bruce Campbell