Netflix has no regrets about its four-picture deal with Adam Sandler despite the horrendous reviews the movies have received.
So far the comedian has released two films exclusively on the streaming service, The Ridiculous 6 (2015) and The Do-Over (2016).
And Netflix's chief content officer Ted Sarandos told the Hollywood Reporter he couldn't be happier with how the films performed.
"The two Adam Sandler movies premiered at No. 1 in every single territory of Netflix around the world," Sarandos said.
"The Do-Over is still in the top 10 in nearly all of them. It's been a hugely successful deal, and he's got another one called Sandy [Wexler]. The thing that is most global on Netflix is Adam Sandler."
The deal between Sandler and Netflix was signed back in 2014 with the comedian saying at the time: "When these fine people came to me with an offer to make four movies for them, I immediately said yes for one reason and one reason only. Netflix rhymes with Wet Chicks."
His first Netflix film, The Ridiculous 6, was a western that featured Terry Crews, Taylor Lautner, Rob Schneider, Nick Nolte and Jon Lovitz.
The reviews were ... well, maybe you should just read them:
The Hollywood Reporter: "Ridiculous that anyone would bother."
Chicago Sun-Times: "Well. I liked the opening credits. There's a hint of originality and spark. And the closing credits - they were really cool. The problem was the nearly two hours in between."
Las Vegas Weekly: "As in most recent Sandler movies, its main offence comes not from any specifically insensitive jokes, but from how little regard anyone involved seems to have for the viewing audience."
RogerEbert.com: "It's like someone put ideas for Western-themed sketch comedy on a board and then Sandler threw darts at it to determine its order. The film has no flow, no rhythm, and absolutely no reason to be 119 minutes."
Earlier this year Sandler released The Do-Over on Netflix, a film about two guys (Adam Sandler and David Spade) who fake their own deaths to start their lives again.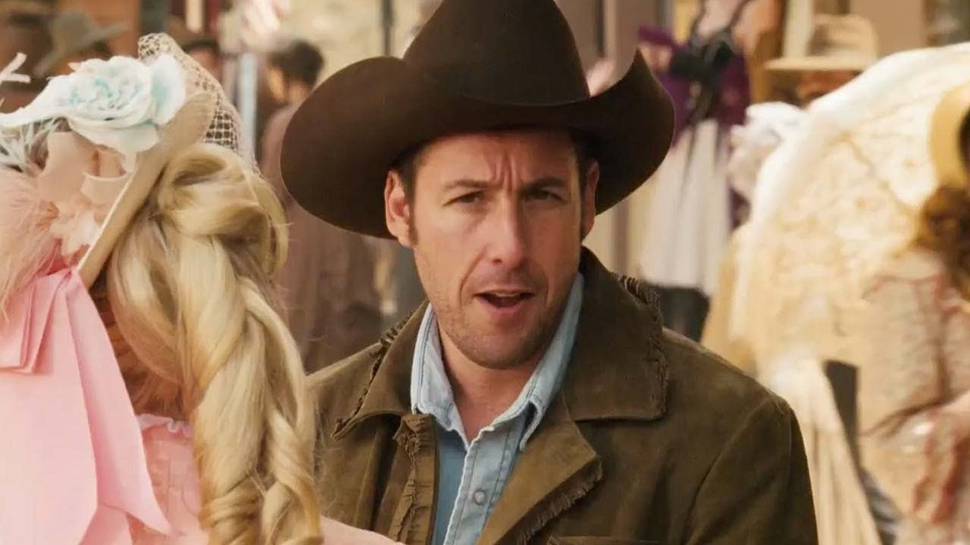 Once again, the reviews were less than flattering:
The Guardian: "Surely this movie must be almost over, you think, as you jab the pause button on your remote - only to find you are at the 50-minute mark with another 58 to go."
Cinemixtape: "The comedic equivalent of being whomped in the face with a pillowcase full of nickels."
RogerEbert.com: "A film that gets markedly dumber with every passing minute."
Sandler's next Netflix film, Sandy Wexler, is due to drop on the streaming service next year.
It's about a talent manager working in Los Angeles in the 1990s who falls in love with one of his female clients and will star Jennifer Hudson, Kevin James and Terry Crews.
Will it get panned by critics too? Probably. Does Netflix care? Not one bit.