Sean Murray's "chill" space exploration game No Man's Sky has Playstation fans clamouring to become part of it. He tells Chris Schulz how he made it happen.
Sean Murray isn't feeling too relaxed about his "chill" new game.
"Sick is probably a good summation of how I'm feeling," admits the Irish video game programmer and managing director of Hello Games.
"There is a level of stress that is beyond (the point) where no further stress matters. I call it the 'zen of stress' - when a situation gets so crazy any extra craziness doesn't matter, you're already at your maximum.
"We've been there for years."
Murray is the man behind today's release of No Man's Sky, a Playstation 4 exclusive that started life as a niche indie title but has built up so much hype over its five-year creation that it's now one of the 2016's biggest releases, ranking alongside big budget titles from major studios like Bethesda's Doom and Naughty Dog's Uncharted 4.
"We're a small indie studio, and we were making a game that was a niche idea really. You don't look at something like No Man's Sky and think, 'Oh this will be kind of mainstream'," says Murray.
"What kind of egomaniac would expect this?"
A first-person space exploration game with action and RPG elements, No Man's Sky has grabbed attention for offering players an infinite universe to explore. Every planet, and therefore every player's experience, will be different, leading to some claims that it could be the biggest game ever made.
Murray, who worked on EA's critically acclaimed Burnout series then quit to start Hello Games with three friends, says he was simply trying to make the kind of game he would have dreamed of playing as a kid.
It seems there are plenty of others who agree with him.
"If there's one common thread through all the fan mail and social media and emails, it's people saying, 'I've been waiting for this game since I was a kid, I always dreamed of this kind of game'," he says.
"I had this amazing hand-written letter from somebody. They were saying how they'd been waitiing for this game their whole life, and how excited they were. At the end it said: 'From Paul, age 12'."
That's meant there's plenty of pressure on Murray to deliver an experience that lives up to those whopping expectations.
While early reviews have been good - Polygon called it a "technical marvel" - it's too soon to tell because No Man's Sky could easily chew through 100 hours of game time before players have had the full experience.
"There's a huge amount of pressure having all these people excited about it, but it's also what gets you up in the morning," Murray says.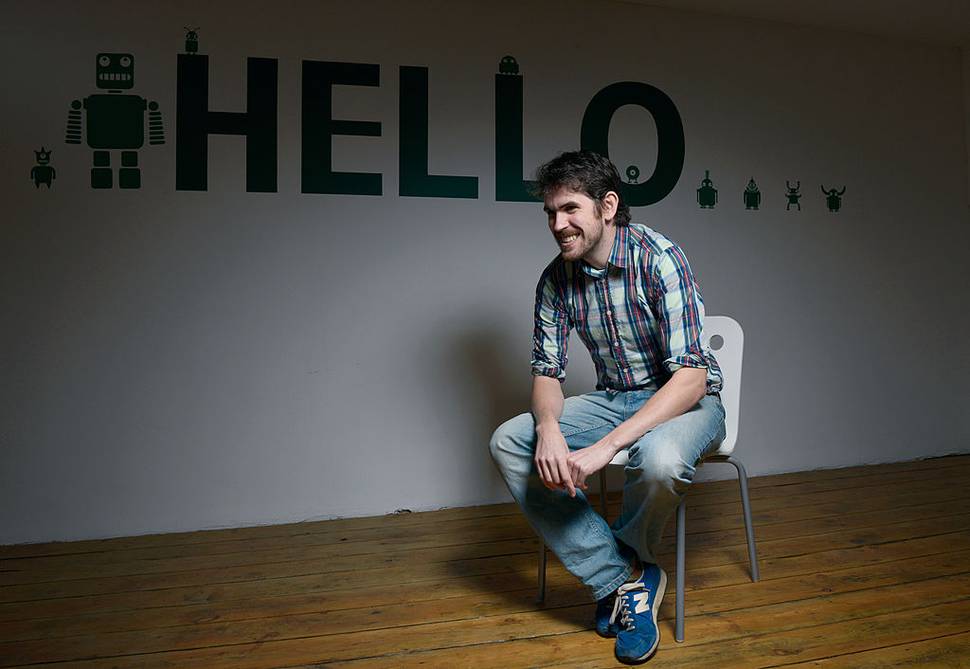 "This will probably be the craziest most impactful thing I ever do in my life and that's a terrifying thing but a really motivating thing, a really exciting thing."
Today's release isn't the end for Murray, who promises his team at Hello Games will keep updating No Man's Sky, adding extra content and fixing any issues players might have along the way.
"I'm a programmer ... I'm dreading the moment someone emails me (about) that one thing that I know is my fault," he quips.
For now, he's spending his time watching the game's servers heat up with action as players discover everything No Man's Sky has to offer.
"We sat there yesterday with maybe a thousand people playing the game, just watching the server as people discovered stuff, new planets, new species, new rocks and trees and star systems and they're naming them," he says.
"Today we're probably going to have a far larger number of people playing. We'll have millions of those discoveries by the end of the day. That's insane."
Murray believes the best experience playing No Man's Sky isn't chasing its primary objective and finding the centre of the universe. Instead, he hopes they follow their nose and take the time to discover new things in the world that he's created.
"The kind of stuff that's really exciting to me is for people to just explore and set their own goals and just get wrapped up in it," he says.
"It's about you having one goal and getting totally distracted and doing something else entirely."
Who: Hello Games managing director Sean Murray
What: No Man's Sky, out now on Playstation 4
For fans of: Minecraft, The Long Dark, Stranded Deep
Competition
We have a super sweet No Man's Sky prize pack to give away! One lucky winner will take home a Playstation 4 500GB console, a copy of the game, and their very own star. That's right - your very own star! Use the entry form to enter, and see terms and conditions below.
Stardome Adopt-a-Star:
PlayStation NZ, in conjunction with Stardome Observatory, are giving you the chance to adopt their very own star. As part of the Adopt-a-star program, you'll be given the following: A presentation certificate (suitable for framing) dedicating the selected star to a nominated person or event; A star chart showing where to find the star in the night sky; Background information on the star's constellation; One Adult Pass (or two Child Passes) to a planetarium show at Stardome (transport to Stardome not included).