Adele swore 33 times during her 90-minute Glastonbury set - and viewers aren't happy about it.
The London-born singer headlined the world-famous festival on Saturday night and despite a warning from the BBC to keep her language in check, Adele still delivered an unusually high number of expletives during her acclaimed set, which featured 15 songs.
Adele's much-discussed performance featured a swear word ever 2.7 minutes, according to MirrorOnline, and the award-winning singer could not even get through her first song of the evening before she dropped an F-bomb.
Prior to finishing her hit single Hello, Adele told the crowd: "You are f**king amazing!"
Later, Adele added: "Oh my God. Oh my God. Hi. This is the best f**king moment of my whole life. Oh my God. Look at you. Can you put the lights on [the audience] more? I want to see them."
READ MORE:
•Millie finds happiness in Greece
•Adam Parore splits from wife of two years
During her set, Adele - who is well-known for her use of expletives - revealed that the BBC, who were broadcasting the event, had warned her to control her language before she took to the stage.
She shared: "The BBC had to give me a warning about my potty mouth."
And Adele then said that another of the festival's headline acts, Muse, are unlikely to have been given the same advice. She quipped: "I bet Muse didn't get that!"
While Adele's set drew a generally positive reaction from fans and critics, her expletive-riddled statements proved to be rather more controversial.
Many took to social media to voice their disapproval at her course language.

Adele also revealed her Glastonbury performance was inspired by Kanye West.
She told the crowd during her set: "I have dreaded ever being asked to do this festival - not that I thought I would ever be asked to do it.
"I was up there on that platform last year with Emily Eavis watching Kanye, which I thought was amazing, and I have never been so frightened of a crowd that I saw last year. As I was watching it I was like, 'Alright, alright, I'll try and do it'."
The London-born star also explained how her early experiences of attending the festival inspired her to perform at Glastonbury, citing the likes of Garbage and Radiohead as specific examples.
She said: "The career that I have was inspired by when I was about seven years old and I was up there by that tower there with the lights and I saw Garbage play and I was like 'f**k me, I want to do that'.
"I saw The Prodigy that year, I saw Radiohead. That was when I was like 'I want to be making music', not necessarily up on this stage, but it's amazing the way that music brings people together and that's why I'm so grateful that all came and stood here together for me."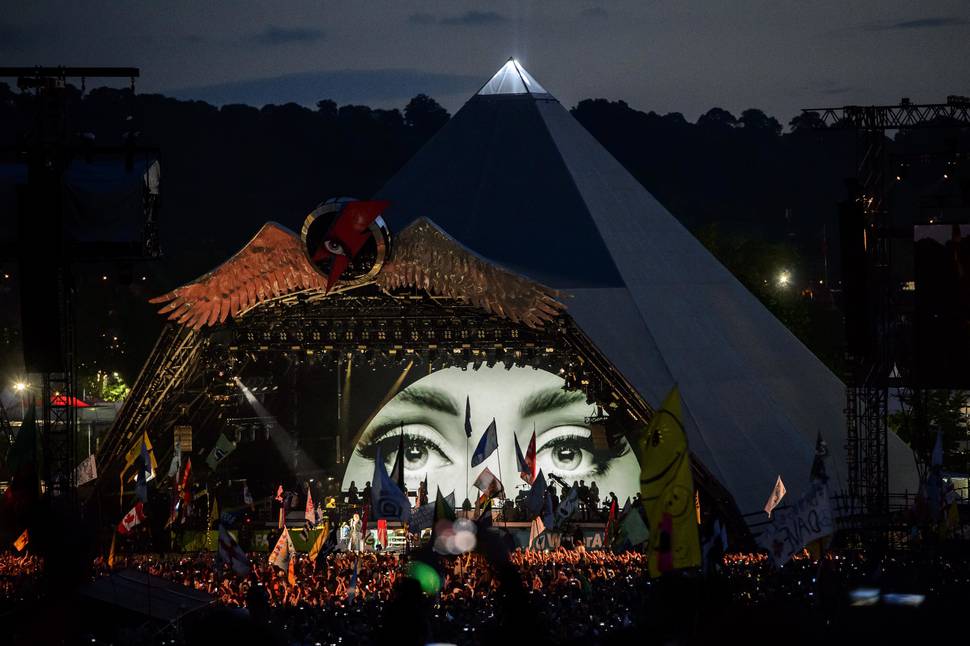 The 28-year-old star admitted she was anxious about taking to the stage before her much-discussed appearance, but she ultimately relished the opportunity.
She reflected: "I didn't want to come on and now I don't want to go off. I will never forget it."
Adele has been open about her fear of performing in front of large crowds in the past, previously saying she would not play Glastonbury for that reason.
She said: "I think I have made myself pretty clear on Glastonbury. The crowds are too big - I don't know if I could do it."
Adele's 15-song set was watched by an array of celebrities, including Robbie Williams and James Corden
- Bang! Showbiz