It's the hit TV show watched by millions for its intricate plot lines, bellicose characters - and generous share of wild sex.
But when fans tune into Game Of Thrones today and see the return of Marei, the lithe, red-headed courtesan, they will find themselves watching a real life drama every bit as compelling as the action on screen.
For the actress, Josephine Gillan, really did earn her living as a prostitute before finding stardom in Game Of Thrones. And it is only her role in the show that has finally allowed her to escape.
Today, the 27-year-old is in demand as a serious actress even though she had no professional training when she started the show - just a troubling understanding of the world she would be paid to depict.
"Game Of Thrones saved me from a life of prostitution, and has made me a much stronger person," she says.
"I was working as a whore and at the same time making X-rated movies, using the name Sophie O'Brien, when I saw an advert on a website for actresses in the film industry.
"They were looking for young women with natural breasts and no tattoos, who didn't mind being filmed naked. So I immediately sent in a picture.
"They wrote back that they wanted me and I was thrilled because it was an amazing opportunity to do some proper acting. But I had no idea how much it would change my life."
Based on American author George R.R. Martin's books, Game Of Thrones has become one of the most watched dramas on TV.
It has won 26 Emmy Awards, including Outstanding Drama Series in 2015, and attracts an average 8.6 million viewers for each episode.
Some have been troubled by the drama's uninhibited approach: Josephine made her debut in series two as a novice prostitute being shown how to fake an orgasm. But she is in no doubt about the difference between the fantasy on screen and reality.
Josephine suffered a childhood corrupted by sex abuse, alcohol and class-A drugs. She went to 24 different primary schools as her mother fled a violent relationship, and was taken into care at 12 and then fostered.
WATCH: Kiwi husband and wife's get a kick out of twisted Game of Thrones kiss
Meet the de Wild family from Tauranga who are the 2015 NZ champs for cosplay with their Game of Thrones costumes and performance. They are going to the big Armageddon Event in Wellington this weekend.
"They put me in a household where I was groomed by a family friend, who gave me cannabis and alcohol when I was 12 and got me hooked on cocaine when I was 14. He raped me two years later and then pimped me out to his friends.
"I was too frightened to tell anyone because he threatened to bury me in the garden if I did. He said he'd done it before and I believed him."
Her childhood experiences left her feeling unworthy of a proper relationship and she broke off an engagement and turned to prostitution to earn a living.
By the time she arrived on the Game Of Thrones set, she was understandably nervous, but quickly discovered there were several actresses from a similar background.
They appear as slave girls and prostitutes, parading naked, performing sex acts and taking part in orgies.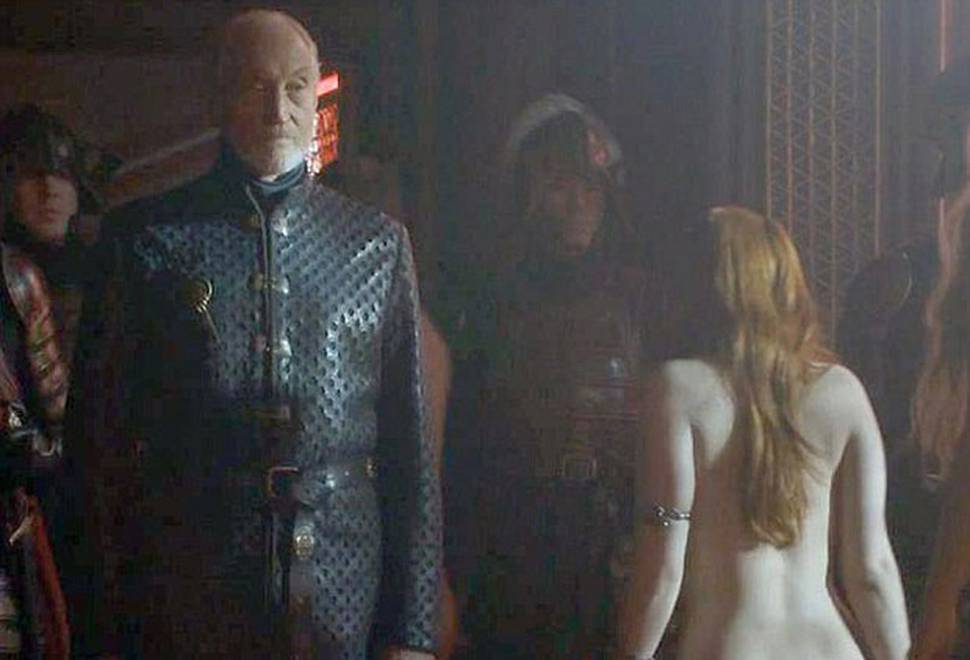 Josephine is determined to use the success of the series to further her career as she seeks more conventional roles - although she is still routinely asked if she is actually having sex in the brothel scenes on the show.
"People ask me all the time if we are at it for real and I reply, 'Are dragons or zombies real?' The reality is that the male actors are so uncomfortable doing sex scenes that I can usually feel them shaking nervously under me.
"I think they suffer from performance anxiety, because they are almost naked and there are usually about 30 crew members on set."
However, her lack of modesty and experience in the adult film industry made her a natural performer. "They didn't need to show me how to do anything because that's how I earned my living," she admits.
She has gone on to become one of the longest surviving characters in a series which routinely slaughters them by the dozen.
She has appeared in series two, three, four, five and now six and she revealed that she has already been signed up for series seven, which begins filming later this year.
In her most famous scene to date, she performed a standing split while naked while auditioning for a threesome with Prince Oberyn Martell and his lover Ellaria, wearing nothing but a modesty patch (a piece of cloth taped over her private parts) to spare her blushes.
Between scenes, slaves and brothel girls mix with lords and ladies.
Josephine says: "I remember one day a few of us girls from the brothel scenes had afternoon tea with Charles Dance - who played Lord Tywin Lannister - and he was so flirtatious. With so many people working together so closely you can imagine that there have been a few affairs, but I haven't had one!
"I spoke to Kit Harington [Jon Snow in the series] in the hair dressing trailer when he was complaining about having to get his brown hair dyed black. He was very chatty and all the girls were swooning in his presence. I'm not the only one who's glad that he wasn't killed off."
The show has attracted international criticism for its depictions of rape, incest, murder and torture as well as louche sex. Josephine is keen to remind people it's just a fantasy world. She says: "Watch the entertainment and enjoy. Or don't if you're too prudish."
For her, that fantasy world has been the saviour of her real one. She credits the show with stopping her life spiralling out of control, and says it has allowed her to dream of a better future.
Since finishing work on series six, she has appeared in two independent films and is about to star in a horror mystery, to be filmed in Mexico this summer.
Tomorrow night's episode will see her character return as if from the dead, having last been seen being dragged by religious militants from the best brothel in King's Landing at the close of series five.
But happily for Josephine, there will be no dramatic resurrection of Sophie O'Brien the prostitute and porn star, who is now finished for good.