Chris Schulz spent most of a day waiting for Scarlett Johansson in Wellington. Things got weird. Here's his story.
It was a pretty easy question. After all, there's only one correct answer if you're an entertainment journalist and you're asked, "Do you want to interview Scarlett Johansson?"
"YES" was my immediate response, the use of all-caps, in my mind, entirely justified.
After all, she's one of Hollywood's biggest stars, she'd just been in The Avengers, one of the biggest movies of all time, and she was filming in New Zealand.
This wouldn't require much travelling on my part, and the Facebook boasts wrote themselves. There might even be snacks.
How weird could this possible get? Hmm ...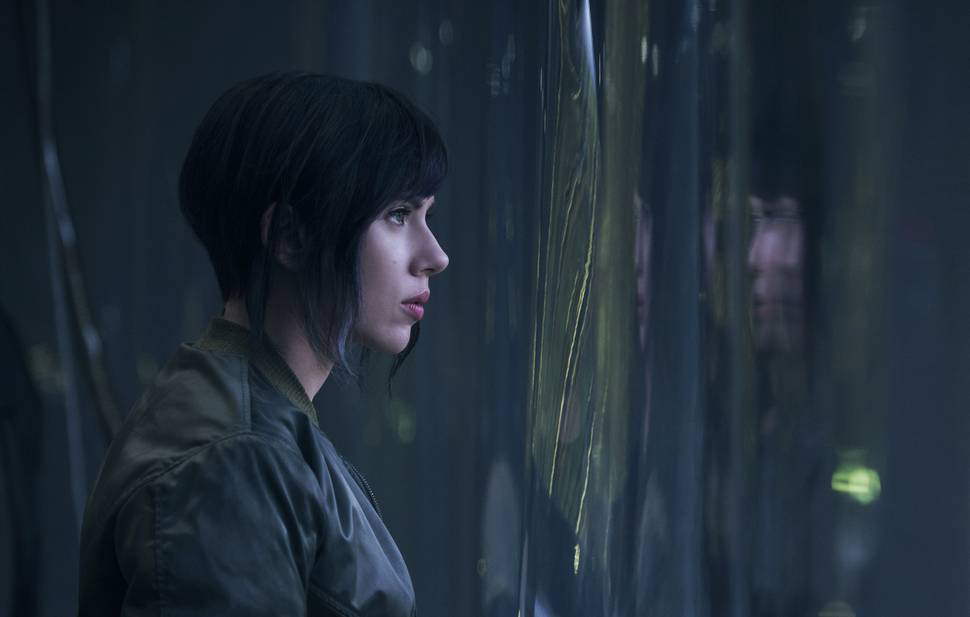 Fast forward a few weeks and I'm in a shuttle bus being driven down Wellington's Cable Street. "Demand me" read the strange and slightly offensive billboard above us, the words plastered next to a giant image of a leather-clad Johansson in full pout mode.
Demand her? What does that even mean? I pondered that question while I was being shepherded towards a potential interview with the Black Widow herself.
It was just before midday, and I thought the billboard we'd just driven under was so odd I tweeted about it.
I didn't realise then that, 10 hours later, I'd understand exactly what it meant. I was in a taxi van full of journalists - both local and international, some of whom had flown 30 hours to be here - on our way to possibly interview Johansson.
We'd been warned it might happen. We'd also been warned it might not. Either way, I soon wished I'd packed a pillow and sleeping bag for the day.
I'd been invited on a set visit for Ghost in the Shell, the big budget adaptation of the Japanese Manga comic. Johansson spent a quiet few months filming between January and May, before things moved to China. The film's due out in March. The trailers look good.
Johansson's casting as The Major, a cyborg bot with a human brain, has been controversial because in the comic books she's clearly of Japanese origin. Google 'Ghost in the Shell' and 'whitewashing' is a topic that quickly comes up. This petition has 103,500 votes.
That, I can only assume, is why everyone involved in the set visit seemed on high alert. We were warned during the taxi ride not to ask Johansson about whitewashing. Over the next 10 hours, we were warned at least twice more.
"It's not for Scarlett to address. We're guests. We don't want to offend her," said one of at least four publicists we dealt with as the day unfolded.
I get it. Johansson is a megastar, as famous for her films as she is for her relationships. She's banked a tonne of money playing Black Widow in all those Marvel movies. Her arrival in Wellington to shoot Ghost in the Shell sparked a flurry of headlines. She's around 1.6m tall. She likes popcorn.
And in her next film, Sing, due out before Ghost in the Shell, she deviates slightly from type to play an alt-rock porcupine called Ash.
I didn't want to ask her about whitewashing. I wanted to ask her why Lucy ended with her character turning into a USB stick. It still makes zero sense to me.
Anyway, back to the set visit. We got in the taxi at midday. We got to set around half an hour later. Over the next 10 hours we interviewed seven cast members, including Game of Thrones' great Pilou Asbæk, spoke to a very interesting stunt guy, the very defensive producer Ari Arad, and occasionally got out to wander around set.
It was a long day. We spent most of it in a room measuring 3 metres x 10m sitting around a table supplied with too few snacks. Here's what I did to pass the time. I ate a banana. I doodled. I stared at some walls. I survived a really intense encounter with a French journalist who spent many minutes trying and failing to convince me that Nicolas Cage is the greatest actor alive. I engaged and ended up enjoying a conversation about existentialism with a different journalist. I dreamed about owning a Boosted Board.
I listened to another reporter eat crackers rather loudly. I watched an Australian journalist make intricate origami. I spent many minutes wishing for a plate of doughnuts to magically appear on the table in front of me. I spent many more minutes wishing I had the appropriate mind powers to make that happen. I wished I had a book to read.
Around the 5pm mark, an overexcited publicist entered our airless, snack-free room and declared that Johansson was about to grace us with her presence. "If you're tensed up and ready to go, that would be a good thing ... we may get her in the next 15 minutes, or it may be much later."
It was later. Much later. After I'd flagged my flight. After I'd re-booked a hotel for the night. After we'd been taken out for dinner, said hi to David Farrier and Dylan Reeve (they were hosting a Q&A that night for Tickled at the Roxy) and inhaled pizzas and pasta. Finally, snacks.
After waiting that long, I didn't want to go back to set. I wanted to run back to Cable Street, tear down that billboard, wrap it around me and walk around Wellington yelling hysterically, "I demand her".
Suddenly, we were being whisked into shuttles and driven back to set. Johansson was really, finally, ready. Everyone and everything was very definitely tense.
We got our 11 minutes with Johansson just before 10pm. But not before a publicist said one of the weirdest, strangest things I've ever heard a publicist say.
His name was Alex, he had a well groomed beard, he'd spent most of the day with us, and he seemed nice. But as we sat back around the table at 9.50pm, recorders finally at the ready, Alex threw a pack of chewing gum on the table, gestured at it, and said: "It's the biggest female action movie star in Hollywood ... (The gum's) for those in the front rows."
He was worried about our garlic breath? Did Johansson know all of this was going on? I suspect not. She was lovely. Tired, yes, and obviously very busy. But she looked great, spoke well, and was completely professional. We got our interview.
Read more: Scarlett Johansson praises 'quiet' New Zealand experience
Afterwards, as Johansson left the room, a clearly relieved Alex declared: "Cool ... result."
That's one way of looking at it.
* Chris Schulz travelled to Wellington courtesy of Paramount Pictures.