Our in-house Game of Thrones experts cast their eye over season six's fourth episode, called Book of the Stranger.
Robert Smith:
Even in an episode that features Daenerys claiming her destiny as the Khaleesi of all the Dothraki in typically epic fashion, as well as Tyrion finally getting to use his charm and intellect to try and change the world, it's the wordless reunion between two of the Starks that packs the biggest punch.
They barely even interacted in the opening episodes of the series, but Jon and Sansa's reunion is the first time any of the Stark kids have been together since Rickon and Bran took different paths three years ago. The Starks haven't done that well during their separation, and it's arguable who has had it worse.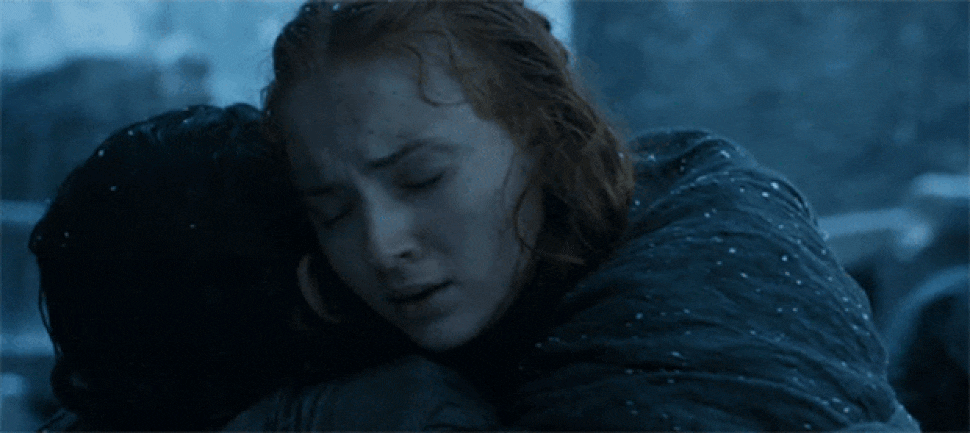 Things still look pretty grim, especially with Rickon in the dungeon, but there is a sense that they have turned a corner, and that it's time for some much-needed payback. Fittingly, it's Sansa who is telling Jon to get off his arse and take back Winterfell - she has grown into a hard and righteous young woman, who will not let the Bolton horror stand any longer.
Read more:
• Kiwi Joe Naufahu's fiery demise on Game of Thrones
• TV Review: Game of Thrones - the episode we've all been waiting for
With the help of Tormund - when he isn't busy giving Brienne the glad eye - and Littlefinger - who is almost accidentally doing the right thing for all the wrong reasons - the Starks are heading home. It's a damn shame Osha won't be there to meet them, after running into one bastard she couldn't fool, but bloody vengeance is assured.
Cameron McMillan: War is coming. Here's the fighters I want to see in action during GOT Fight Night 6.
Wun Weg Wun Dar Wun (11-0 career record - record under question as all 11 White Walkers came back to life)
Jon Snow may be outnumbered by Ramsay Bolton, but he's got a freaken giant. NBA fans will be worried about the Yao Ming (or gulp Greg Oden) potential if Wun Wun is relied to step up in the big game. But we've seen how powerful he can be by just turning up and putting fear into the opposition. I want to see him fight though. Plus Wun Wun, Brienne of Tarth and Tormund on the same team gives Jon a pretty impressive one-two-three punch.
Pros: Being tall
Cons: None, just stay away from bean stalks and dudes with slingshots to be safe.
Ser Robert Strong (nee Clegane) (1-0 - 1-0 by head-smashing)
He may not be needed to upheave the High Sparrow and the Faith Militant, but come on let the man wield a sword. He's made a vow of silence until all of King Tommen's enemies are dead and "evil has been driven from the realm". Good time to start now.
Pros: Built like a brick privy
Cons: Manticore venom allergy
Daario Naharis (2322-0)
Don't sleep on Daario. He's a former pit fighting great. Remember when he killed the Champion of Meereen in single combat? He's got skills and probably the most battled hardened of the remaining characters.
Pros: Skillset - can kill with his favoured Dothraki arakh or a rock.
Cons: Great home record but untested on Westeros.
Arya Stark (2-0)
The training is over. Now it's time to enter the All-Valley Karate Tournament. We don't know what Jaqen H'ghar has planned for Arya but she's becoming a lean, mean fighting machine. She might be the underdog of this list but she has killed Polliver and Meryn Trent, while leaving the Hound to die.
Pros: Can change faces (might not be that big an advantage during a battle)
Cons: Doesn't have an army.
Rachel Bache: A Game of Thrones super gang is starting to form - this is brilliant! I can't even begin to describe the immense relief I felt when the gates at Castle Black opened to reveal Brienne of Tarth, Pod and Sansa Stark. I had fears that after Jon Snow's mic drop last week that the half-siblings would end up being passing ships in the night in the same way Sansa and Arya just missed each other last season. But Jon and Sansa's reunion was so beautiful, it was hard to hold back the tears. Even throughout this hopefulness with the dream team coming together, there is a very big chance that it could all end in tragedy for our heroes if they decide to go up against Ramsay "Evil Psychopath" Bolton to save their lil' bro Rickon. This is Game of Thrones after all. Ramsay already got Osha! Poor Osha, if only that knife had been a little bit closer ...
Another all-star team of super sassy Queens has formed with Cersei Lannister and Olenna Tyrell setting aside their feud temporarily to take down the High Sparrow and his Faith Militant and get back Queen Margaery. Though, we'll see if someone won't get double crossed before it's all over. And knowing Cersei, that's a likely outcome.
Also, it was so great to see Daenerys become a badass again - her story had been flailing for a while - but now that she has an entire city of Dothraki bowing at her unburnt feet, things could start to get interesting again for ol' Dany. Go round up your dragons, girl!
Sophie Ryan: After six seasons it finally happened. Sansa Stark and her maybe half-brother Jon Snow were reunited. The last time we saw Sansa and Jon together was the very first episode of the show, and since then both have endured some awful times. A part of Sansa died after having to withstand two hideous men, while big bro Jon literally died. But, look how strong it has made the pair of them. I wish they showed the part where the two were catching each other up on all the things they've been through. But, now they're together, and Sansa is really relishing the role of determined Lady, ready to fight for her family and her home.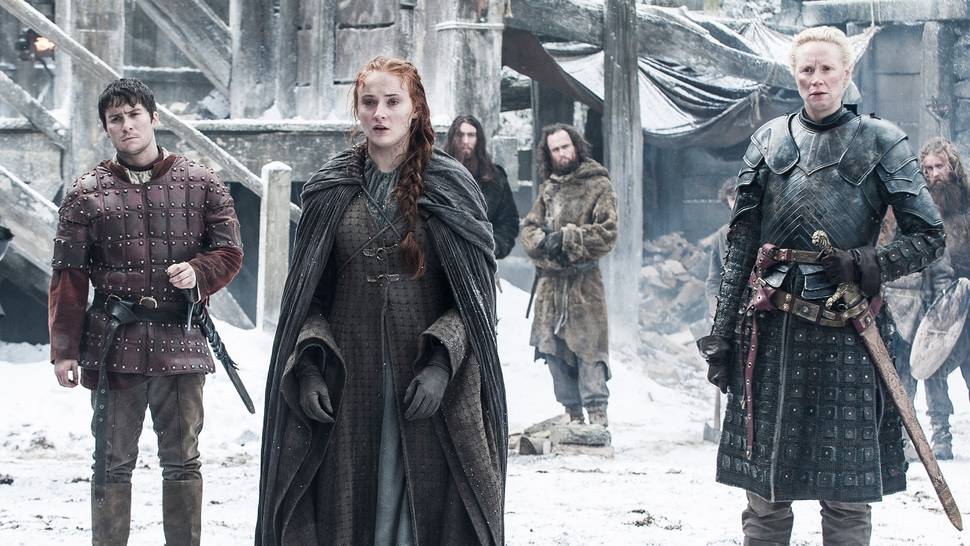 If you weren't too busy wiping away the tears as you saw Sansa and Jon lock eyes for the first time at Castle Black, you would have noticed an epic love story blossoming. Brienne of Tarth and Tormund Gianstbane had some lengthy gazes in each others direction. You could cut the tension with Valyrian steel.
Chris Schulz: Hey, Tormund! Lower your giant fistful of food. Avert your eyes elsewhere. Go find another Wildling as your love interest. In Brienne, there is nothing to see here. This is not the conqueress you're looking for.
Yes, surprise, surprise, my favourite scene this week involved Brienne's arrival at the Night's Watch, and her wonderful facials as Tormund gave her an eyeful over a meal.
Was she intrigued? Disgusted? Appalled? Or absolutely loving every second of it? I think it's the last one - after all Brienne's been through, it's about time she got a storyline all of her own. Tormund and Brienne forever.
In an episode full of dastardly apple peeling (it's good to see Ramsay Bolton's getting his five-plus a day), more antics from the awful High Sparrow (can Olena Tyrell just shiv him sassily and be done with it please?) and the fiery demise of Jo Naufahu's character, this episode needed some light relief.
And it's right here, in this gif, which I'll be watching over and over until next week's episode ...
Siena Yates:
Can we please talk about how badass Brienne of Tarth is?
Yes, she helped Sansa and yes, she's caught the attention of Tormund in a delightfully awkward flirting scene, but she also took on the most powerful person in Westeros and came out on top.
Sansa is a Stark, Dany is the mother of dragons, Cersei is the mother of a King - it makes sense for these women to slay. But Brienne is working off sheer determination, and there's something to be said for that.
First of all, never has there ever been a greater knight in shining armour moment than when the gates of Castle Black flew open to reveal Brienne sitting there in all her glory.
Because guess what? She swore an oath to watch out for Sansa and now she's delivered, because that's what Brienne does. Which is awesome, because she also swore to avenge the death of her king, Renly Baratheon.
And the woman who killed him is at Castle Black which would be ideal except that she also happens to be Melisandre - a woman who sees the future in fire, gives birth to murderous shadows and just brought a man back from the dead.
Brienne on the other hand, has a sword and some armour. Does she care? Not a bit. She goes and gives the ultimate side-eye to the Red Woman, prompting Davos to intervene with the meek equivalent of "we're cool now, right?"
I think not, ser. It may be in the past but Brienne of Tarth does not forget, or forgive. And Melisandre better pop out another shadow to watch her back because Brie is not messing around.
- nzherald.co.nz