Sometimes life imitated art for the cast and crew of Goodbye Pork Pie. The film followed a trio of renegade outcasts as they blasted their way down the country in a yellow Mini.
In reality, on their journey from Kaitaia to Invercargill during filming in 1979, the crew was pursued by police, lived off the smell of an oily rag and met some Kiwi characters along the way.
"Pork Pie was cheap, slightly sexist and of its era," says Kelly Johnson, who as a 23-year-old played the film's foul-mouthed star, Gerry Austin (nicknamed Blondini).
"I guess it's the first remake of a New Zealand film in history. It has a place in history and I wish the new film-makers well."
Now a Whangarei lawyer, 60-year-old Johnson says he wouldn't say no to swapping his suit for a cameo role in the remake, the brainchild of Matt Murphy, son of original director Geoff.
Casting for the reboot is in its final stages.
Johnson has reprised the role of Blondini once before, appearing in character in a 2002 music video for Kiwi band Rhombus and despite his career in law, he still has an interest in acting. That included a role on Shortland Street.
His movie credits also include Kiwi classics Utu and Bad Blood, based on the manhunt for mass-murderer Stanley Graham.
From his home in New South Wales, actor Tony Barry - who played John the Australian - recalled the hospitality the crew was greeted by while filming.
"We'd arrive in town too late to get any food and end up having jam sandwiches for dinner," the 74-year-old said.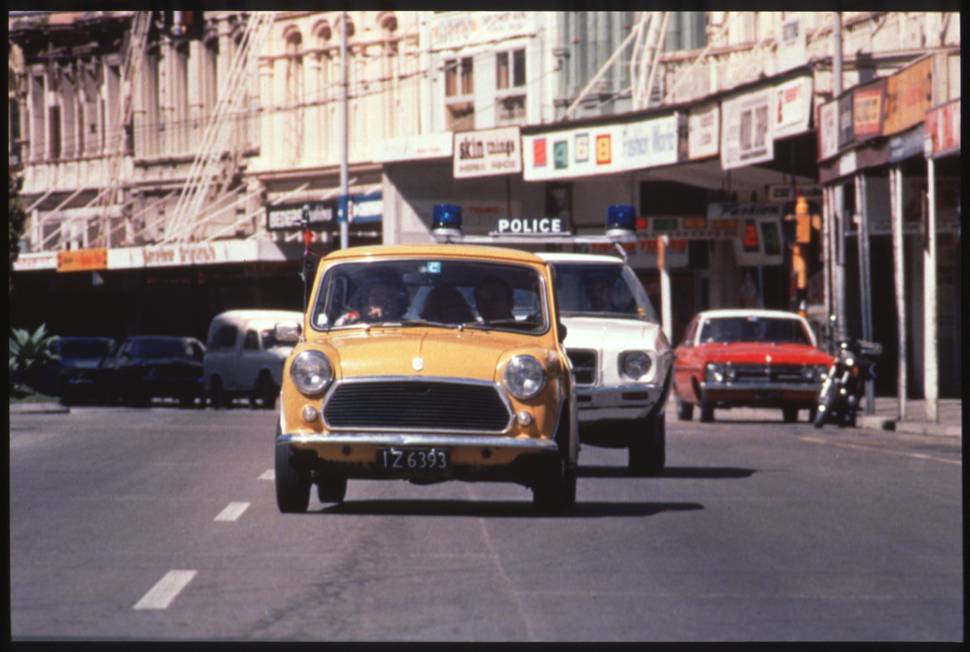 "Locals, wherever we went, seemed to embrace the film. Someone would know someone and before long we were enjoying their hospitality."
He recalled the yellow Mini being chased by a young traffic officer. "We were standing around in a carpark and the Mini came racing in, hotly pursued."
The car's doors had been modified so they fell off when opened and a hole was cut in the roof. "The young cop got out of his car and was standing there talking down to [the driver] through the hole saying, 'Open the window'," which he couldn't do, because it was stuck.
"So he said, 'Open the door' and he grabbed the door and pulled the handle and the door came off in his hand. The officer didn't know what to do, so he leant it against the yellow Mini, went back to his patrol car and left without saying a word."
Barry, who recently had a leg amputated due to cancer, told Murphy he was available for the remake. His acting career flourished after Goodbye Pork Pie and he starred in TV shows such as The Flying Doctors, Blue Heelers, Water Rats and The Time of Our Lives.
He also appeared in Baz Luhrmann's Australia, alongside Nicole Kidman and Hugh Jackman.
"[Goodbye Pork Pie] was an exciting project. It didn't pay well but we weren't in it for the money."
Fellow star Claire Oberman, who played Shirl, is based in London where she works as an actress and writer.
"I remember doing a scene in the railway carriage and I was so tired, I'd rest my head on a box and doze between takes," said the 60-year-old.
"It was rough. Sadly, my character Shirl got taken to prison and they went on to Invercargill without me. I was totally bereft."
After Goodbye Pork Pie, Oberman appeared in TV shows including Tenko and The Two Ronnies and in movies that included a starring role alongside Hollywood A-lister Harrison Ford in Patriot Games.