The trailer for the new Coen brothers' film bills it as being "from the directors of Fargo, The Big Lebowski, O Brother, Where Art Thou and No Country for Old Men".
But Hail, Caesar! is really from the directors of The Hudsucker Proxy, The Ladykillers and Intolerable Cruelty. Like those serious misfires, it is a movie in which the protean film-makers seem so busy amusing themselves they forgot the audience was there.
A valentine of sorts to the studio era, the film has as its main character Eddie Mannix (Brolin), an executive for Capitol Pictures (the same fictional studio that held the title character in thrall in the Coens' Kafkaesque Barton Fink in 1991).
There was a real Eddie Mannix, in fact, who worked for MGM as a fixer - a man whose job was to keep stars' wayward private lives out of the public eye - and, though the rest of the characters are fictional, there are plenty of references both obvious and obscure to keep film buffs and MGM-history geeks amused for hours.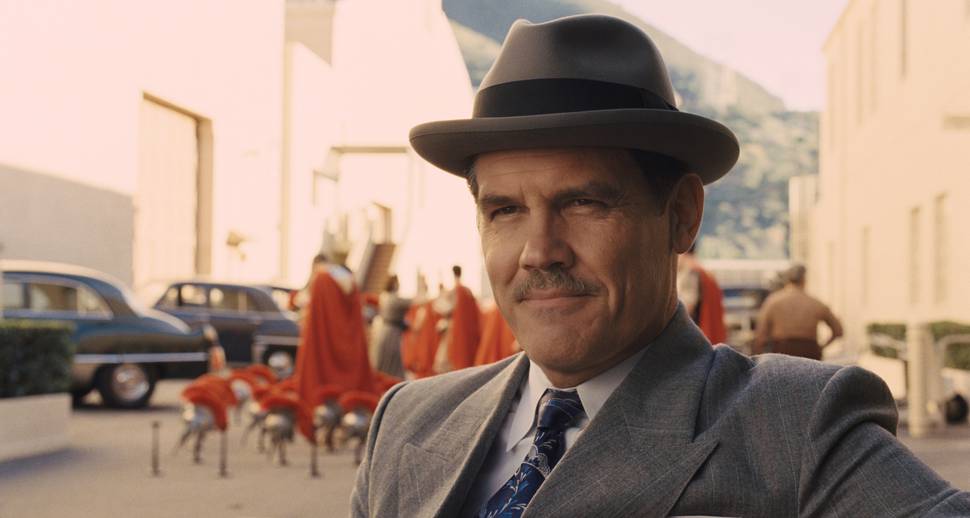 Ehrenreich is a cowboy to make Roy Rogers look like a klutz; Tatum is a dancer in the Gene Kelly mould; Johansson channels Esther Williams whose "aquamusicals" like Million Dollar Mermaid were hits of the day; a badly underused Swinton plays rival gossip-columnist twins who may remind us of Hedda Hopper and Louella Parsons.
The story occupies 36 hours in the tortured life of Mannix, under pressure from his wife, stars and studio bosses, and in the midst of shooting three pictures, including the swords-and-sandals epic that gives its improbable name to the film we're watching.
To really make his day, his leading man, the dumb and handsome Baird Whitlock (Clooney), goes missing - the explanation, which we know, though Mannix doesn't, ticks off a couple more studio-era themes - and finding him is just one of the many balls Mannix must keep in the air.
The problem is that the film deals with all this narrative clutter by just chucking a ball offstage occasionally and hoping we don't notice: subplot after subplot is abandoned - a briefcase stashed behind a circuit board; an adoption plan - and when they get picked, we feel like saying, "Hold on, what happened there?"
There's neither enough sleight of hand to bamboozle us, nor enough narrative momentum to distract us.
A bunch of radical Marxists, including a man who says he's Marcuse but looks like a cross between Freud and Einstein, raise the possibility of some serious subtext, but it turns out they're only there so we can all laugh at them.
A film made in 2015, even if it is set in 1951, must stoop pretty low to treat a critique of capitalism as a running gag.
There are moments of great pleasure in this film: dance sequences outdo the best of their inspiring originals; Ralph Fiennes' foppish cravat-wearing director Laurence Laurentz, trying to teach an actor to say the line "Oh, that it were so simple", repays the price of admission all on his own; and a theological discussion at a boardroom table is fun, too.
But most of the best laughs are in that trailer, which doesn't drag like the film does. It's far from the Coens' worst film, but much farther from their best.
Verdict: Far from their worst film, but farther still from their best.

Cast: Alden Ehrenreich, Channing Tatum, Frances McDormand, George Clooney, Jonah Hill, Josh Brolin, Ralph Fiennes, Scarlett Johansson, Tilda Swinton
Directors: Joel and Ethan Coen Running time: 106 mins
Rating: PG (coarse language)