Madonna appeared in court via video link from New Zealand yesterday, as both she and former husband Guy Ritchie were reprimanded by a judge in Manhattan for dragging their 15-year-old son Rocco through an acrimonious custody battle.
The news came today that Madonna's son Rocco should stay with Ritchie.
The Like A Virgin hitmaker and the Man From U.N.C.L.E. actor - who are locked in a bitter custody battle over the 15-year-old after he fled the singer's Rebel Heart tour - were not physically at the hearing, but listened to the judge through telephones as they were told that Rocco should remain in London for the meantime so he can attend school.
New York Supreme Court judge Deborah Kaplan said: "No one is disrupting this household. The child is in school; let us try to allow him to go forward in the most normal way. We're not forcing the child to leave school. His mother isn't asking that."
Whilst, according to PEOPLE magazine, an attorney appointed for Rocco added: "In almost every conversation, he has stressed to me how stressful [the very public custody battle is]. He is going to school now, which is a great step forward, and the parents should be commended that they were able to reach this decision ... He's enjoying himself there; he's having a good educational experience; the school seems to be a great fit for him."
The former couple will be back in court sometime in the summer, with the date provisionally set for June 1.
The teenager was living with his mother in New York since the couple filed for divorce in 2008. But in December, while travelling through Europe with his mother on the Rebel Heart world tour, he decided to stay with his father - much to the anguish of Madonna.
More from Spy:
• Lorde's little sister dreams of acting career
• Kiwi model stars in YSL film
The pair were not in court for the hearing, but followed proceedings via a conference call. Neither the 57-year-old singer nor Mr Ritchie spoke during the 45-minute hearing, other than to confirm their names.
And Judge Deborah Kaplan scolded Madonna and Mr Ritchie for seeking to resolve the matter through the courts, noting that Rocco had stated he wanted to come to an arrangement "in the most private way possible."
She urged the pair to "take this tremendous pressure off their son" and resolve the dispute swiftly. A second hearing, behind closed doors, will be held in London on Thursday.
"Frankly, both parties here have chosen to live their lives in a very public way, and may welcome the exposure, but the child has not," she said.
"I urge them to consider what is the best interests of their son - which may be to remove him from the spotlight."
Eleanor Alter, Madonna's lawyer, accused Mr Ritchie of having "taught his son that court orders and signed statements do not matter".
But Mr Ritchie's lawyer, Peter Bronstein, hit back, saying the teenager could not be forced to return to New York.
"Rocco is of an age where he cannot be physically forced to board a plane to come back," he said. "To make such an order is not the way a child should be forced to live."
Rocco is currently enrolled at a London school, on the agreement of both Madonna and Mr Ritchie, and the teenager's lawyer, Ellen Sigal, said that he was thriving at the school.
"Having this order over his head is stressful and upsetting to him," she said.
Ms Sigal said that on the eve of Wednesday's hearing she believed that they were close to reaching a deal, with Madonna and Mr Ritchie corresponding to draw up a list of 24 agreed points. But the deal fell apart, for unexplained reasons - much to the regret of Ms Sigal, who said she had hoped to settle the matter without further "distress, exposure and innuendo".
Following their divorce, the couple agreed to shared custody of their children - Rocco, and David Banda, adopted from Malawi, now aged 10.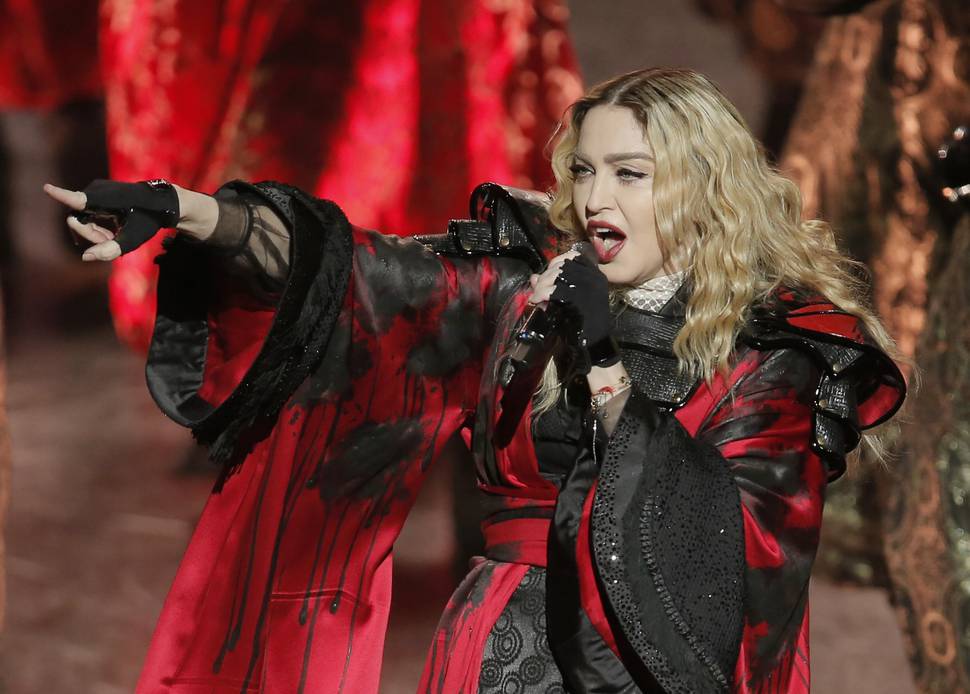 Madonna also has a daughter Lourdes, 19, by the actor Carlos Leon and in 2009 adopted Mercy, a Malawian girl, also 10.
The children had accompanied her on her Rebel Heart tour, which began in Montreal in September and has seen her criss-cross the US, Europe, South America and Asia. Madonna has a few days off before her tour to promote her 13th album continues in New Zealand this weekend.
Mr Ritchie, currently directing Jude Law in Knights of the Round Table: King Arthur, married model Jacqui Ainsley this summer, and lives in London with her and their three sons.
In December Judge Deborah Kaplan ordered that Rocco should talk with Madonna, and then revisit the issue of which parent he prefers. He has since remained in London, pictured last week spending time with Brooklyn Beckham - David and Victoria's 16-year-old son - in Notting Hill.
Madonna has taken to social media as part of her increasingly desperate attempts to win her son over. The singer posted a picture of him on Instagram last week in an angelic, sunlit pose with the caption: "I miss this boy so full of life so full of .." Referring to his star sign, she added: "I hope we see that Leo Sun soon. The light is blinding."
A fortnight ago she posted a photo of Rocco as a baby, with the caption, in French, saying: "I miss you."
Reports of the court proceedings in New York did not specify why Rocco prefers to stay in London. Asked if she could provide some clarity on the legal situation and what the next move would be in the case, one of Madonna's representatives said: "Sadly not."
The Michigan-born singer has frequently posted photos of her children - something which has led to speculation that Rocco was uncomfortable with his mother's social media frenzy. Last year she posted on Instagram a picture of her son with his hair in bunches, and a video of Rocco performing a backflip wearing only boxer shorts.
Rocco closed down his Instagram account shortly after posting a message to a friend saying he was staying in London. Mr Ritchie has put up a couple of pictures of himself fishing with his younger children in Dorset but not a glimpse of Rocco.
At Christmas Madonna posted a picture of herself with Rocco and the comment: "Merry X-mas to the Sun-shine of my Life."
A few weeks later she addressed critics who suggested that long tours were incompatible with raising her family. She featured a picture in which she was relaxing on a sofa with her four children and the message: "It's possible to be an entertainer and a good mother!!! Too bad we don't live in a society where many encourage strong independent single working moms! The next great Frontier!"
Lourdes is currently studying at the University of Michigan, which her mother attended for a short period. The younger children attend the Lycée Français in Manhattan and their mother is known to takes a tough line on homework and discipline.
In an interview last year Madonna said that sometimes she had to tell her children to wait outside when they came to meet her at the recording studio.
"At this point Rocco doesn't care," she said. "It just goes over his head. He is like, uhh, Mom - Mom is being Mom."
Lourdes, whom she calls Lola, was "horrified by all of it. She just wants me to be her mom".