The X-Files
The X-Files
creator Chris Carter is pleased to update the original template with his 21st-century unease. Gillian Anderson and David Duchovny are glad to be playing opposite each other again as Scully and Mulder.
And admirers will probably do a happy dance to the Fox TV drama's eerie theme music as it returns with a six-episode limited run tonight.
Will the reboot retain the dark magic of the original series, which in its 1993-2002 run offered a wildly entertaining blend of government conspiracies, otherworldly suspense and black comedy that was placed in the hands of two unknown but charismatic actors?
Creator and executive producer Carter offers assurances, but with the caveat that he insisted on more than an exercise in nostalgia. "Someone said to me, 'Great, a victory lap,"' when the project was announced, he says.
"That's the opposite of why we came back. We didn't want to do something that reworked old material or was just a sequel to what we'd done before. I wanted to make something fresh and original."
Current events and figures proved helpful, he says, citing National Security Agency leaker Edward Snowden, WikiLeaks founder Julian Assange and eroding personal privacy as examples. "These are interesting and heady times, and perfect for telling X-Files tales," he says, promising a series more directly topical than the original. "We deal with fear in a lot of different ways. ... The fact that we're being spied on and don't seem to be raising any protest is a frightening prospect for me."
One tricky aspect is balancing the interests of X-Files devotees and potential newcomers. "We have to be respectful of people who are familiar with the show so we don't beat them over the head with things they know," Carter said. "I think our approach is artful in what it gives fans and what it will provide non-fans."
He's joined by members of the creative team that helped make the first series a sensation, Darin Morgan, Glen Morgan and James Won, who split writing and directing duties with Carter on the new episodes.
Also back are Mitch Pileggi as FBI assistant director Walter Skinner, William B. Davis as the shadowy Smoking Man and - despite their deaths - the beloved conspiracy-theory geeks known collectively as the Lone Gunmen.
"No one is every truly dead on The X-Files," Carter says.
Newcomer Joel McHale is onboard as Tad O'Malley, a news anchor.
In the reboot, new evidence reunites Mulder and Scully in a quest to uncover the truth. It's personal as well, Anderson said.
"There's something missing in Scully's life, and that thing is clearly Mulder. Both of them feel disconnected from the world and themselves because they're missing a limb," she said.
When: 8.30pm, tonight
Where: TV2
What: Mulder and Scully ride again
- AP
Kirstie and Phil's Love It Or List It
The British property-presenting partnership of Kirstie Allsopp and Phil Spencer return in a new show - Love It or List It, a series that gives couples the option of renovating their home or flogging it off and seeing what else might be available.
It's a Channel 4 adaptation of a Canadian format and reflects a different British property market from the one the pair started out in, 15 years ago in their original show Location, Location, Location.
Love it or List It plays on the pair's natural rivalry, with Spencer trying to convince the couples they meet that the best move is to sell up and shift. Allsopp, however, attempts to persuade homeowners their unloved houses could be improved to fit their requirements.
When: Tonight, 8.40pm
Where: One
What: Should I stay or should I go?
Mad Dogs
If Mad Dogs - a sort of noir-ish bloody farce about a bunch of fortysomething mates whose tropical getaway turns murderous - sounds familiar, that's because it's been done before.
The 10-episode drama, made for Amazon in the US, is a remake of the 2011 British programme of the same name, which started off as a four-part one-off before adding further seasons.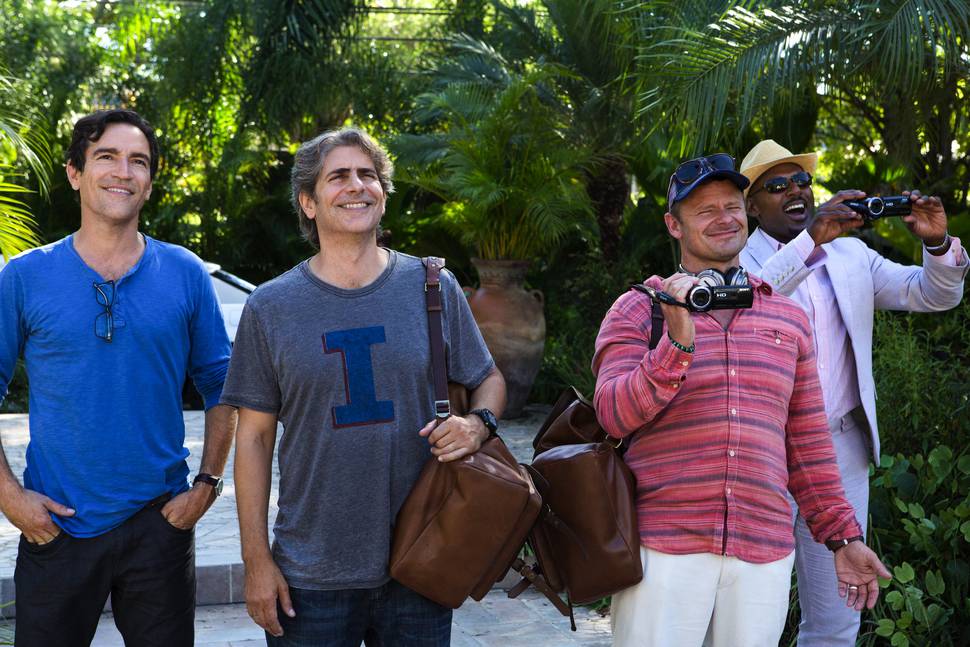 The original had four blokes visiting a wealthy old mate at his villa in Majorca.
This one has a quartet - Steve Zahn, Michael Imperioli, Romany Malco and Ben Chaplin - invited to stay in a Belize spread by a wealthy old friend (Billy Zane), only for the vacation to turn into a nightmare.
British creator Cris Cole is behind the remake with American executive producer Shawn Ryan (The Shield).
Chaplin appeared in the original as the wealthy host; in this he's one of the visitors. But it's not a straight remake.
"It's a darker story," says Cole. "Going into this we knew we had 10 hours of story to fill so we could be a lot more ambitious with our story, a lot more complex with it, we could make the crime story more robust than perhaps it was in the British one and get a lot deeper into the characters than we were able to in the four-hour British one."
When: Monday, 9.30pm
Where: SoHo
What: Mates go troppo for mid-life crisis and murder
Also ...
• American Crime Story: The People v. O.J. Simpson starts its 10-episode run on SoHo (Wednesday 8.30pm) the day after the show, made for FX, begins screening in the United States. To read more about the Ryan Murphy-produced series, which stars Cuba Gooding jnr as Simpson, as well as John Travolta and David Schwimmer, head to page 6.
• Normal transmission resumes this week for TVNZ news and current affairs shows with both Seven Sharp (Monday February 1, 7pm) and Sunday (Sunday January 31, 7pm) returning after the summer break.
• Meanwhile, over at TV3, the rebranded evening bulletin Newshub Live At 6pm is unveiled on Monday with long-time presenters Mike McRoberts and Hilary Barry shifting to a new set.
The late-night Newsworthy is getting a name change to Newshub Late, all part of the network's shift to a multi-platform integration of the 3News and RadioLive teams.