Chris Schulz goes behind the scenes on the Auckland-made splatter-horror show devoted fans have been waiting for.
It's early morning in a cold South Auckland TV studio, and everyone in the room is staring at a man in a mask.
With a startling piece of leathery latex stitched to his face, the eye-catching creature lurches through the lunch room where Lucy Lawless and Bruce Campbell are relaxing and sits down with a thump at a folding table next to TimeOut.
The coffee I was enjoying isn't the only thing that gets a jolt.
"Hey, how's it going? Nice to meet you," says Ray Santiago, his chirpy greeting failing to match his gruesome appearance that's made even more ghoulish by the thick blob of blood covering one eye.
This is another day at the office for Santiago, who's been sporting some extreme looks as one of the leads on Ash vs Evil Dead, the spin-off TV show from Sam Raimi's horror film trilogy that has arrived just in time for Halloween.
Backed by American cable channel Starz and airing on Sky TV's The Zone in New Zealand, the show promises to push boundaries for acceptable levels of blood and gore on television.
Prosthetics designer Roger Murray explains: "Demons, deadites, decapitations, disembowelments ... you name it, (we've done it)."
Lawless plays Campbell's nemesis Ruby Knowby, a woman out to "destroy" Ash who she blames for killing her family.
She's been involved in some horrifically memorable moments on shows like Salem and Spartacus, but says Ash vs Evil Dead "absolutely takes the cake".
"You don't want to live in the head of the person who dreamed this up," she says, her eyes widening.
Ash vs Evil Dead features on the cover of this week's TimeOut: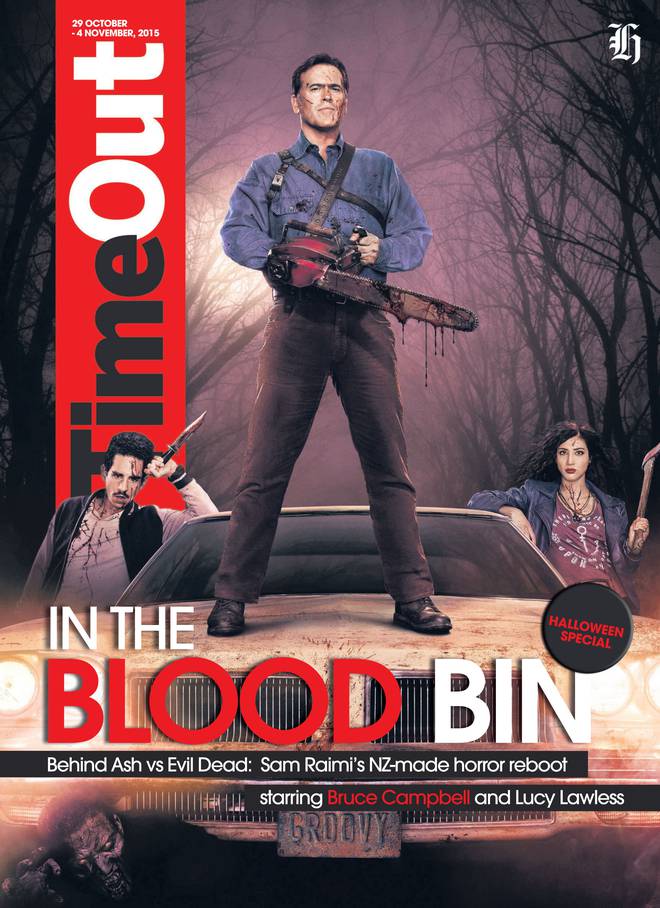 Sitting in front of Santiago, who looks like he couldn't decide between dressing up as Pig Man or Freddy Krueger for Halloween, it isn't hard to believe her. But interviewing a man in a mask is far from the weirdest thing to happen to me today. During the five hours I spend on the blood-splattered set of Ash vs Evil Dead, my white sneakers get stuck to the floor in a blood-drenched saloon, I trip over a bucket containing a child's head floating in a puddle of brown goo, and at one point, I'm handed a string of sticky intestines to hold.
It's a bloody welcome to what might very well become the sickest show on TV when it debuts on Halloween night.
As Pablo, Santiago plays the sidekick to Bruce Campbell's Ash Williams in a role that demands he gets "covered in the most blood".
"The day usually starts off with some blood on me, and I end the day with lots more blood on me," he says.
Santiago gets splattered in so much of the stuff a team of people are employed to "scrub it off me at the end of the day".
The man responsible for all this is Sam Raimi, the 56-year-old Evil Dead creator who executive produces the series and directs the first episode.
Despite having 10 episodes of Ash vs Evil Dead nearly in the bag, the softly spoken Raimi still seems incredulous that anyone watched his first film back in 1981.
"We never expected that it would be around 35 years later. We just tried to make a movie that was good enough to play at drive-ins," he says. "We never expected this success."
In the original Evil Dead film, Campbell's Ash was forced to take on a demonic plague of 'Deadites' after summoning them through an ancient book. Deadites are zombies that are meaner and faster than the shuffling parade of dead-eyed duds on The Walking Dead, and taking them out requires a lot more than a simple knife to the brain.
Thanks to Campbell's wise-cracking, butt-kicking performance, including a scene in which he attaches a chainsaw to his arm, it became a cult hit and spawned a trilogy of films.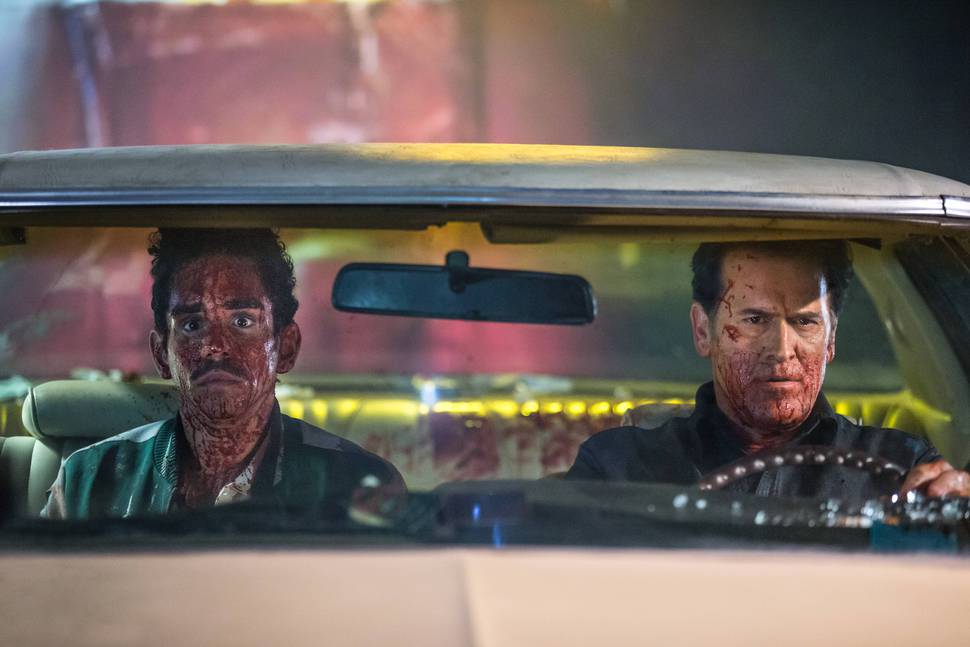 After Army of Darkness ended the trilogy in 1993, Raimi moved on to another franchise, directing the hugely successful original Spider-Man trilogy. But Evil Dead fans didn't let up their demands for another film.
"I thought I was very lucky with my film career," he says. "I got some great jobs, like Spider-Man, (but) I'd go to these conventions and all anyone would ask me is, 'When are you doing another Evil Dead film?'
"I finally realised, 'Why am I running from what the fans want me to do?' They want this story from me, I thought I had a better one, but they don't care, they want this one. They want Bruce Campbell as Ash."
After the 2013 reboot with a new cast, Raimi planned to shoot a fourth Evil Dead film starring Campbell, but says the script got "too big and unwieldy". That was when Campbell and producer Robert Tapert convinced him to approach Starz with it, easing financial and rating concerns.
The home of like-minded show Spartacus, Tapert says Starz has little influence on the content of Ash vs Evil Dead. If anything, "they've pushed us further".
"It's more violent than the movies," says Tapert, who is married to Lawless. "Throughout this season we do things you probably couldn't get away with in a movie ... we get away with a lot."
Whether the show is a success rests on Campbell's shoulders, and at 57, he's feeling the weight of being a leading man more than ever.
Campbell turned Evil Dead's success into a B-grade movie career, as well as having lengthy stints in TV shows like Xena, Hercules, and Burn Notice.
But nothing has come close to matching the cult success of Evil Dead. So, sitting in Ash's blood-splattered pants and blue shirt, is he having fun? "Don't use the word 'fun'," warns Campbell. "Use words like, 'creatively fulfilling (and) ultimately worth it'. None of these Evil Dead films have been fun, not a single one. I long for the days of being a soap opera actor, sitting down talking with a doctor's lab coat on, where nothing ever happens.
"The scenes we're shooting, there are eight fights going on. It's literally never a dull moment."
Cantankerous and belligerent, Campbell's winks and wry smiles give away the fact that he's joking. So it's easy to see why fans have been drawn to him and demanded more from his character. As Ash, he's the everyman anti-hero, the reluctant monster hunter, or, perhaps, Rick Grimes with jokes.
Campbell describes it like this: "The fans have driven all of this. They've been relentless for years. We shot the last movie 24 years ago, and they haven't shut up since. Why? I think it's because people like heroes who are just like them. I'm no smarter than anyone watching the show. Ash makes dumb mistakes, he's full of shit, he lies, he tries to cover himself. He's not a superhero in a spandex suit. Rather than fighting, he's like, 'I need a nap'."
On Ash vs Evil Dead, Campbell teams up with sidekicks Pablo and Kelly Maxwell (Dana Delorenzo) to battle another plague of deadites. Like Santiago, that means Campbell is also covered in blood on a daily basis.
"I got choked during a scene. I had so much blood in my mouth from this demon I almost had to yell cut. I was spitting it out," he says.
Back in the lunchroom, masked man Santiago sums up what fans are in for.
"Things happen that I never thought I would do as an actor," he says. "Some things have happened to me that not many men have had to go through ... There's tonnes of blood coming out of lots of different places."
After a pause, Santiago levels his single visible eye at TimeOut and says: "I feel like I'm in a snuff film, for sure."
What: Ash vs Evil Dead
Where and when: Debuts on The Zone on October 31 at 10pm, then on every Sunday at 8.30pm