A tour issue ruptures Taylor Swift's and Katy Perry's friendship and draws in others
Both deny their beef, but their thinly veiled twitter swipes tell another story. Here's a detailed look at how Katy Perry and Taylor Swift reportedly fell out.
2009-2011: Friendly relations
Swift was quite the fan of Perry, and vice-versa. In 2009, they would tweet each other about being each other's fans, swap photos of their cats and they wished each other happy birthday.
In 2010, Katy Perry makes a guest appearance on Swift's tour to sing Hot and Cold together, while in 2011 the duo are seen hugging at the American Music Awards.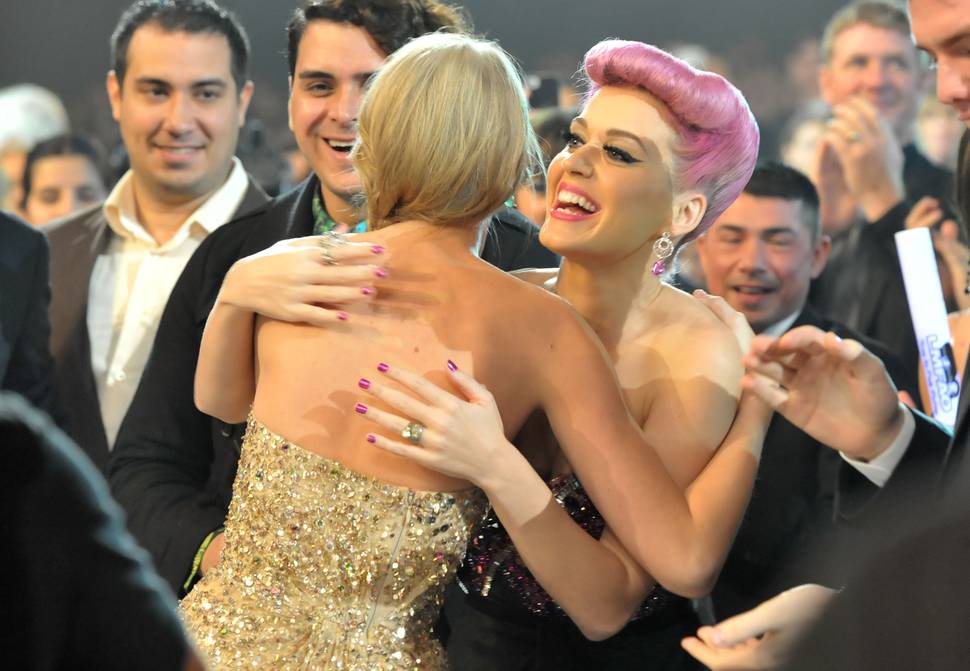 2012-2013: Arena tour sabotage?
The crux of the feud. Things start to take a turn for the worse in 2012 when Katy Perry starts dating Swift's ex, John Mayer. But it's a career issue that divides the pair. Perry's Teenage Dream tour finishes and three of her dancers get booked to dance for Taylor Swift's Red tour in 2012. Perry asks the dancers if they would like to dance again on her 2013 Prism World Tour. The trio agree, giving Swift 30 days' notice.
Taylor reportedly thinks Perry is trying to sabotage her tour.
2014: Swift writes Bad Blood
She doesn't name names, but gives details as to what the song is about in an interview to Rolling Stone.
"For years, I was never sure if we were friends or not," Swift says. "She would come up to me at awards shows and say something and walk away, and I would think, 'Are we friends, or did she just give me the harshest insult of my life?'
"She basically tried to sabotage an entire arena tour. And I'm surprisingly non-confrontational - you would not believe how much I hate conflict. So now I have to avoid her."
A day after the interview hits the stands, Perry tweets cryptically: "Watch out for the Regina George in sheep's clothing", referencing the scheming character in the movie Mean Girls.
2015: Duo spar over Twitter, Bad Blood video release increases rumours.
In January, Perry is quoted saying "if somebody is trying to defame my character, you're going to hear about it" in defence of her Regina George tweet.
Bad Blood gets nominated for a VMA and rapper Nicki Minaj is offended. Minaj airs her grievances after she believes her Anaconda video was snubbed, and Swift takes it personally.
The Twitter spat leaves an opening for Perry to seemingly take another shot at her foe.
This week video surfaces of Swift laughing at a toy shark while on stage singing Bad Blood on her tour. Many associate the shark as alluding to Perry's Superbowl stage show that included two dancers dressed as sharks.
- AAP