Label:
Matador
Verdict:
Scotland's finest maintain a typically classy holding pattern
One of the must-see acts at Laneway, B&S from Scotland have over two decades quietly built a large fanbase for their gorgeously melodic, cleverly literate and often wry pop-rock which owes nods to embellished Bacharach as much as crafted Anglofolk. And they haven't been averse to stretching into glam-style pop. So here when they go all Sparks-styled disco (on the seven-minute Enter Sylvia Plath) you can hardly be surprised.
This is a typically free-wheeling collection with discreet nods to folksy-funk (The Everlasting Muse about songwriting with Tijuana horns and knees-up middle section), flirtations with Talking Heads-like bubbling groves (Perfect Couples) and classic 50s/60s pop (the initially breezy The Book of You which closes with a furious 70s guitar solo).
Between the opener - the delightfully spiritual Nobody's Empire, think the Chills at their most uplifting - and the reflective closer Today (This Army's For Peace), here again B&S explore pop in all its possibilities over a dozen diverse songs which will either have you furiously bouncing on the dancefloor (Allie, The Party Line) or enjoying over a cup of tea (Ever Had a Little Faith?) . . . and always offering lyrics which can make you think.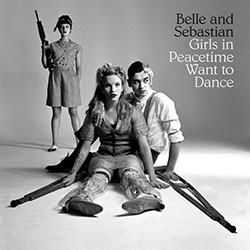 * Follow TimeOut on Facebook
- TimeOut