It's incredibly cheeky to include on your debut a single that's 3 years old, no matter how good it is. But that's how long Azealia Banks' studio debut has been delayed amidst an exhaustive list of woes that includes record label wrangles, Twitter arguments, misdirected singles and celebrity beat downs.
It's so far past its due date that Broke With Expensive Taste has arrived with little more fanfare than a single tweet, meaning there's little expectation on the shoulders of the 23-year-old Harlem rapper. That's a good thing: ever since Banks' fantasticly filthy single 212 was released in 2011, her mic skills have been consistently overshadowed by a series of controversies - including falling out with Pharrell over her poppy single ATM Jam, and a very public spat with Universal, which saw her leave the record label this year.
*Warning: Video contains explicit content*
Watch the music video for Chasing Time by Azealia Banks:

App users: Tap here to view video
Broke With Expensive Taste has disaster written all over it, so it's nothing short of a miracle that it's nothing of the sort. Instead, Banks delivers an album that her 1991 EP and excellent Fantasea mixtape only hinted at, showing clear-eyed determination to prove her haters wrong.
"Ima be legendary when I end this," she rasps over the intimidating thuds of Ice Princess, the album's darkest moment that finishes with the chilling line: "Cold-killer so now you know."
She backs up those boasts with an expansive album that takes in such a flurry of styles - Jamaican dancehall, Spanish flamenco, eclectic electronica, 60s doo-wop, indie-rock and gangsta rap - that to call it a hip-hop album is doing it a disservice. It's such a cacophony of styles it often feels like Missy Elliott mating with mash-up king Girl Talk, but Banks shines throughout, making up for her previous misdemeanours by doing what she does best: being a sassy, supersmart motormouth.
Whether she's rapping over bonkers trumpet jam Gimme A Chance, the bassy boasts of BBD, the swirling nightclub anthem Heavy Metal and Reflective, the skittery electronica of Desperado, or the cruisy pop of Soda, she excels, proving once and for all that 212 was absolutely no fluke. By the time you get to 212, you'll realise Broke With Expensive Taste is so good that Banks didn't even need to include it.
Yep, Azealia Banks has finally delivered the debut we knew she was capable of.
Now all we need to do is keep her off Twitter.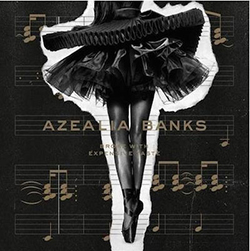 Label: Independent
Verdict: We knew she was good - but not this good.
* Follow TimeOut on Facebook
- TimeOut