A Kiwi scriptwriter has told of an epic 10-year struggle to get a movie based on the life of Stephen Hawking made.
Anthony McCarten wrote the script for the movie The Theory of Everything, which was released in American theatres this week and is generating Oscar buzz ahead of its New Zealand release on February 5.
The script is based on the memoir Travelling to Infinity: My Life with Stephen, written by the 72-year-old astrophysicist's ex-wife Jane Hawking.
In a new interview with The Hollywood Reporter, McCarten tells the publication getting the movie made was a 10-year struggle.
"If you'd told me at the beginning that it would take this long, I'd have been very discouraged," McCarten says. "Looking back, though, the film has found the right constellation of people."
McCarten tells THR how he turned up on Jane Hawking's doorstep unnannounced after reading her book, in an attempt to persuade her to sell him the rights to adapt it into a movie. She said no.
McCarten kept at it, sending her script revisions over an eight-year period until she relented.
"It wasn't like she was making sure the script was the one she wanted. It was more like she was growing into a place where she was comfortable with anyone making a film about her," McCarten tells THR.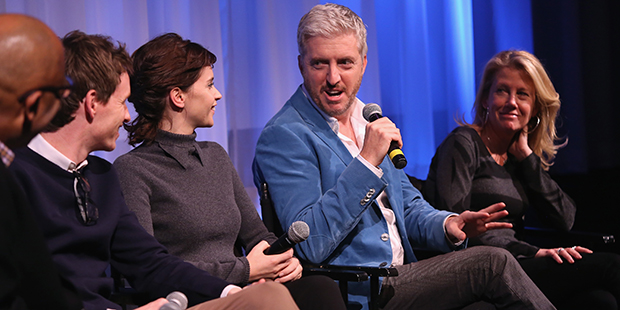 Anthony McCarten talks with Patrick Harrison, Eddie Redmayne, Felicity Jones and Lisa Bruce. Photo / Getty Images
Shot last year and screening in America now, the $15 million movie - and the performance of British actor Eddie Redmayne as Stephen Hawking - has been praised by critics and is generating Oscar buzz. Jane Hawking is played by Felicity Jones
But it's the opinion of one man that matters most to McCarten - Hawking himself, who teared up watching the film and wrote the words, "Broadly true" into his computer after seeing it.
"It was an enormous relief," McCarten said in a video interview with THR. "He could have typed 'Lawyer up dude!', so 'Broadly true' - we'll take it!"
His movie has generated bigger offers for McCarten - the LA Times reports he's in talks to pen the film Hack Attack, about the British phone hacking scandal set to be directed by George Clooney.
New Plymouth-born McCarten is best known in New Zealand as the co-writer with Stephen Sinclair of the international hit stage play Ladies Night which was first produced in 1987. The two writers later sued the producers of the British movie The Full Monty for plagiarism and the case was settle out of court.
McCarten wrote and directed two local features - 1998's Via Satellite based on his play and 2008's Show of Hands based on his novel.
Prior to The Theory of Everything, he adapted his New Zealand-set novel Death of a Superhero as a 2011 Irish film starring Andy Serkis and Thomas Brodie-Sangster (Game of Thrones) which failed to attract much interest with its story of a dying 15 year-old spending his last days drawing stories of a superhero.
Hawking isn't the only genius that McCarten has written about. His most recently published novel Brilliance (2012) reworked an earlier 2003 book about the life of inventor Thomas Alva Edison.
McCarten now bases himself between London and Los Angeles.
- nzherald.co.nz