Forget Jewels - Killer Mike and El-P have struck gold.
The rap duo know it too - their bold rhymes and aggressive attitude gives their second album together as Run the Jewels a thrillingly kinetic kick.
"Last album voodoo, proved that we're f***ing brutal, I'm talking crazy, half past the clock is cuckoo" is how Killer Mike sums it up on Blockbuster Night Part 1, a future-grime stunner that sums up their current form.
That cockiness is a good thing, especially when the pair's interweaving flows - at their best on the slurred soul of All My Life - are delivered with knowing smiles etched across their faces.
Try opener Jeopardy, which adds wayward trumpets to their brash boasts, while Oh My Darling Don't Cry and All Due Respect deliver delicious old school boom-bap rap attacks.
Their form is catchy too - they even score a rare appearance and killer verse from Rage Against the Machine's Zach de la Rocha on the towering fuzz-thump of Close Your Eyes.
Still not convinced? RTJ2 is available for free download through their website.
Secondly, thanks to a fan campaign, they'll be releasing a version of this album made entirely by cat noises, called, Meow the Jewels.
Thirdly, they'll be here in January. They may take your jewellery. You have been warned.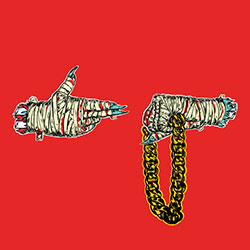 Label: Mass Appeal
Verdict: A bold, brash and bruising rap attack.
- TimeOut