British comedy mob The Inbetweeners are saying goodbye with a final dose of awkwardness, this time set in Australia, They tell Chris Schulz why it's time to call it quits.
In one early scene, a dog licks a pair of testicles dangling out from under a kilt. In another, a public swimming pool is cleared by a swimmer with human faeces smeared across his face.
And as for the unspeakable things that happen when the boys are dehydrated in the desert, well, what goes on tour, stays on tour.
These things could only come from The Inbetweeners, the British television comedy series that's back with a second film spin-off that again takes outrageous delight in poking fun at adolescent awkwardness.
But this film comes with a warning. If you're a fan of the comedy quartet's gross-out gruesomeness, make the most of it because this is the last we'll see of Will, Jay, Simon and Neil.
"We won't do any more Inbetweeners," confirms Joe Thomas, who plays the show's nerd and hapless romantic Simon.
It has nothing to do with the growing age gaps between the four stars, who are all nearing 30, and their characters, who are around 18, says Thomas.
"It's not so much about where we are as actors, but where the characters are. It's important that it's about adolescence or that period just past adolescence.
"These are guys who haven't yet got anything more important than each other. But no matter how tragic you are, at some point you do grow up and move on."
After seven years together working on three TV seasons and two films, that means the cast and crew are going through a bittersweet process promoting The Inbetweeners 2, says Iain Morris, the film's co-writer and director who created the show with his friend Damon Beesley in 2007.
"I think you've got to know when to leave gracefully," he says. "It feels like we made this film because the reaction from fans to the first one was unbelievable.
"They deserved for us to at least have a think about doing another one. It's heartbreaking. It feels for me now that for my career that I'll be managing everything on the downward slope."
So it's definitely the end, but The Inbetweeners are going out on a high. After their budget backpacking holiday to hell in Crete in the first film, The Inbetweeners 2 packs its bags and heads to Australia.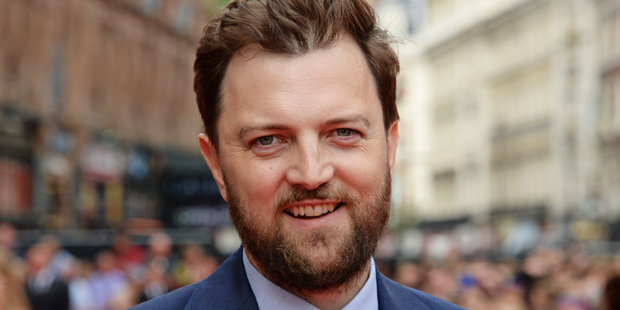 Iain Morris, co-writer and director.
Morris says the land down under was ripe with easy comedic opportunities.
One brilliantly executed early shot, inspired by a Michel Gondry-style dream sequence, took a week to make and packs in every Australian cliche imaginable.
"There's something about the gap-year experience in Australia that attracts a wide variety of English youth. New Zealand feels like more of an outdoorsy experience, India's a bit more spiritual, Southeast Asia is an adventure type thing. But the kids that travel to Australia are just going to get drunk," Morris says.
The fact that they've made two films is a source of bemusement to Simon Bird, who plays the socially inept Will McKenzie. Having never been on television before starring on the show, Bird says the idea of making a movie was always a joke on the set of their TV show.
"When that first series was being made it was such a tiny show. None of us had acted before. Three of us had never been on TV before. We honestly thought it wouldn't get recommissioned. We just enjoyed making the first season and thought that would be the end of it. We all found it ridiculous that we'd be the leads in anything.
All agree the franchise's charm relies on the relationship between the four leads. It's a genuine bond, says Morris.
"They do get on really well, they really like each other and they're really funny," he says. "They take the piss relentlessly."
Thomas agrees, saying the four have so much fun they often ruin scenes by "corpsing" -- showbiz terminology for making each other laugh while the cameras are rolling.
"We do like to muck around because we're trying to stay in this giggly zone. The four characters are four mates trying to make each other laugh by trying to take the piss, and that's what we're like as actors, we're constantly talking and joking. It does get in the way of being professional sometimes.
"It's hardest to behave when we're in the car together. They can't get to us, we're in there, we're mic-ed up, we know the crew can hear us and it's like a red rag to a bull, you basically start performing to them."
But for a show known for its over-the-top sense of humour, have any of the jokes ever gone too far?
"If I felt it was funny, I'd do it," says Thomas. "There's a kind of in-built sensor, which is the best rule I've got. If I'm still laughing at something, it's probably okay. If I'm not laughing at something, perhaps we've gone too far."
For now, at the end of a run of premieres to promote the film, Thomas admits the cast are coming to terms with the fact that The Inbetweeners is over.
"I genuinely don't understand why, but for some reason the four of us have a bond.We're all a bit thoughtful because we've reached the end of quite a long process. None of us are in a rush to do anything else. But it is a period of grieving."
What: The Inbetweeners 2
Where: In cinemas, from today
- TimeOut