From zombies to kapa haka in the military tattoo, New Zealand has a strong presence at the Edinburgh Festival. Stephen Jewell reports
With its loud explosions and gory details reducing more nervous attendees to gibbering wrecks, The Generation of Z is not a conventional theatrical experience. However, the interactive zombie drama is the runaway hit of the inaugural New Zealand season at this year's Edinburgh Fringe Festival, garnering enthusiastic reviews from publications such as The Scotsman and London's Evening Standard and selling out its first week of performances.
"We had a woman wet herself two nights ago as she was completely amazed by it and couldn't control herself," says creative producer Charlie McDermott. "And we've had some great Facebook posts from people who have been coming to the Fringe for 15 years and have never seen anything like what we do."
Like The Walking Dead brought to undead real life, The Generation of Z: Edinburgh takes place in a desolate container yard below the Assembly Theatre in George Square. It features a core cast of Kiwis whose trip to Edinburgh was partly paid for by online crowd-funding, while support from locals has also been important.
"It's an expensive show but the beauty of the apocalypse is that you can just go to the dump and grab whatever you can or you can approach people who are getting rid of computers and other tech stuff," says McDermott, who has teamed with acting company Scare Scotland. "They've been our zombies every night and the local Airsoft group has provided us with armoured tanks and other vehicles. We've been very lucky in that sense, but then, why not? I've always said that if you're going to take a chance, you might as well go full tilt, so if we've got an immersive show we might as well immerse ourselves in that community."
The majority of the shows that make up the New Zealand season either explore Maori or Polynesian culture or Kiwi colonial history, but The Generation of Z boasts more universal appeal.
"It's really interesting because we hear all these stories about the struggles of the Pacific people," says McDermott. "I'm quarter-Tongan myself and I'm also part-Scottish, so I've got a mix of races in me. It's still been a struggle for us as a lot of the stories that get funded have that kind of ethnic or Pacific arty background, which we don't. We're like the contemporary mongrels of culture and, for me, there are not a lot of stories where I can go, 'Hey, I relate to that'."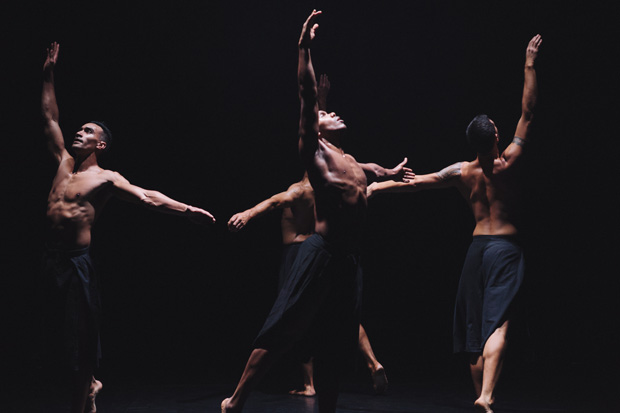 Black Grace perform Minoi at the Edinburgh Festival. Photo / Simon Wilson
Opening with their mesmerising signature piece Minoi, Black Grace's impressive fusion of traditional and modern dance has also won acclaim, with a four-star review in The Times, which praised Porirua-born Samoan choreographer Neil Ieremia's "knack for dynamic compositional patterns that place great demands on dancers who, luckily, deliver the goods with tirelessly powerful flair".
Founded in 1995, Black Grace have toured North America on several occasions but have not visited Britain before. "This is our first time as we like to take it slow," laughs Ieremia. "Twenty years is a pretty long time but, you know us Islanders, we like to keep it real."
With this year's Fringe predicted to encompass just under 50,000 separate performances, Black Grace know they have to keep their feet on the ground.
"We've never done something like this before, where we have to get in and get out," says Ieremia. "You're just in one slot and there are eight shows in your venue and three venues in your theatre, so the turnover is incredible and, of course, there's over 3000 shows here a day."
He has also appreciated the opportunity to socialise with other New Zealand performers. "I'm really proud to be here with all these great artists, although it's crazy that we have to travel halfway across the world to spend time together. We live on a tiny island at the bottom of the Pacific Ocean and we never see each other, but here we all are."
The 14-strong company of Kila-Kokonut Krew backed Black Grace when they performed at a media showcase at the New Zealand-themed Backyard Bar. Formed in South Auckland in 2002, the ironically abbreviated "KKK" sang the infectious theme tune from their own show, The Factory. Centring on the difficult experiences of Polynesian immigrants to New Zealand in the 1970s, the so-called first Pacific musical resembles a Kiwi answer to West Side Story. But, while associate producer and actor Stacey Leilua admits some of the Samoan dialogue has been slightly altered, the most obscure reference is likely to be to a character popping out to the dairy for a bottle of milk.
"The overall themes of The Factory are universal, and have translated well," she says. "We've had a lot of positive feedback from audience members sharing their personal stories of migration, as well as just an appreciation for the music and choreography."
Staged at the Assembly Hall's main theatre, Leilua says the stars of The Factory have frequently been mistaken for members of the prestigious venue's other New Zealand show. "A lot of the cast get asked on the street if they're from Haka, which becomes an opening to share the differences between Maori and Samoan culture."
Featuring performers from New Zealand's two leading kapa haka groups, Haka's endearing introduction to Maori culture has attracted capacity crowds, with queues snaking around the block for their daily lunchtime shows.
"We've been held up afterwards by people wanting to express their gratitude to the cast," says Annette Wehi, director of national kapa haka group Te Matatini.
"Most comment that they feel a connection with Maori as we have a similar history to the Scots, who have also lived in clan-like/hapu/extended family situations. They've also fought against their own race, then against the British and with the British in the world wars. "Others can't get enough of buff Maori warriors and have already made a connection with the mighty All Blacks prior to the show. They simply can't get enough of the haka, which is a unique icon of New Zealand's heritage."
With this year's Edinburgh Festival coinciding with the centenary of the start of World War I, the roles that Maori and the Scots played in last century's global conflicts provides another touchstone.
"Many have been touched by the raw emotion displayed in parts of the Haka show and have confessed they were brought to tears reflecting on the similarities [with their own culture] through loss of life in war," says Wehi, who believes that Haka's profile was enhanced by Te Matatini's participation in the Royal Edinburgh Military Tattoo.
"That's definitely added mana to the Haka show as the Scottish associate the Tattoo with top class acts only. It's been a privilege to present our culture, our history and our stories in our own language in Edinburgh."
The Maori Battalion's involvement in one of World War II's decisive flashpoints, the Battle of Monte Cassino, is at the heart of Strange Resting Places.
Written by Paolo Rotondo and Rob Mokaraka, the intimate three-hander highlights the common bonds between Maori and Italian society, which essentially boil down to their mutual love of food, song and family.
Delving even further back, to the 1800s, the one-woman show On The Upside Down of the World tells the true story of British settler Lady Mary Ann Martin, who unexpectedly grows close to a young Maori boy after moving to colonial Auckland, but her idyllic existence is torn apart by the start of the New Zealand Land Wars.
"It feels great to be here with such a strong Kiwi contingent," says actor Laurel Devenie, who will rack up her one hundredth performance in the role of Lady Martin while in Edinburgh. "It's really special to be here beside other strong New Zealand work, which is something I didn't really have a concept of before we arrived, but it's felt a bit like being in a sports team. I love it."
The Edinburgh Festival Fringe runs at various venues until August 25. Stephen Jewell travelled to the festival with assistance from Creative New Zealand.