Wasted Youth, his 2006 debut that mixed s' />
When he left New Zealand he left his rap career behind, too. But Louie Knuxx is back with new energy, new focus and a new album. He talks to Chris Schulz.
If you've forgotten who Louie Knuxx is, no one would blame you. The New Plymouth rapper struck a chord with Wasted Youth, his 2006 debut that mixed slurred street rhymes with attractive hip-hop production. It spawned a minor hit with the bouncy single They Call Me.
But since then, the heavily tattooed Knuxx says he "really hasn't done much".
"When I put out Wasted Youth I was doing pretty well. I'd made a lot of positive changes but I still had some problems," Knuxx says over coffee in an Auckland park.
"It came at the tail end of a pretty tumultuous young adulthood.
"I was a street kid, kicked out of home at 14, I went through all these institutions, so I took care of myself from a really young age."
"I got into heaps of shit and went to jail. I was pretty antisocial. After living that lifestyle for so long it's difficult to escape. You can make changes but it's easy for things to catch up."
And catch up they did. Instead of focusing on his career and building on the success of Wasted Youth, Knuxx (real name Todd Williams) found himself facing assault charges and dealing with the break-up of a "serious and all-enveloping" relationship.
So he ran. Knuxx packed up, left New Zealand and moved to Melbourne. He spent six years there but initially had no idea how long he'd be away or even if he'd come back.
But he soon found some kindred spirits in the local hardcore scene and started touring and recording again.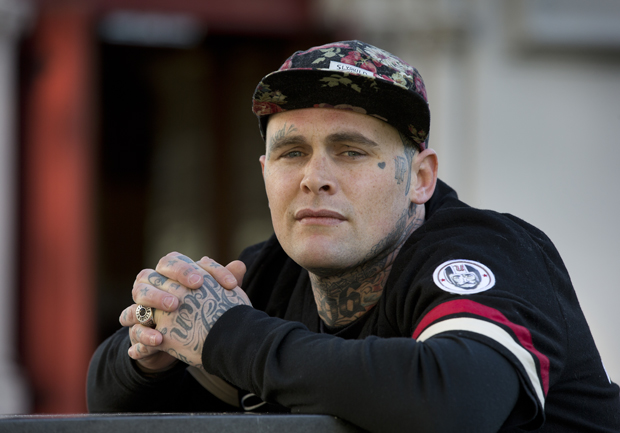 Photo / Brett Phibbs
"It's different there," Knuxx says. "Everyone is living off music, without radio play, without major label support, so they've got a different attitude. They're like, 'Do this, do that, make some money, don't have a job'.
"I couldn't believe these guys had nice houses and nice cars just from touring, selling T-shirts and putting music online."
It's there that the genesis for Knuxx's new album PGT/GRR began. An acronym for Progressive Gangsta Thug/Gentleman Romance Rap, Knuxx's second album has been six years in the making and is a more modern take on sluggish stoner rap -- a change in direction signalled by the hazy first single $igns.
Knuxx, 34, says anyone wanting Wasted Youth part II is going to be put off by his change in direction. But he's belligerent about that. "I had this one fan hitting me up, he was so disappointed with the sound of the new album.
"But this is way better, I like it and if it's not for you I don't care.
"I haven't played anything off (Wasted Youth) in so long.
"It's not a matter of not believing in those songs, I just feel like I've progressed heaps. I'm not ashamed of it ... I just feel like my progression has been huge."
That progression flows into his personal life too. Knuxx has returned to New Zealand permanently, renewed his family connections, and is treating his career seriously. He has tours booked in Europe, and already has a follow-up to PGT/GRR planned.
But he knows he's a work in progress. He got into a fight at a concert a few weeks ago -- a reminder that he still has a dark side to deal with.
"I'm quite indignant and self-righteous and don't really believe in the law of the land. I live by my own morals and I've made them up for myself," he says.
"I've done a lot of growing but it would be generous to call myself a fully fledged grown-up at this point."
Who: Louie Knuxx
What: New album PGT/GRR
Also: Wasted Youth (2006)
- TimeOut