The first trailer for Fifty Shades of Grey has sent the internet into paroxysms, with conversations being 5 per cent portrayal of women, 10 per cent Beyonce soundtrack, 15 per cent "squeeeeee" and 70 per cent Jamie Dornan's torso.
The trailer was quite slickly executed, even if the dialogue was like scraps from the Twilight cutting room floor and the sex was virtually non-existent.
It seemed to go down well with hardcore fans of EL James' novels.
"WAHHHHHHHHHHHHH! I'M PANTING!!!" one happy customer wrote, with another tweeting: "Ok fifty shades of grey trailer is perfection. I'm in love all over again with Christian Grey."
Other were unhappy with Dakota Johnson's Anastasia coming across like a lost puppy, with one viewer writing: "Man if 50 Shades of Grey is a movie that spoofs the sad premise that a woman needs a man to give her worth, then this trailer is KILLING IT."
Some were merely tired by the whole discourse however - "Can someone please summarize 50 Shades of Grey for me in a tweet."
The film is expected to be less explicit than the book, with producer Michael De Luca recently commenting: "We're very conscious of not making anything gratuitous or exploitive while being faithful to the stories of the book and the fans of the book.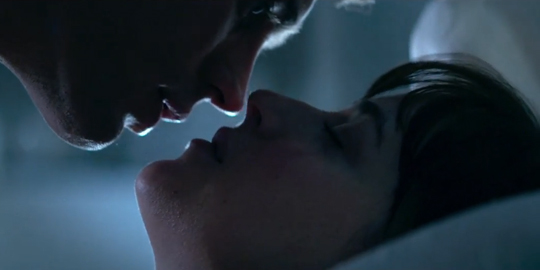 A scene from Fifty Shades of Grey. Photo / YouTube
"We're going to give them what they expect, which is an intense and erotic love story. Obviously the film can't be as explicit as the book.
"A picture is worth 1000 words. So to be erotic on screen means I think an image is going to have way more power than reading the words on a page."
The anticipated movie has been co-produced by Fifty Shades of Grey writer EL James, and has been timed for a Valentine's Day release on February 14, 2015.
The trailer begins with Anastasia being led into Christian Grey's corporate office, where she is later seduced by him in the company lift.
Set to an exclusive version of Beyonce's Crazy Right Now, the trailer goes on to show the vulnerable Anastasia being led into Christian Grey's huge cupboard full of S&M items such as whips and chains.
Dornan and Johnson lead the cast, which also includes Rita Ora as Christian's sister Mia and Jennifer Ehle as Anastasia's mother Carla.
The Fifty Shades of Grey trilogy has sold over 100 million copies, making it one of the biggest and fastest-selling book series of all time.
- Independent