How George Harrison was smuggled out of his Auckland hotel to go eat poached eggs with family friends from the old country.
In the wee small hours of June 16, while the others were entertaining guests, as in Melbourne, George made a hush-hush foray out of hotel confinement to reunite with a family of Liverpudlians who had emigrated to New Zealand in 1961.

Pauline Snelgrove (nee Hughes): "My parents Jim and Josie Hughes lived at 102 Little Heath Road, Speke. The Harrison family lived at 25 Upton Green, a close about six minutes' walk away. Our home and where the Harrisons lived were identical, they were corporation houses. My mother was very good friends with Lou and they were often in and out of each other's homes for cuppas and chats. George and his brother Peter would come to see my father as he was an electrician - my dad would help fix an electric guitar or such. I remember that George and Peter "babysat" us kids once. That's what George was to us, Lou's son, no more no less.
"When we left Liverpool, my mother gave the Harrisons our lounge suite and TV - Lou sent my mother a photo of her sitting on the settee. We'd known about the group George had joined, and for years after we came to New Zealand my mother and Lou wrote to each other; letters all about family, Speke, and "the Beatles". Lou's letters always included news of George and the group, it was part of her normal correspondence. Unfortunately my mother didn't keep them - as she said to me once, she had the start of the group in those letters.
"When the Beatles came to Auckland I wasn't that interested but my 14-year-old brother Ray had tickets and we sat in the back seats at the Town Hall. Before we left, my mother got a phone call saying George would call round and visit after the show. I'm not sure but I assume that Lou had given George our address. From being 'ho hum', I remember screaming 'Beatles' during the show!
"About midnight, as we watched and waited, a Mini drew up to our house at 168 Haverstock Road, Mt Albert. The driver dropped off George and a big security guard [Bruce Kingston] who looked round the whole house and outside in case there were fans lurking. George had on an amazing black cape - long with bright pink lining. He said that the Beatles had them made in Hong Kong. He let me try it on! We - my parents, Ray, eight-year-old sister Jackie, and me and my boyfriend Noel - all sat and had poached eggs on toast with tomato sauce! A lot of the chat was catching up on news from 'home,' about George's mum, dad, family, people everyone knew. At one point Noel, who was a panelbeater, and George were comparing the cost of panelbeating between the two countries (George's brother Peter was a panelbeater). The phone rang at one stage and it was for George, he said it was Ringo on the line! Of course we asked George about the Beatles and he gave us lots of signed photos, even signing one for Noel to give his sister.
"I know this sounds odd because of his fame, but we didn't see George as a 'Beatle'... this was George, from up the road where we'd lived in Liverpool

SHARE THIS QUOTE:
"At 3:30am when he was ready to get back to the hotel we set out in Noel's Holden. Noel driving, me in the middle, George in the front passenger seat and Ray in the back seat with the security guard. We took George up Mt Eden to see the lights of Auckland, then we got him back to the Royal International at about 4am. As we got closer there were fans gathered over the road from the hotel, not outside the main hotel door. It was raining and there were a couple of policeman on duty. When Noel pulled up, the two policemen came up and said we couldn't stop there. When George got out of the car, the policemen apologised, 'oh sorry'.
"I know this sounds odd because of his fame, but we didn't see George as a 'Beatle'. He was a friend and a son of Lou, my mum's friend - this was George, from up the road where we'd lived in Liverpool.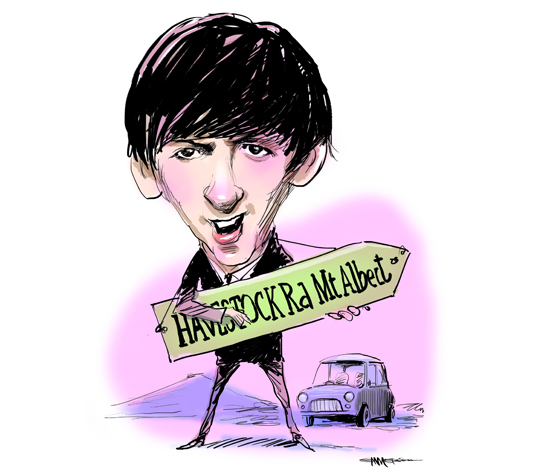 George Harrison. Illustration / Rod Emmerson
"Over the years, when people have mentioned the Beatles, I've told them what happened and been met with 'yeah, right' looks. My eldest daughter Tania wrote a high school assignment, choosing the Beatles, and told the story of George's visit and her teacher wrote, 'this story shows good use of your imagination' ... George was a lovely person, his mum and dad were lovely, too. Ordinary 'scouses' - good people."
Edited extract From Half A World Away: The Beatles' Australasian Tour 1964 by Greg Armstrong and Andy Neill.