With New Zealand Music Month upon us, TimeOut talent scout Lydia Jenkin picks five acts on the cusp of bigger things in the local scene and abroad.
Key Points:
Estere
Who:
Estere Dalton
From:
Wellington
Associated acts:
Brockaflowersaurus Rex and the Blueberry Biscuits
You know a support act has really done the business when they're not only getting impressive cheers and whoops from the audience throughout their set, but people can't stop talking about them in the bar and bathrooms during the interval. "Apparently she's a Kiwi." "What?! No way, I would've heard about her surely." Those were the exclamations inspired by 22-year-old Estere when she opened for Erykah Badu at the Civic last month and rightly so. The young lady-funk diva has a wonderfully joyful, effervescent approach, and some of the best dance moves you'll see in this country. But that was by no means her first appearance - she's had tongues wagging for a while now. A video from September 2012, in which she performed her track
Thoughts
live with her MPC (a beat-making gizmo, fondly dubbed Lola), was so compelling, so self-assured, and unself-conscious that even then it seemed obvious the music graduate had something special. Sure, with a mum from New Zealand, and a dad from Cameroon, she cuts a striking figure, but it's the deep, grooving rhythms and evocative vocals that really captivate. With lyrics inspired by everything from imaginary boyfriends to childhood games, evolution and cultural identity, and a knack for layered productions all pulsing out of that MPC, it's not surprising she was chosen to be part of the Red Bull Prodigy Project, which saw her collaborating with renowned Washington DC producer Oddisee and creating a three-track EP in 10 days. She's also been busy performing at festivals as far flung as Paris, Denmark, London, and South Korea; hitting the stage with nine-piece power soul outfit Brockaflowersaurusrex, who released their debut album
Build It
in January; and putting the finishing touches on her own self-titled debut, which has just been released for free download on bandcamp. In the words of Alicia Keys: this girl is on fire. •
Listen:
estere.bandcamp.com
•
Live:
Tyler Street Garage on May 22.
Randa
Who:
Mainard (which is an anagram of Miranda) Larkin
From:
North Shore
Associated acts:
Dan Aux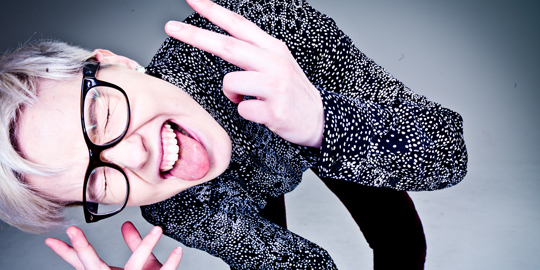 It's not often you walk into the Big Day Out at midday and wander towards a random stage only to find your mouth open, going "Holy heck! This is awesome!" But that's exactly what happened when Randa took on the opening slot on the Lakeside stage. It should have been no surprise really, given the number of excellent music videos and highly entertaining tracks released by the "rapper/producer from the 'burbs", but it's been a while since local hip-hop came across anything as out of the box as Randa. The 21-year-old from the mean streets of Mairangi Bays has been rapping since high school, and started to release tunes and play live shows in 2012 (after a stint living in Sydney). The nine-track
Lunch Box
EP was a truly distinctive statement, full of short and punchy tracks like
Apple Sauce
,
Nesquik
, and
Intergalactic Samuari
. But it's been with recent singles
Frankenstein
,
Cosby Kid
, and a collaborative track with Dan Aux called
Kelly Bundy
, that the 80s-and-90s-homage-meets-electro-meets-Missy Elliott vibe really started to fly. There are knowing references to everything from junk food to TV characters to celebs, combined with bassy trap beats and a really nice easy flow. But what's with all the retro pop culture nods? Well Randa has two older siblings who made sure Carlton Banks was as familiar as Eminem, and instilled an appreciation for VHS classics, but trips to local professional wrestling shows, and watching suburban-themed TV sitcoms were all favourite childhood past-times too. We can't wait for the new EP which has been created with producer Josh Fountain (Kidz in Space), set to be released in June. Randa got game. •
Listen:
larzranda.bandcamp.com
•
Live:
Lucha Lounge on May 9
Eli Driftwood
Who:
Elliot Brown
From:
Mangawhai
Associated acts:
The Stomps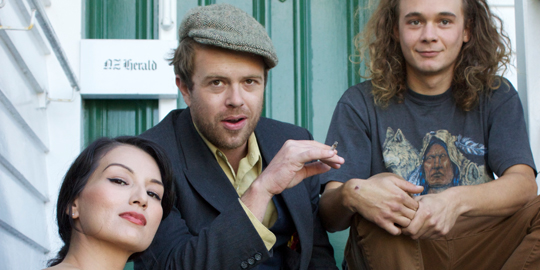 When someone describes an act as alt-country indie-rock, there's a small temptation these days to have a wee yawn - there just seems to be a lot of it around. So the best way to introduce you to Eli Driftwood, is to say, yes, he certainly belongs within that genre, but you should definitely sit yourself down for a listen, because he's more than that too. There's passing reference to the Beach Boys falsetto harmonies, there's a hint of Latin or Cuban to be found. He can be bluesy and tropical, or lolling and sepia-toned. But having developed his sound over a decade, the 28-year-old has tapped into the art of nostalgia. Though his self-produced and recorded tracks may have a live, rough and ready quality, they all inspire a desire to visit the picture he's painting - a warm, sunny spot of easy troubles that somehow combines palm trees and white sand with cowboy boots and middle America. Lyrical topics range from the death of a childhood pet, to the perils of heavy drinking, but it's all done with a lightness and a wink that belies the often-serious sentiments. Having started out as a busker, Brown has also released a good deal of music under the moniker the Stomps, a two-piece collaboration with Jackson Hobbs, and his own name, before creating the Driftwood project. His band rotates, depending on who's available, but you'll likely see him with a trio, or quartet, and his knack for storytelling is well translated on stage. He's had a busy 2014 so far, releasing the debut
Eli Driftwood
album for free online in January, and supporting Jake Bugg at the Auckland Town Hall in March, but Brown is set to take things up a notch when he moves to Texas in a couple of months. •
Listen:
elidriftwood.bandcamp.com
Yumi Zouma
Who:
Charlie Ryder, Kim Pflaum, Josh Burgess
From:
Christchurch
Associated acts:
Bang Bang Eche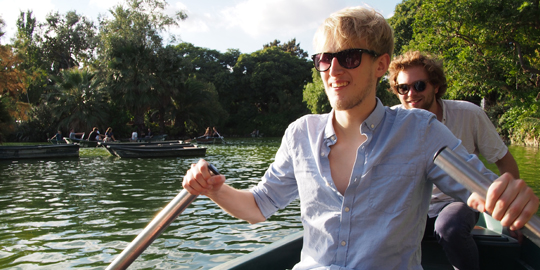 If you ever saw or heard crazy dance-punk outfit Bang Bang Eche five or so years ago, you might be surprised by what former members Charlie Ryder and Josh Burgess have concocted since. Despite now living in Paris and New York respectively, they teamed up with vocalist Kim Pflaum in Christchurch and, running sonic impulses through cyberspace, tracked a four-song self-titled EP full of dreamy, hazy, synth-pop, taking its cue from multiple decades, and mixing youthful wonderings (Pflaum's voice is perfectly soft and innocent, yet cynical) with a sort of European lushness, and plenty of nostalgia. The three originally met while all living together in a Christchurch house before the 2011 earthquake, but despite finding themselves sprinkled across the globe in the aftermath, they decided to continue the musical project. And, perhaps surprisingly, it worked. Having chosen a name and assembled a couple of singles, they were picked up by French label Cascine, which released the EP in digital and vinyl formats, and despite having played no shows at all, were also quickly noticed by
NME
, the
Guardian
, and
Pitchfork
. Local ears clearly agree that their songs are worth taking note of too, as they've received NZ On Air funding for two beautifully hip-and-pastel videos for
Long Walk Home For Parted Lovers
and
The Brae
, and they've also been approached by international acts like Sweden's long-disbanded Air France for collaborations, which resulted in new track It Feels Good to Be Around You. They're now rectifying the never-played-a-gig problem by supporting Australian trip-hop soul artist Chet Faker on his upcoming 18-show Australian tour, and have summer festival dates booked in the UK. Fingers crossed they might find time for a quick Kiwi stopover somewhere in there too. •
Listen:
soundcloud.com
Aldous Harding
Who:
Hannah Harding
From:
Lyttelton
Associated acts:
The Eastern
There aren't many young buskers who could say they had as much success as Miss Harding. Busking outside an Anika Moa gig in Geraldine back in 2011, she was hoping to get enough money to see the show. But when Moa spotted Harding she went one better than a ticket, and offered her a support slot for the gig. If that makes it sound like Harding was a newbie, that would be misleading - she'd spent a few years performing with Christchurch band the Eastern, and as a duo with fellow singer songwriter Nadia Reid, and has been steeped in the world of folk music from a young age, with her mother being well-known folk artist Lorina Harding, originally from Canada. It would also be misleading to think Harding sounds anything like Moa. She has a piercing intensity in her slightly breathy, fragile warbling, like an emotional arrow hitting straight and true as she manages to mesh Jolie Holland, Bjork, Nick Cave, Vashti Bunyan, and fellow local songstress Tiny Ruins. For the past couple of years she's been playing intimate gigs up and down the country, beguiling audiences with her mix of shyness and offbeat humour, and last year she was finally convinced to put together her debut album for Lyttelton Records. Recorded and co-produced with The Sitting Room's Ben Edwards, and star troubadour Marlon Williams, there's an ethereal, even surreal, quality to many of the tracks, but there's also a gritty weight or darkness to them in among the cinematic imagery. She's a powerful storyteller, and a spellbinding performer who we can only imagine will be finding herself in demand in offshore ports very soon. •
Listen:
lytteltonrecords.co.nz
•
Upcoming gigs:
Chick's Hotel in Dunedin on Friday, May 2, Opera House in Oamaru on Sunday May 4, Geraldine Cinema on Tuesday, May 6. - TimeOut