What a difference a decade makes. The last time Bruce Springsteen and the E Street Band came to Auckland, it certainly wasn't the greatest of nights.
That 2003 Western Springs show, his first appearance in New Zealand, got a 20,000-plus crowd on a drizzly evening. Much of the night was devoted to his deep, dark post 9/11 album The Rising which was his first record after a less than productive previous decade.
It was an okay concert but really not one to leave much to remember it by.
This time, it was different. This felt like An Event - right from the moment Springsteen strolled on to deliver a haunting solo acoustic and harmonica-assisted Royals.
Watch Springsteen's version of 'Royals':
As well as turning Lorde's song of teenage disaffection into something that sounded dusty and ancient - and given those reference to trains and Cadillacs, something oddly Springsteenesque - his version offered wry lyrical changes.
"Long ago I was the next big thing," he sang near the song's end. "Now I'm in love with being king."
Unsurprisingly, this first song on the first of two near sellout 40,000-capacity concerts at Mt Smart went down a treat.
What followed was a wonderful exhausting near-religious experience of a show. One that confirmed Springsteen's status as the reigning long distance champ of live rock'n'roll.

That reputation might explain his increased local drawing power, possibly more than the half dozen studio albums he's released since The Rising.

It still was a night of inevitable rituals that come with a show by The Boss. As well as a songwriter's songwriter he's a showman's showman. Which can make for a fair few mood swings of an evening.
View a gallery of images from the concert: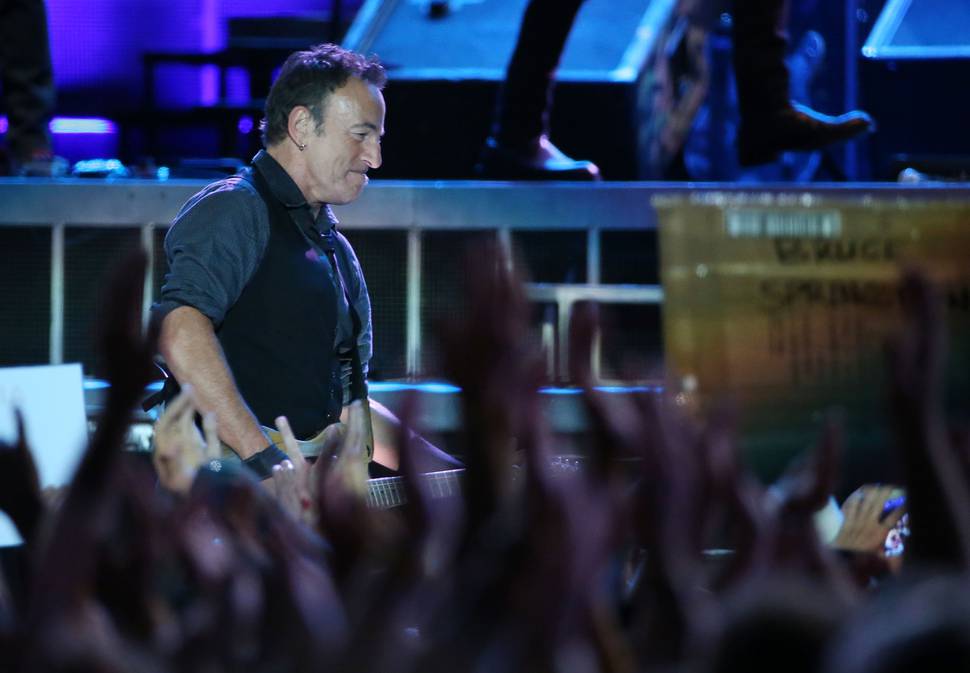 He can be lamenting injustice and blue collar struggle in one song, then a few minutes later doing his best to turn the E Street rock'n'soul revue into a comedy one too.
Song-wise, it was a night that offered plenty to the hardcore Springsteen fan and casual follower alike.
Yes, he played the mandatory likes of Born to Run. Actually, he played the entirety of his most hit-laden mega-selling album, 1984's Born in the USA, a track by track performance of which became the 12-song core to his 30-song three-plus hours on stage.
Springsteen had been inserting performances of early albums into his Australian dates in past weeks, where he had already toured early in 2013 without heading here.
In Oz, the tracklist-to-setlist was a smart way of refreshing the show to fans after a short gap.
Here, after a longer eleven-year wait, delivering all of Born in the USA risked bogging things down in a nostalgic wallow and losing the element of surprise for much of the show. It did remind that as hit-laden as it was, USA wasn't filler-free.
But that set-within-the-set offered some of the night's best quieter moments like an aching I'm on Fire and a Christchurch-dedicated My Hometown.
That part of evening also offered entertaining outbreaks of fan interactivity.
One woman was dragged up for a spot of karaoke during Glory Days. While on Dancing in the Dark, a pan-generational chorus line of mostly female fans ended up on stage at Springsteen's beckoning which made for a nice variation on the song's original video which featured the girl-who-was-later-in-Friends.
While on the subject of Born in the USA, it must be said the now 64 year-old whose denim-clad bum featured on its cover 30 years ago looks like he'd still fit those jeans.
Elsewhere, there was still seat-of-the-pants (ho ho) spontaneity.
After Royals, Springsteen and band started out with album out-take My Love Will Not Let You Down.
Then after a robust rousing Badlands, delivered as if it was the last song of the night, Springsteen picked out a fan placard for the "very obscure" Loose Ends, one of his more Orbison-esque tunes.
But outside the USA anthems and the older standards, much of the night's highlights came from his most recent offerings 2012's GFC-themed Wrecking Ball and this year's High Hopes.
Wrecking Ball's title track and the swirling Irish folk-rock of Death to My Hometown from the same LP came delivered vitally and forcefully by the E Street Band's enhanced ensemble which came with 18-or-so-musicians on stage.
Later, Land of Hope and Dreams became a glorious gospel-rock runaway locomotive eventually shunting elegantly into Curtis Mayfield's People Get Ready.
High Hopes, another cover, was a raucous barnstormer while the night's singularly most stirring moment came via a momentous The Ghost of Tom Joad.
The Grapes of Wrath-inspired song was originally the title track of Springsteen's acoustic 1995 album, but re-recorded for the High Hopes album with guitarist Tom Morello, whose political rap-metal outfit Rage Against the Machine covered the song.
Morello is now a guest E-Streeter and their vocal duet on the song, combined with Morello's guitar fireworks was something else: Imagine if Hendrix had played All Along the Watchtower alongside Dylan rather than just covering it himself.
Yep, that kind of something else.
So was the rest of show. He might be in love with being king but on nights like this Springsteen shows why his rock'n'roll crown is earned rather than bestowed. And then some. Just brilliant.
Springsteen's Saturday setlist
Royals (solo acoustic)
My Love Will Not Let You Down
Badlands
Out in the Steet
Loose Ends
Wrecking Ball
Death to My Hometown
High Hopes
Atlantic City
The River
Born in the USA
Cover Me
Darlington County
Working on the Highway
Downbound Train
I'm on Fire
No Surrender
Bobby Jean
I'm Goin' Down
Glory Days
Dancing in the Dark
My Hometown
The Rising
The Ghost of Tom Joad
Land of Hope and Dreams
Encore
Born to Run
Rosalita (Come Out Tonight)
Tenth Avenue Freeze-Out
Shout
Encore 2
Thunder Road (solo acoustic)
Sunday night's setlist
Royals
We Take Care of Our Own
No Surrender
Two Hearts
Hungry Heart
The Promised Land
Seeds
Death to My Hometown
High Hopes
Just Like Fire Would
Darkness on the Edge of Town
My City of Ruins
Thunder Road
Tenth Avenue Freeze-Out
Night
Backstreets
Born to Run
She's the One
Meeting Across the River
Jungleland
The Rising
The Ghost of Tom Joad
Badlands
Encore
Waitin' on a Sunny Day
Glory Days
Seven Nights to Rock
Bobby Jean
Dancing in the Dark
Twist and Shout
Encore 2
This Hard Land

More photos of both shows, including pictures from backstage and Kiwi fans in the front rows, can be seen here on Bruce Springsteen's own website.