Holy crap this boy can rap - but did it he have to do it so loudly?
They were the lasting impressions of Eminem's first New Zealand show as 55,000 fans packed into Western Springs to see the rap veteran deliver his sublime rhyme skills in a sweltering stadium setting.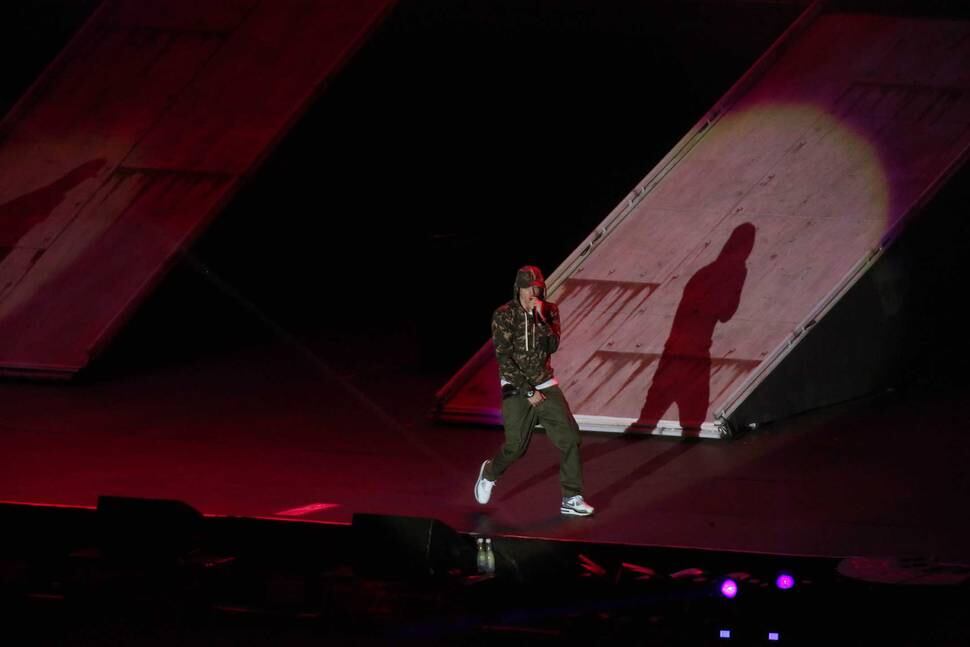 It was a breathless, exhilarating and seriously loud show from start to finish as Eminem ripped through nearly 30 songs in a thrilling 90 minutes that showcased all facets of the rapper's split personalities.
They came in the form of the nihilistic vengeance of Kill You and Criminal, the fun-loving comedy capers My Name Is and The Real Slim Shady, and the pop hooks of Monster and Love the Way You Lie - both of which came with sampled hooks from Rihanna.
At times, it also felt like a trip through hip-hop's history books, with some of Eminem's biggest moments from a career full of them peppered through the set at key times.
Like White America's gigantic thump and shout-along chorus, served up as an early warning call. Or Stan, his crazed fan tale that was a mid-set highlight. And Lose Yourself, his Academy Award-winning soundtrack song that came as a lone encore and ended the show with rowdy, near chaotic scenes.
Best of all was a stupendous version of Rap God, last year's slick single that Eminem delivered in eye-popping fashion as he stalked around the stage in a white T-shirt, jeans and cap delivering one potent line after another. It proved that, at 41, he hasn't lost any of his energy, urgency or canny knack for controversy.
The only beef was with just how loud the show was: at front of stage, fans got hit with a wall of noise that the nuance's of Eminem's vocals, or his eight-strong band, occasionally got lost in. But it was probably fine for the sea of fans that stretched all the way to the venue's back hilltop, and then onto neighbouring balconies.
Let's face it: tonight was a risk for promoters. But for New Zealand's first-ever rap stadium show that had more than its fair share of problems leading up to the night, Eminem delivered everything a hip-hop fan could ask for.
It's a horrible pun, but lets hope tonight isn't the only time we see rap-turous scenes like these.
Earlier, Rapture's support acts did their best to make up for Odd Future's last-minute immigration ban: David Dallas brought Scribe out for the Not Many remix and served up a killer closer with Runnin'; Action Bronson delivered a sparse set of old school samples and raspy rhymes before getting lost up the back of the venue; and J.Cole's super serious, R&B-infused warm-up seemed popular with fans.
The only downer was 360's ridiculous Aussie rave-rap, which came across like a Chris Lilley creation.
Eminem
Where: Western Springs, Auckland
When: Saturday, February 15
* Listen to Eminem on iHeartRadio here.