Media commentator praises Seven Sharp's stories but says presenters still need to find the right chemistry.
Media expert Brian Edwards has praised TV One's relaunched show Seven Sharp's "extremely good" filmed stories, but says the new presenting line-up was uncomfortable in its first outing last night.
"What's uncomfortable about Seven Sharp is the interchange between the three presenters," Dr Edwards said.
"I thought Mike Hosking looked uncomfortable a bit there and when you have Mike Hosking - who is one of the country's top current affairs interviewers, top broadcasters - asking Toni Street what designer Lorde was wearing, it sort of seemed strange to me."
One of the show's great strengths was its filmed stories, particularly those by Heather du Plessis-Allan and Michael Holland, who did very well, Dr Edwards said.
With both shows leading with Lorde's double win at the Grammy music awards in Los Angeles, Dr Edwards thought Campbell Live had the edge.
"They did it better, actually. I thought that was a good interview whereas Seven Sharp only had their reporter saying what happened. That was a coup for them."
In unfortunate timing, while Lorde's producer and Royals co-writer Joel Little was speaking to John Campbell, on Seven Sharp reporter Jo Hunkin was being asked the whereabouts of the Kiwi winners.
Hunkin replied they were probably doing "official business" and a round of interviews before a series of official after-parties.
Dr Edwards said John Campbell's interview with David Cunliffe was something he expected to see, and the immigration scam expose was "very good, great stuff".
"It's really the kind of stuff you expect and [are] probably not going to get from Seven Sharp because it's not their brief."
Before the two shows aired Dr Edwards said he believed Seven Sharp was "fatally flawed".
"My reason for saying that is there are three presenters and I think that is close to mission impossible on what is effectively a 22-minute television programme when you take the ads out."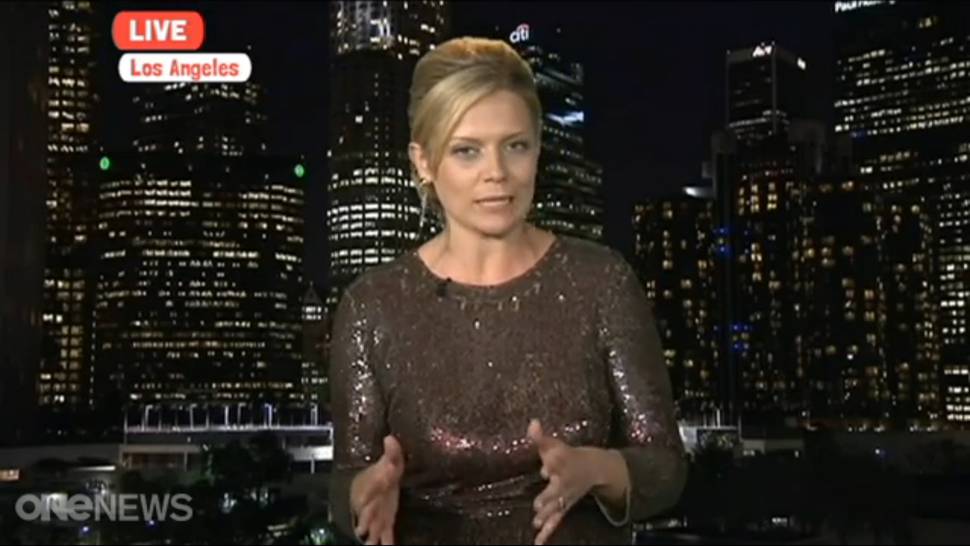 Seven Sharp, TV One
1. Grammys, with live cross to reporter Jo Hunkin (above) and backgrounder story on the rise and rise of Lorde.
2. Reporter Heather du Plessis-Allan on Kiwi families who are battling bureaucracy to get health funding for their Australian-born son.
3. Hokitika's driftwood festival.
Campbell Live, TV3
1. Live cross to Lorde's co-writer Joel Little (above) in Los Angeles.
2. Christchurch's C1 Espresso cafe's pneumatic tube food delivery system, which fires tubes of food around the premises at up to 130km/h.
3. Auckland immigration scam, whereby immigrants pay $40,000 to secure a "job" to gain permanent residency.
4.Campbell interviews Labour leader David Cunliffe in a segment shot earlier at Mt Albert's Rocket Park.
- additional reporting: Nicholas Jones