Lydia Jenkin, Chris Schulz and Hayden Donnell take in the sights, sounds and smells of Laneway 2014.
Gusty winds didn't deter 10,000 music fans celebrating Auckland Anniversary Day at the Laneway music festival at Auckland's Silo Park.
The sold-out event - missing original headliners Lorde and James Blake because of a clash with the Grammys - kept crowds entertained with a line-up of hip-hop, alt-rock and indie acts.
Click here for the site map and timetable.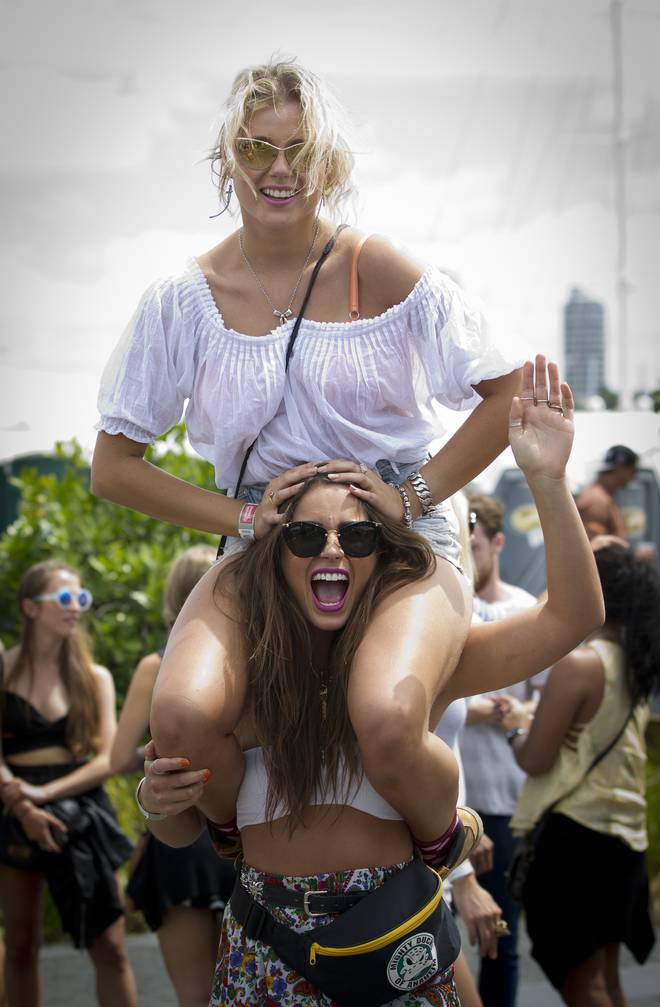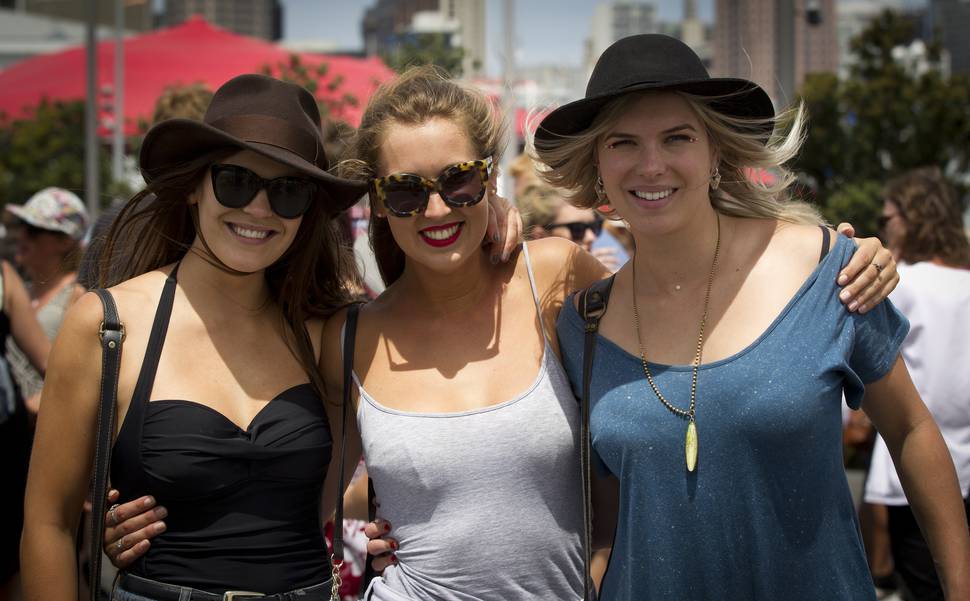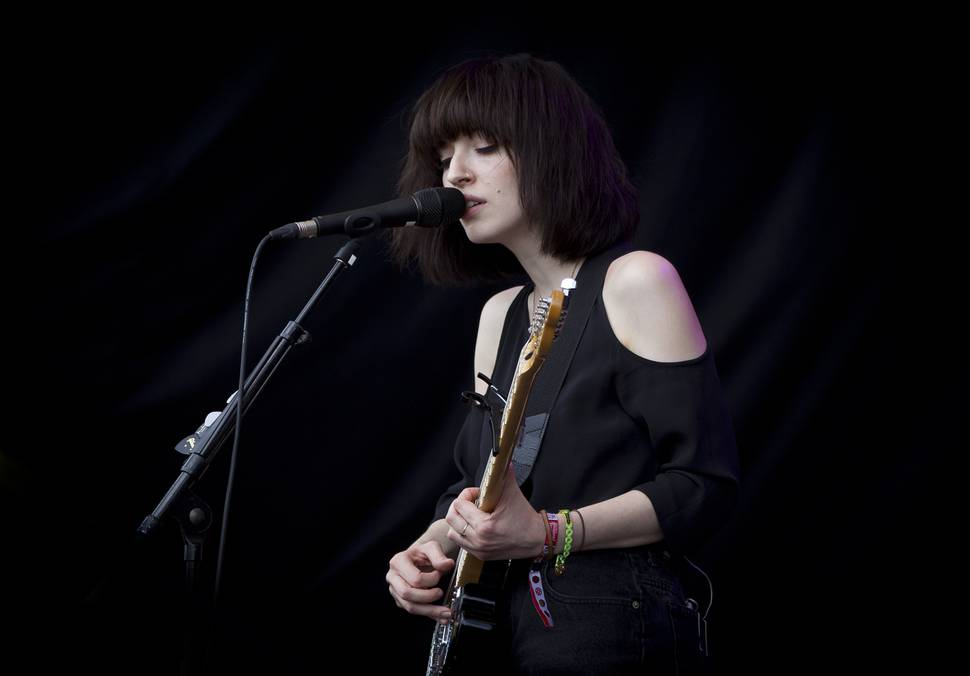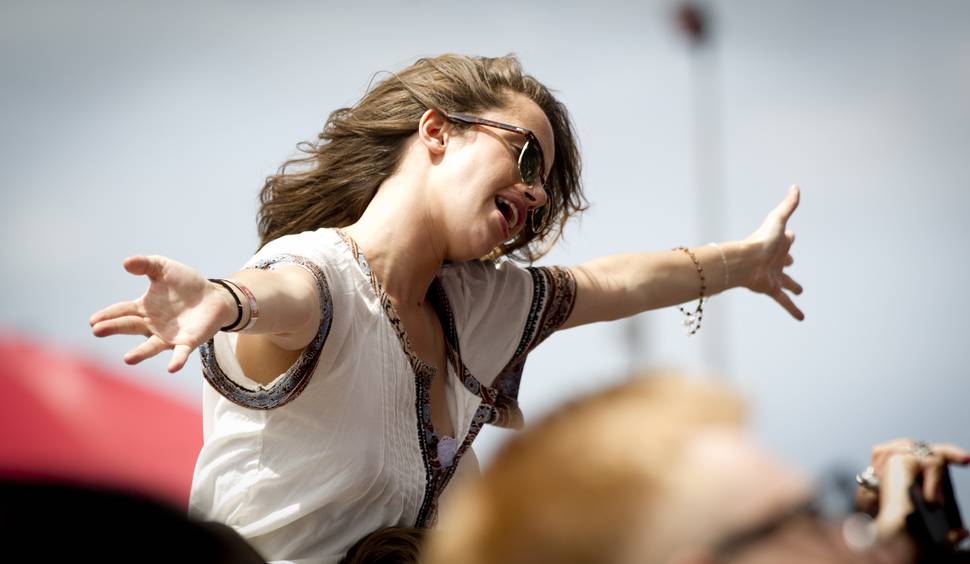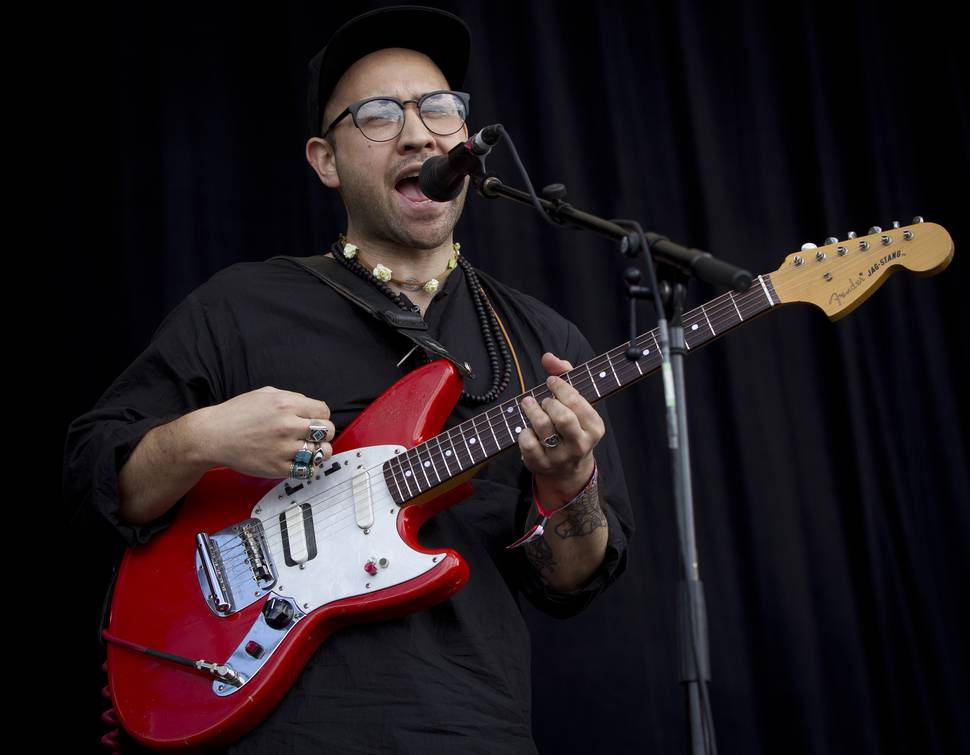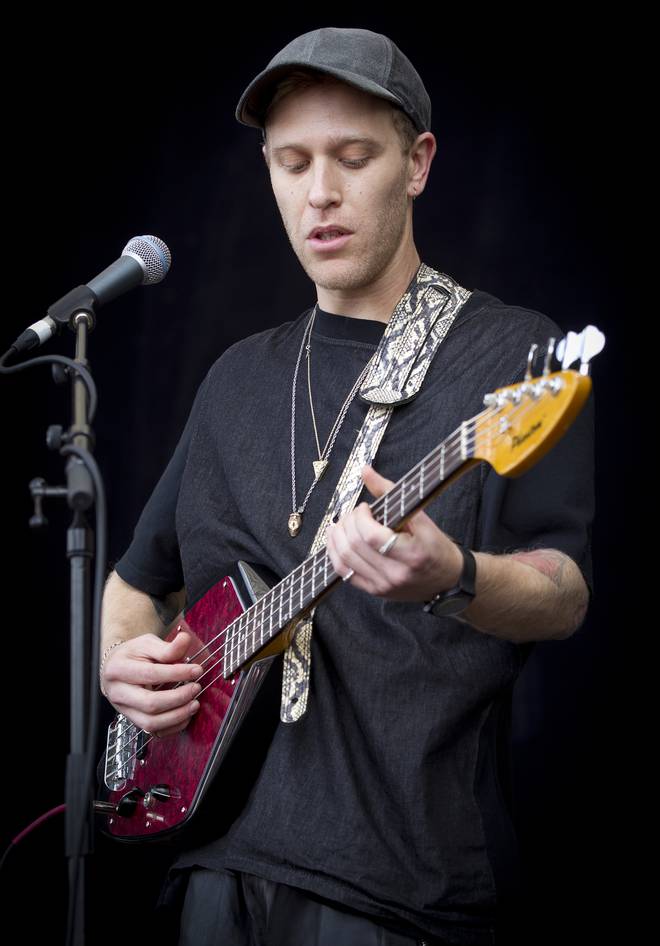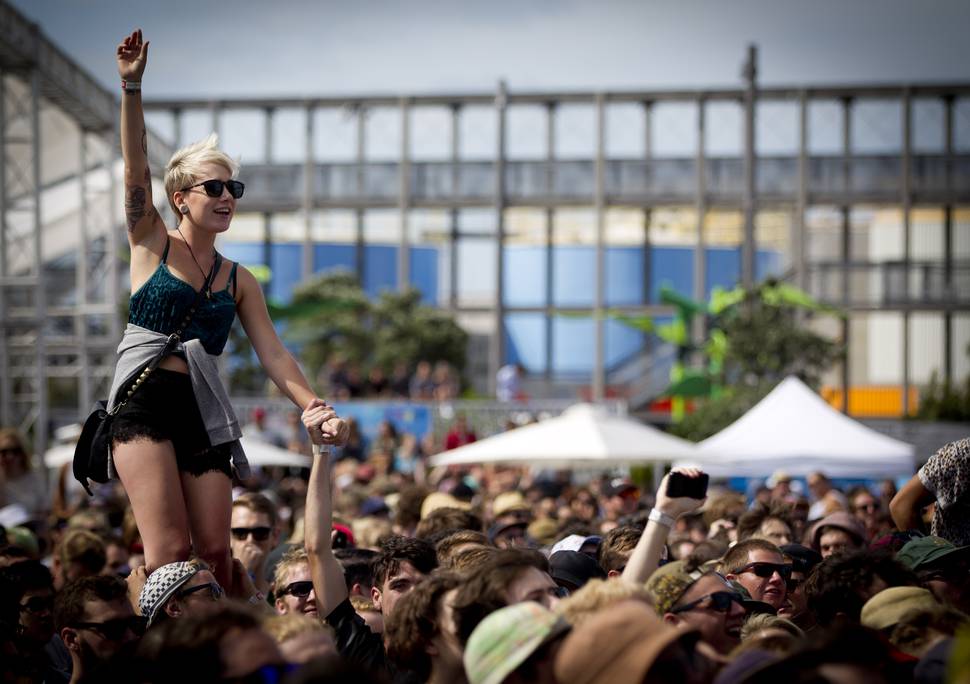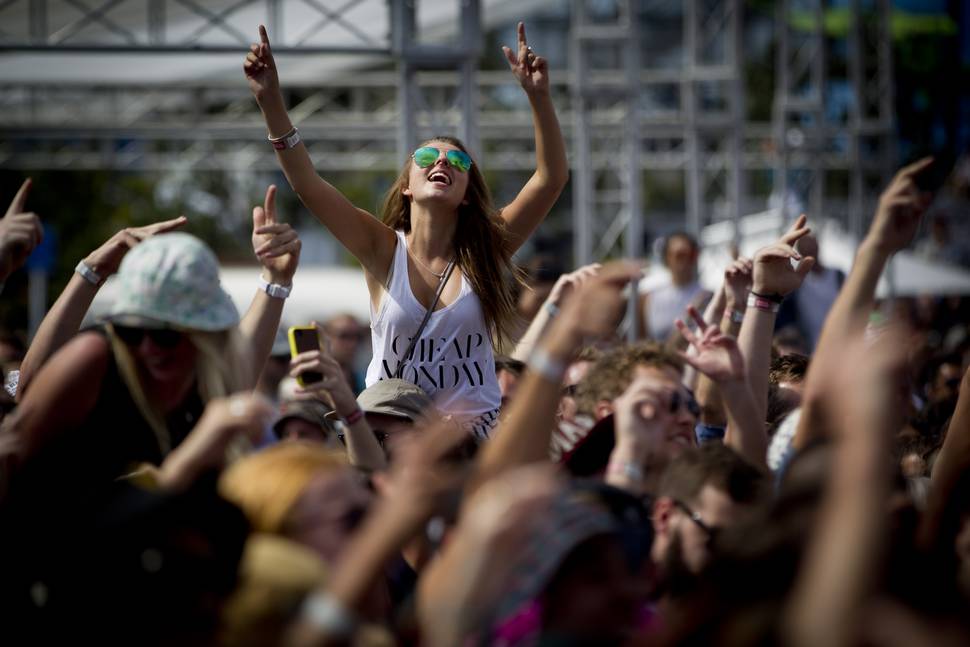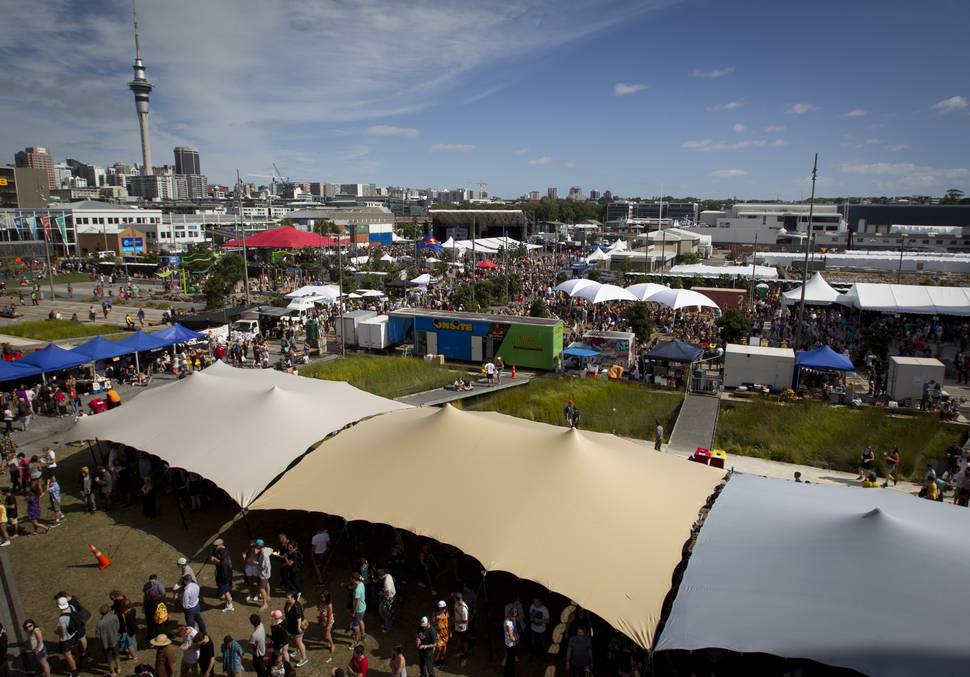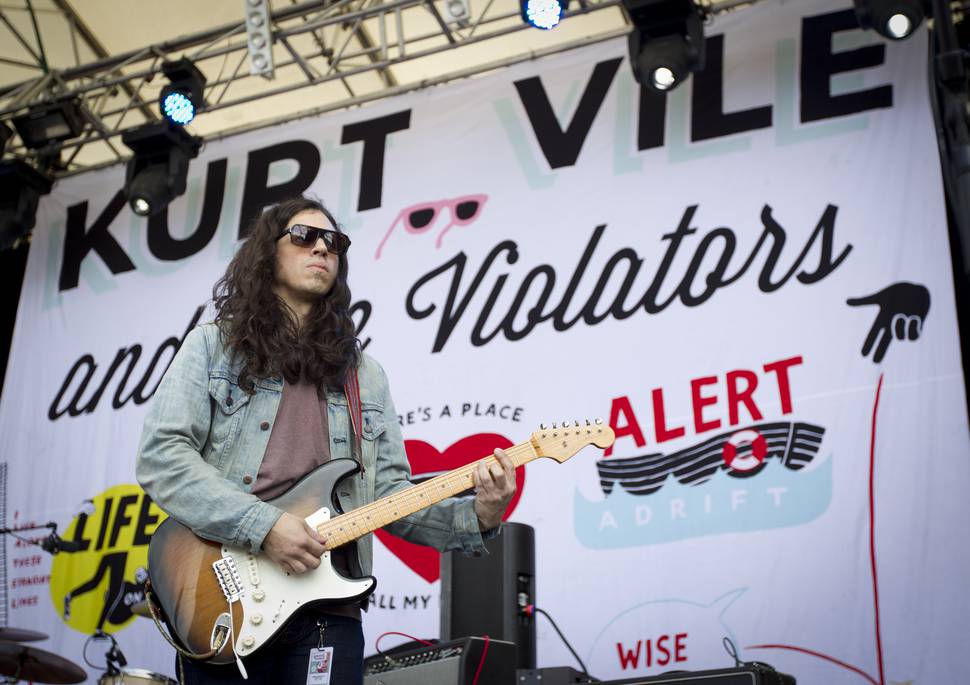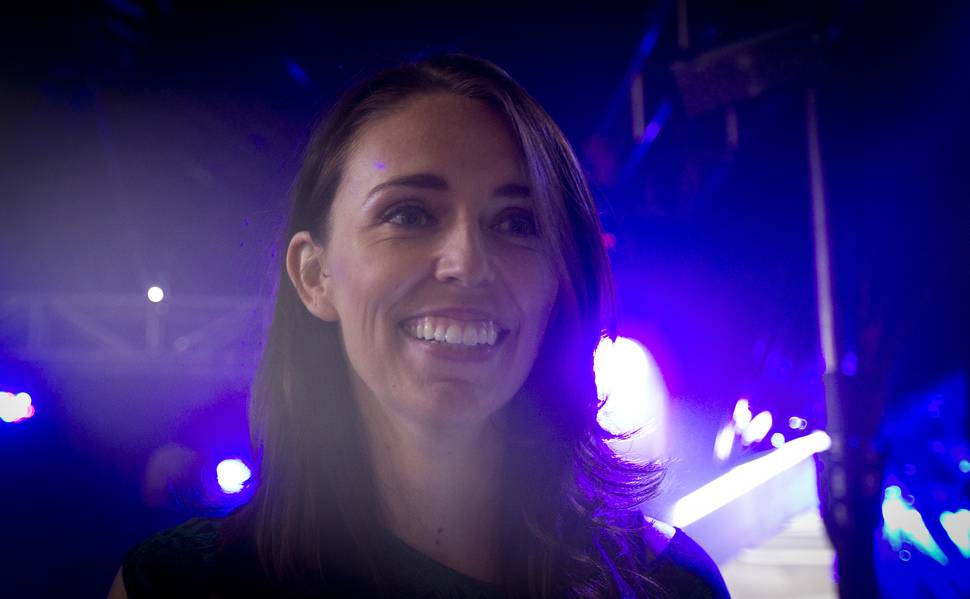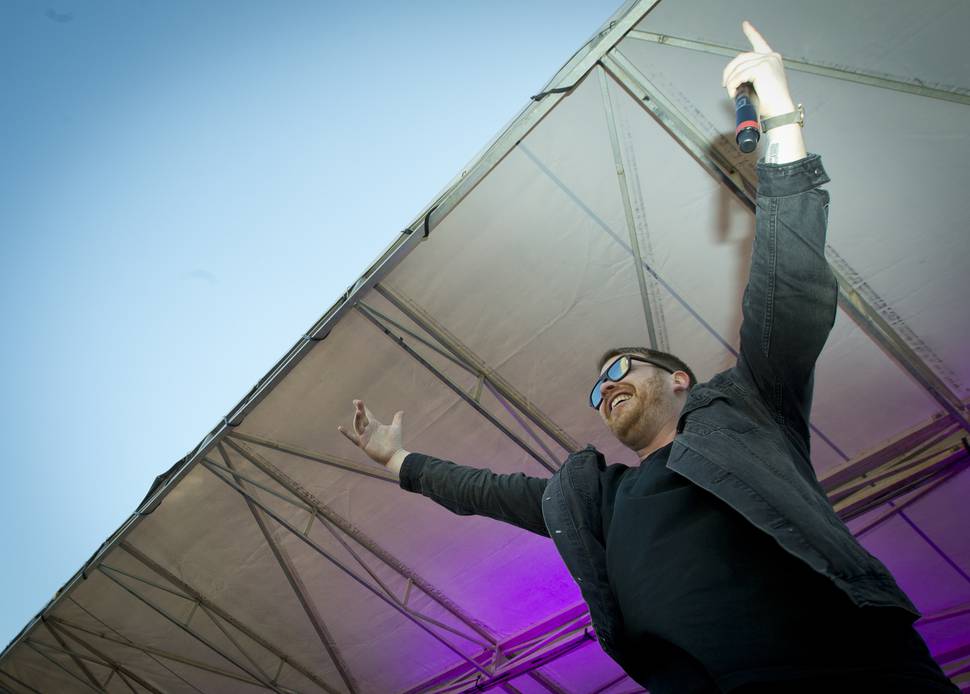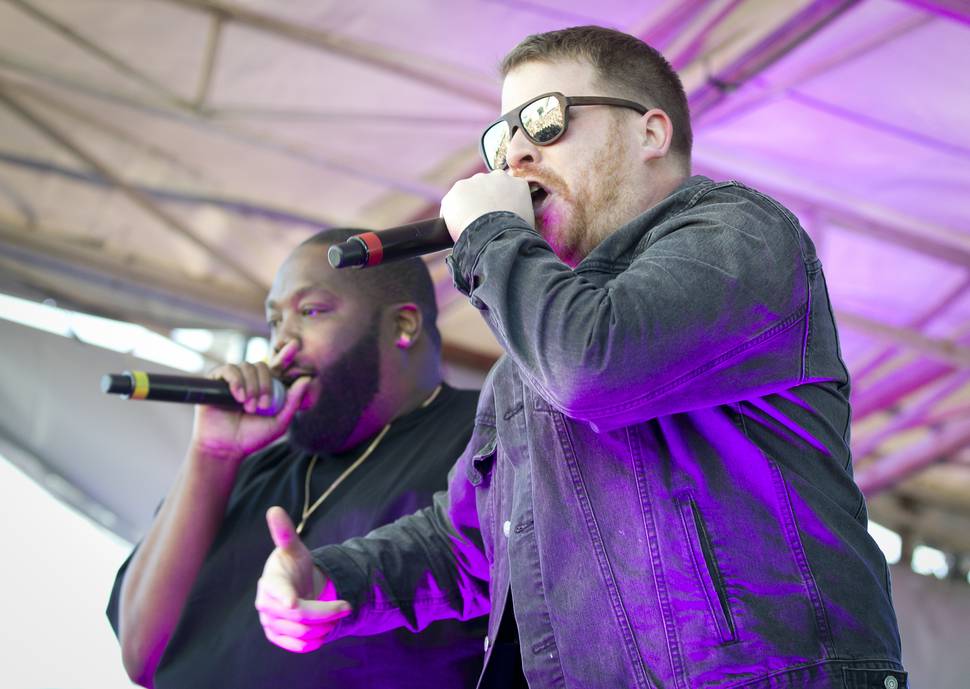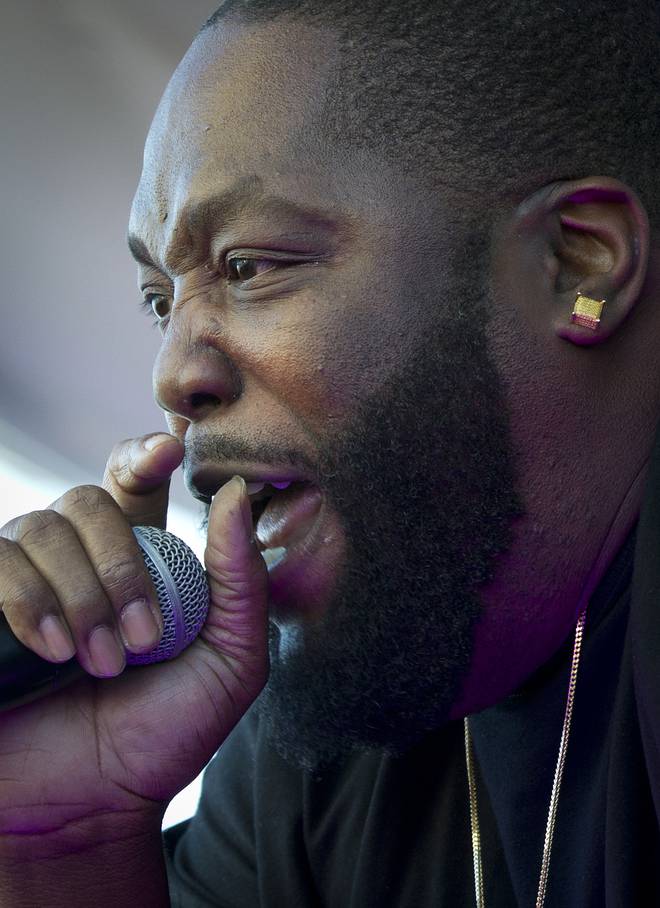 Cat Power, Cactus Cat Stage, 9.30pm
When Cat Power played in New Zealand in February last year, she was celebrating the release of her album
Sun
with a full band tour. This time around, she came on her own with just her guitar and an upright piano for company. And she sounded beautiful. Bathed in blue light, she went back to her old songbook, moving the packed out crowd with songs like
Great Expectations
and a cover of
(I Can't get No) Satisfaction
, which sounds entirely unlike anything the Rolling Stones wrote when she plays it. Husky and fragile in one breath, powerful and seductive in the next, she's most certainly still got it.
Lydia Jenkin
Chvrches, Hey Seuss Stage, 8:50pm
Chvrches were nailing their set right until disaster struck. The Scottish indie-dance outfit had just gotten the crowd dancing with a version of their hit song
Gun
when their synthesiers suddenly stopped working. Singer Lauren Mayberry tried to keep the magic alive with a series of
Lord of the Rings
quips before opting to head off stage. They returned after five minutes. Mayberry seemed undeterred. She joked about kicking a drink bottle into the stands despite being crap at sports, bantered a little with her bandmates and then launched into a stellar closing set of songs.
- Hayden Donnell
Haim, Mysterex Stage, 8pm
Waaaahooooooooo! Laneway felt like it switched into another gear as these three sisters from California took the stage. Accompanied by two young men on drums and keys, Haim totally nailed the sundown set. The guitar licks were unbelievably hot, the grooves irresistable, the harmonies on the button - their set felt too short at 45 minutes, but somehow managed to be both scorching and soulful. The crowd lapped up the many hits from their 2013 debut album
Days Are Gone
, with particularly stellar runs through
The Wire
,
Don't Save Me
, and
My Song
, plus a brilliant cover of Fleetwodd Mac's
Oh Well
.
Savages, Hey Seuss Stage, 7.10pm
The stage for Savages was set in stark black and white. Their show was an explosion of raw sound that blew away much of what had come before at Laneway. The four-piece post-punk group from London impressed with a snarling set drawn mainly from their 2013 debut Silence Yourself. Lead singer Jehnny Beth (real name Camille Berthomier) prowled across and around the stage as if preparing for battle. Drummer Fay Milton smashed the sneer and cymbals like they were her mortal enemy. The group's tightly wound, antagonistic songs came as a sharp but refreshing change from those of the procession of swirling, reverb-drenched artists that came earlier in the afternoon.
- Hayden Donnell
Danny Brown, Cactus Cat Stage, 7pm
Danny Brown shouldn't work: He wears leather pants, sticks his tongue out more than Miley Cyrus, raps like a constipated chipmunk and has the worst name in hip-hop history. But the crowd crush that formed bruising moshpits for his show on the Cactus Cat Stage loved every second of it. There was no sign of the slower stuff from last year's excellent Old album - he was hear to show off his love for trap beats and sluggish bass, and Dope Song and Break It (Go) nearly caused riots.
- Chris Schulz
DJ Jacinda Ardern, Red Bull Thunderdome, 6:30pm
DJ Jacinda Ardern, also known as Labour's fourth ranked MP, didn't hurt her possible Prime Ministerial ambitions with her set at the Red Bull Thunderdome. The 33-year-old MP was mostly a picture of concentration as she stood on stage in the concrete silo, only occasionally breaking to smile and pump up a mostly supportive crowd. Her song choices were centrist, with a hint of a nod to the baby boomer generation. A dance version of Cher's Bang Bang (My Baby Shot Me Down) gave way to a Street Chant rendition of Michael Jackson's Black or White and eventually ceded to a remix of Frank Sinatra's My Way. It was surprisingly good. Ardern delivered under pressure, with a 3 News camera centimetres away and pointed at her face. That alone was a good sign for Labour's future.
Frightened Rabbit, Mysterex Stage, 6.20pm
The Scottish rockers were loud, committed, folky, and seemed well time-tabled for the dinner time slot. People might have been busy munching down their free range chicken and salads, but the band wooed them with lyrics like "It takes more than f**king someone to keep yourself warm". The decade old four piece showed their considerable live experience and really engaged the many fans who'd turned up to see them for their first New Zealand performance.
Lydia Jenkin
Run the Jewels, 5.45pm, Cactus Cat Stage
American hip-hip duo Run the Jewels had some making up to do after the disappointment of Earl Sweatshirt - but it didn't take long for them to prove they're the real deal. Killer Mike and El-P are respected MCs in their own right, but they teamed up for last year's excellent Watch the Throne-style record - and it proved to be just as thrilling live as on record. The pair trade electric verses like they're schoolyard chums, and songs like Banana Clipper and 36" Chain are supercharged rap attacks for hip-hop geeks. They're surprisingly funny too, and while there was only time for one solo song each, it didn't matter - they're better as a duo, and Run the Jewels seem to know it.
- Chris Schulz
Parquet Courts, Hey Seuss Stage, 5.30pm
If you imagine what a band led by Krusty the Clown, accompanied by actor Michael Cera on guitar, Elvis on bass, and Jimmy Neutron on drums might look and sound like, that's Parquet Courts. The Brooklyn rockers delivered a truly rousing set, and whether or not you like the old school punk aesthetic, it was hard not to jump around a little.
Lydia Jenkin
Kurt Vile, Mysterix Stage, 4:40pm
Hanging behind the stage was a long white sheet, billowing in the afternoon. In block letters the name Kurt Vile, and in smooth cursive: and The Violaters. Like their performance, it was bold, calm, and at ease. Kurt Vile's voice was just another instrument in the mix. He was stoic and sure, and his performance this afternoon was like hearing your friends play at a house party. Vile hardly spoke. The show didn't need it. There was a kind of beauty to it, a sense of determined movement, the songs sweeping you along in a hypnotic mix of rhythm and washed out guitar.
There were few songs from 2011's breakthrough Smoke Ring For My Halo - a shame for those who just came to hear Baby's Arms, but the set felt cohesive. Its end felt like the end of the afternoon sun. Now onto the evening, and Haim, Cat Power and Cvrches.
- Hayden Donnell
Earl Sweatshirt, Hey Seuss Stage, 3.50pm
"I was not here to have fun last time I was over in this part of the world, so I'm here to have fun," were Earl Sweatshirt's opening words. He's talking about the time the rapper was sent to a juvenile detention centre in Samoa, sparking a 'Free Earl' campaign from fans of the Odd Future affiliate. Unfortunately, there were few people enjoying the start of his first New Zealand appearance - and the first bigname hip-hop performer to grace a Laneway stage in Auckland. Sweatshirt struggled with sound issues throughout much of his set - it was so quiet, he might have done better to ditch the beats and perform acapella. It got so bad that Sweatshirt's DJ has probably lost his voice from yelling at the struggling sound guys, and between songs the crowd repeatedly chanted "Turn it Up". It's a crying shame: Sweatshirt is a gifted lyricist - one of Odd Future's best - and last year's Doris was one of the year's best hip-hop albums. But the sound issues took the steam out of the show, and after such a poor start even thrilling late-set versions of Earl, Hive and Burgandy couldn't redeem things. Let's hope they sort out the sound for Danny Brown and Run the Jewels later on today, because this was an opportunity gone begging.
-Chris Schulz
Unknown Mortal Orchestra, Mysterex Stage, 3.05pm
I've said it before, but man, Ruban Nielson is a stellar guitarist. And songwriter. And singer. And his band, drummer Riley Geare, and bass player Jake Portrait, are terrifically good too. So it seemed odd their set didn't quite achieve lift off in terms of a crazed crowd response, but it was a highlight all the same. Ranging from noodly to searing, groovy to thrashing, their set of songs mostly from 2013 album II had all sorts of flavours. The opening guitar riff The Sun was beautiful, the intimate sadness of Monki was offset by its moments of madness, and of course So Good At Being In Trouble made for an excellent crowd singalong.
Lydia Jenkin
Mount Kimbie, 3.15pm, Cactus Cat Stage
There was barely standing room as the British electronic duo took to the stage, and it's easy to see why: their expansive take on throbbing electro trends was head-nodding escapism from the midday sun, and perfect for enjoying a cold beer to. Live, they use drums and guitars to improvise and improve on their glitchy album mood swings, and it was easy to lose yourself in sub-10 minute songs that moved from occasional housey tones to some odd places indeed. These oddball indie dance dudes might be this year's version of SBTRKT, but by the end they'd identified themselves as an act worth keeping in touch with.
- Chris Schulz
Daughter, Hey Seuss, 2:25pm
Elena Tonra arrived on stage dressed for a funeral, her voice buried under shimmering electric guitar noise. It took until the end of the set for the 23-year-old, the brains behind Daughter, to start speaking. When she did, she seemed stunned that anyone in the audience knew the words to any of her beautifully-arranged moody pop songs.
Tonra's reserved on-stage demeanour led a friend to decribe her music as 'The xx with more shyness'. It's easy to lump Daughter in with other electronic Brit acts. But perhaps her reserved performance came more from playing intensely personal songs to a loud early-afternoon crowd. Youth's talk about "setting fire to our insides just for fun" and chorus cadance of "if you're still breathing, you're the lucky ones" was probably not meant for a horde of shouting youths drunk in the afternoon sun. Nevertheless, Tonra was strangely hypnotic and one of the early highlights of Laneway.
Hayden Donnell
Jagwar Ma, Mysterex Stage, 1.40pm
2013 was a pretty big year for this Aussie trio - they released their album Howlin', played at Glastonbury, got props from Noel Gallagher - but they've managed to play two shows in Auckland already, so there was a fair bit of anticipation for the electro-poppers' Laneway appearance. And despite the mid-afternoon time-slot, they bravely laid down an energetic psychedelic dance set which had them spinning singles such as Come Save Me, Let Her Go, and The Throw into ten minute spiralling club epics. It might've been an even more pumping set had they performed at 9pm, but the crowd lapped it up all the same, treating them like this year's Yeasayer - and when someone started blowing bubbles around the grooving really got going.
Lydia Jenkin
The Jezabels, Hey Seuss Stage, 1.05pm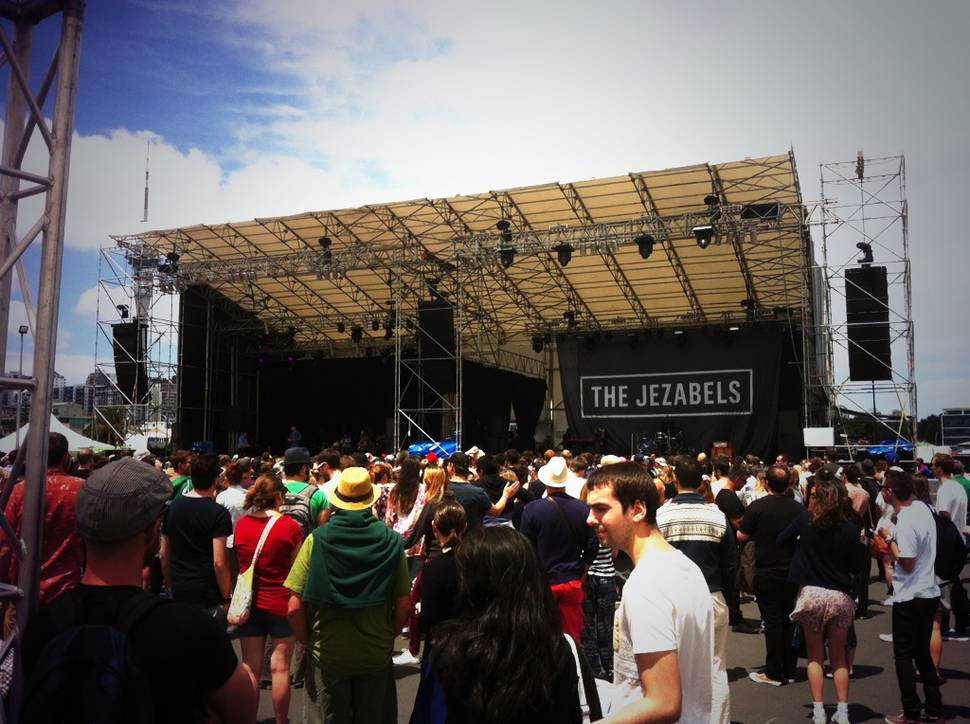 Shimmering guitar licks, stadium-sized hooks and plenty of falsettos - hey, it's a formula that worked out okay for Coldplay. That's the same kind of territory Aussie act The Jezabels mined for their 45-minute set that helped warm up the main stage and soundtracked the arrival for many of the 10,000 people expected at Laneway today. Decked out all in black, the Sydneysiders' occasionally stirring singalong songs were led by the powerhouse vocals of front woman Hayley Mary - a woman who probably could shriek the hair off a cat if she wanted to. Some of it was as wispy as the wind blowing across the venue - hold on to your hats, hipsters - but aside from a bit of overwrought screaming, they warmed up to their task, and probably grabbed a few new fans in the process. Result.
Chris Schulz
Doprah, Cactus Cat Stage, 1pm
This local duo, made up of Steven and Indira from Christchurch and Auckland respectively, fleshed out their cool, peppy trip-hop songs with four extra band members during their early afternoon set, and were rewarded with a capacity crowd amiably head-shaking along at the more intimate Cactus Cat Stage. Though their upcoming album is electronically based with Indira providing ethereal vocals over the top, they stayed away from using any backing tracks, and impressed with just how tight they sound as a band. Indira is rumoured to be working with Joel Little (Lorde's producer) at the moment, so we look forward to hearing more from these up and comers who seem perfectly suited to Laneway.
- Lydia Jenkin
* Hugh Sundae will be hosting live web chats from Laneway, including interviews with artists and festival footage, for half an hour at 11am, 2.45pm and 6.30pm.