Geoff Thornley's accomplished new show is substantial in size, depth and intricacy
Anticipation of Art Week coming up from October 10 is stimulated by the varieties of style and tone of exhibitions already on the scene.
One of the most substantial yet subtle of exhibitions is by Geoff Thornley at Fox/Jensen. Only half a dozen paintings make up the show but it is substantial because of their large size, the depth of thought and their intricacy. They are full of movement but it is different from the wild movement of leaping figures that Thornley painted at the beginning of his long and accomplished career.
Some of them, the larger works such as With Division #24, are deeply contemplative in their pale, shadowy colouring. They are woven in abstract patterns and combinations of colour that continually allow new discoveries and subtleties. Forms appear, then fall back into the soft atmosphere of the work. This is the very opposite of minimal abstraction that enables the quality or idea to be absorbed almost at a glance.
They have no apparent subject outside of themselves. They are an involved and solemn result of care, contemplation and experience with effects possible only in paint. They have no politics or messages beyond the work itself.
The effects are mysterious in their making. The basic shapes are usually horizontal but ringing the change on their basic colour. Some are slightly darker and heavier in the lower half. The verticals flow like streams, meandering but always moving on. Shapes appear and are lost and reappear elsewhere yet the whole is coherent.
The usual way to talk about abstract painting is by analogy to music. This has been so since the beginnings of acceptance of abstract art more than a century ago. The vital influence was Kandinsky when he based his expressionist work on music and used terms such as Composition or Improvisation with opus numbers as titles.
Thornley's larger works are symphonic. Many different tones are harmonised. Smaller works, such as Untitled No 6, where gestural brush strokes are more apparent, are more like a concerto in the way one calligraphic shape is repeated with variations against a background of bands of colour.
Altogether it is a fine show that repays sympathetic, unhasty looking.
To carry on the musical metaphor, After the Rain by Max Thomson at Black Asterisk Gallery, is variations on a theme. The dozen or more paintings are all in a multitude of shades of green. Moreover, they all show places in public parks from Auckland Domain, through Western Park to Riverhead, although they are empty of people.
They are all concerned with effects of light across the grass and the shadows thrown by specimen trees, mostly exotics. The paintings are as green as the native bush but the feeling of these isolated trees and avenues is different in mood from any forest. The trees are isolated or in avenues and there is also a feeling of careful placement.
These open spaces, where the sky is not shown, take their force from attractive, skilful painting of the many shapes of mature trees. Way beyond the shadows lie contrasting deeper shades of hedges or thick foliage, adding a sense of mystery and richness to what could easily be a tidy, everyday subject.
The Village by Fatu Feu'u at the Warwick Henderson Gallery is mainly abstractions, which can be read as emblems for aspects of society and belief. They clearly refer to things beyond themselves.
The gallery is dominated by an exceptionally large painting that links the work to the artist's previous career. Aso Fanau has come back from an exhibition in Germany.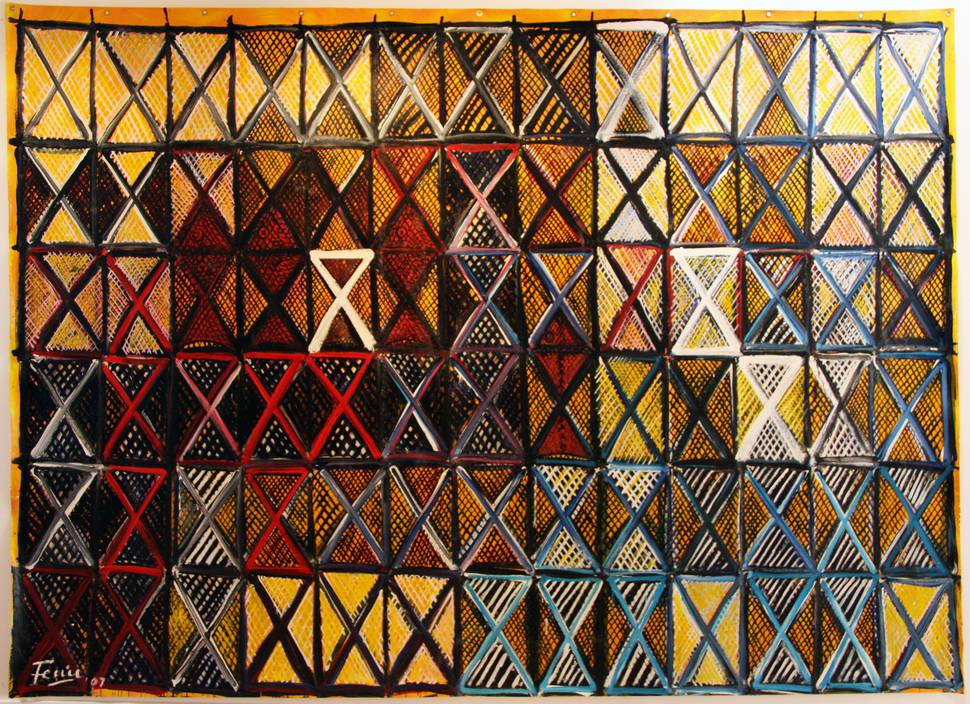 It is filled with crosses included in rectangles. They are all similar in form but each one is different in mood. The crosses are an emblem of earth and sky. Their ranks are the passing of days. Some are dark; some are filled with light. A few are marked with a kind of white lightning.
They are painted with an assured confidence and immediacy. The whole painting makes a grandly decorative work but it can be read in many ways that push it beyond pure decoration.
Aso Fanau is in keeping with Feu'u's usual manner but the rest of the paintings show him moving into new fields. The new works are a group called The Village.
Some are abstract designs with complex interaction between masses of energetic, solid forms in lines and curves related to each other in complex interaction. They go to the heart of the tone of community relationships with titles such as Think of a Garden or Sweet Water. A different set of curves and interaction is seen in Lagoon. These paintings are matched by two joyous works with stylised figures of children playing and dancing like detached notes of music. The changes in his fundamental style were brought about by a return visit to his home in Samoa and a lively grandchild dancing.
At the galleries
What:
Paintings by Geoff Thornley
Where and when:
Fox/Jensen Gallery, 10 Putiki St, Newton, to October 15
TJ says:
Master painter Geoff Thornley shows his compelling abstractions of great subtlety allied to an inner energy.
What: After the Rain by Max Thomson
Where and when: Black Asterisk Gallery, 10 Ponsonby Rd, to October 15
TJ says: An atmospheric series of studies in light, shade, and tones of green based on Auckland Domain and other parks empty of people after evening rain.
What: Paintings including The Village, by Fatu Feu'u
Where and when: Warwick Henderson Gallery, Level 1, 255 Broadway, Newmarket, to October 11
TJ says: A spectacularly large painting in his usual manner as well as works following a recent change in style related to a visit to Feu'u's home village in Samoa.