Senior constable shot while helping colleagues wrestle armed fugitive to ground in supermarket carpark.
Police are hailing an officer for his extreme bravery after he was shot while wrestling an armed man who attacked a woman in a carjacking bid outside a Hamilton supermarket yesterday.
Waikato police district commander Bruce Bird lauded the actions of the senior constable for his part in stopping the gunman, believed to be Rangiriri man Zeb McCallion, 35, whose alleged rampage began on Sunday when police say he pointed a gun at a Te Awamutu police officer before threatening a Kihikihi family and demanding their car.
Police caught up with the alleged offender yesterday after he had ditched the Honda Accord and allegedly stolen a Toyota Hiace van, which was fitted with a GPS locator, in Nawton, Hamilton.
Do you have more information? Email us here.
The driver raced through the central city to the Mill St Pak'nSave carpark, where police say he fled from the vehicle and attacked the woman in a bid to steal her car, before officers got to him.
As he was being wrestled to the ground, a shot was fired from his sawn-off double-barrelled shotgun.
It seriously injured him and caused foot wounds to one of the arresting officers.
Mr Bird said both he and Police Commissioner Mike Bush were "in awe of the absolute courage and dedication to duty" the police officers displayed in apprehending the man.
"This would be right up there in the very highest echelons to apprehend an offender that we know is dangerous, having access to firearms ..." Mr Bird said.
Witnesses later described the events that unfolded just before midday.
One woman said she saw the man leap from the van as it was still moving and run across the forecourt of the supermarket's service station towards the middle-aged woman, who was sitting in her Rav 4.
Mark Strongman, of Huntly, had just arrived at Pak'nSave with his wife Linda and their 9-month-old granddaughter Maia.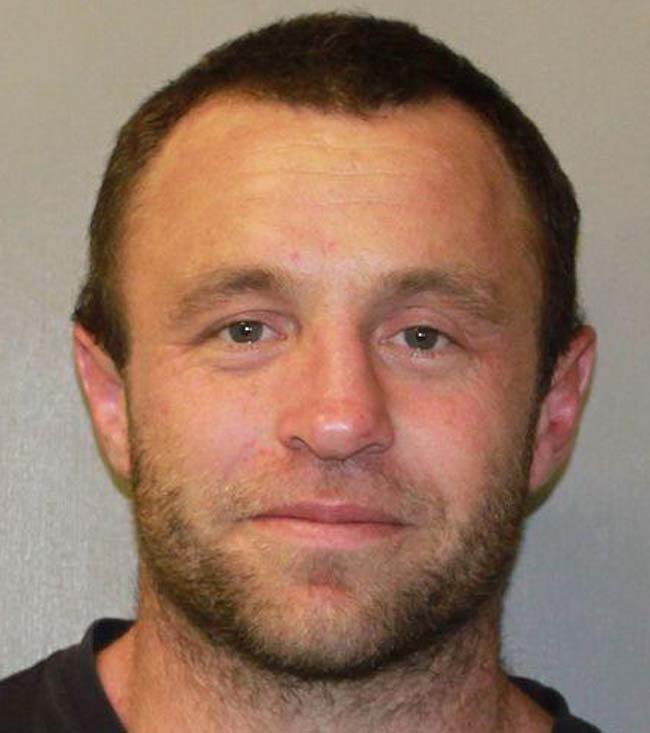 Zeb McCallion.
"[Police] had their sirens and lights on and came screaming in and I thought, 'Christ, what's going on here?'" he said.
Mr Strongman said he thought the man had a crowbar in his hands but then "it turned out to be a shotgun".
"He had a woman by the scruff of her neck and tried to haul her out ... She had the good sense to hang on to the wheel."
He said four police tackled the gunman, who went down fighting, and it took them several minutes to bring him under control.
"They went across the other side of the self-service sign and then we heard the gun go 'bang'. My wife panicked a bit but I said, 'Don't worry, it's a shotgun and it can't reach here'.
"I just made sure our granddaughter was safe."
Police said it was an extremely rare event for an officer to be shot while on duty.
The carjacking victim was "shaken" but "remarkably resilient considering the actions she was subjected to".
Commissioner Bush said it was timely to reflect on the courage shown by the three officers who put themselves at risk to protect a member of the public.
"The bravery of these officers in tackling an armed and dangerous offender to keep innocent members of the public from harm is in the finest traditions of the New Zealand Police.
"Credit also goes to all of the other staff involved who helped to resolve this highly dangerous situation."
Mr Bird said police would "absolutely" be considering the wounded officer, who has been on the force for about 10 years, for a formal award.
He said no charges had yet been laid against the man, who was admitted to Waikato Hospital, but several were likely.
The woman who was initially allegedly threatened by the gunman on Sunday, Lynley Melville, said she was at home making breakfast when the man burst in.
"And the next thing I turned around and there was this guy in my kitchen asking for my keys," she told Radio New Zealand.
"But I wouldn't give him my keys."
Ms Melville continued to refuse the man's demands, until he said he had a gun.
She went to her son William's room, where the man allegedly grabbed a set of car keys.
"He took off in William's car."
Ms Melville said she did not see the gun, "just a shape in his pocket".
The episode had shaken her, she said."I didn't sleep at all last night, I kept looking down the hallway to make sure he's not coming."