Rolf Harris, who has been convicted of being a serial sex attacker, faces the prospect of dying in prison.
The 84-year-old was found guilty of 12 indecent assaults against four women, the youngest of who was aged seven at the time of the attack.
It can be revealed that the Australian-born singer and artist, also assaulted a television celebrity as she interviewed him.
He groped the woman in front of a studio full of crew members in 1996 believing he was untouchable.
The assault can be reported after Harris, who first found fame in the Sixties, was convicted of the sex offences at Southwark Crown Court. He will be sentenced for the attacks on Friday.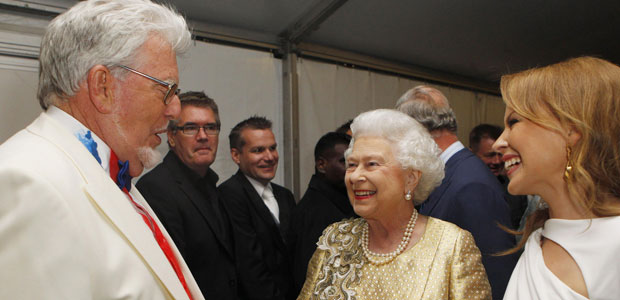 2012 file photo Queen Elizabeth II, centre, meets Rolf Harris and Kylie Minogue backstage at The Diamond Jubilee Concert in London. Photo / AP
The entertainer became such a part of the British establishment that he was awarded the MBE, OBE and the CBE, and chosen to paint the Queen's portrait to mark her 80th birthday. He is now likely to be stripped of the CBE, the highest honour. He could also see further charges after it emerged that dozens more alleged victims have come forward during the trial.
Harris, who was reputed to have an £11 million fortune, could also now face a string of compensation claims from his victims.
However, recent reports suggest that he may have taken steps to move assets out of his name, diminishing his apparent wealth.
Harris' crimes will lead to renewed questions about how another multiple sex offender was able to act with apparent impunity in the entertainment world for decades without being apprehended.

After the verdict, British police released this photo of Harris just after his arrest.
He was found guilty of all charges by the jury at Southwark Crown Court, becoming the second person after Max Clifford to be convicted by the Metropolitan Police's Operation Yewtree. The investigation was launched in the wake of the Jimmy Savile scandal to look at allegations of historic sex abuse.
But when news of his arrest was made public by the media, leading to more victims coming forward, there was widespread shock and disbelief that someone of his standing could be involved in child abuse.
Harris had dismissed the allegations as being fantasy, but the jury convicted him of all charges after eight days of deliberations.
Among those who made allegations against him was a well-known public figure who claimed he had fingered the elastic on her panties in front of a television crew.
The woman, who went to the police this year said he ran his hand up her thigh towards her buttocks. She said she had been extremely shocked by his actions but felt she was unable to confront him at the time.
Read more:
• Rolf Harris attacked TV host 'during interview'
During legal argument, not heard by the jury, Sasha Wass QC, prosecuting, said the woman's account was similar to many of the other victims' claims. The claims can only be revealed today after the judge refused an application to have the woman included as a witness in the trial.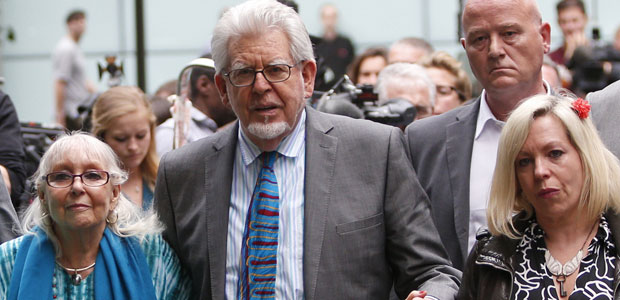 Rolf Harris leaves court supported by his wife Alwen and daughter Bindi. Photo / AP
Supported by his wife Alwen Hughes and daughter Bindi, throughout the trial, he showed no emotion as the verdicts were delivered. The judge, Mr Justice Sweeney, warned him he faced a custodial sentence, telling his lawyer: "Given the conviction on all 12 counts it is inevitable that the type of sentence that is uppermost in the court's mind is a custodial sentence."
Several women in his native Australia have made fresh claims of abuse and Scotland Yard detectives have been liaising with them about the possibility of further charges. Harris was convicted of groping one woman when she was seven or eight, another two as teenagers and a catalogue of abuse against his daughter's then best friend.
During the trial, the court also heard from six other women who claim they were groped by Harris.
After the verdicts, Harris walked away from the court, his wife and daughter by his side. Outside court Det Chief Insp Mick Orchard said: "Rolf Harris has habitually denied any wrongdoing, forcing his victims to recount their ordeal in public. He committed many offences in plain sight of people as he thought his celebrity status placed him above the law."
Next story: Judge warns Rolf Harris jail time likely after guilty verdict