The mother of Commonwealth Games judo silver medallist Adrian Leat has paid tribute to her son's bravery in performing so well just five months after his brother's death.
Alister Leat, son of Martin and Irene Leat, took his own life while competing alongside Adrian at a Games qualifying tournament in Bulgaria in February.
"Adrian texted me after it happened and just said 'I'm sorry mummy'.
"I said to him, 'No it wasn't your fault, it wasn't anyone's fault'."
Irene Leat spoke to the Herald on Sunday after Adrian's silver medal success in the men's 73kg class in Glasgow early yesterday.
An emotional Adrian, 26, dedicated the medal to his brother: "I hope that he's up there smiling as well."
His mum had been unable to watch Adrian's gruelling gold medal match with England's Danny Williams as the emotions were still too raw.
"I am extremely proud as a mother and happy for Adrian, but the other part of me is just so shattered and sad that my other son, Adrian's big brother, could have been at Glasgow as well."
She said the family could have been celebrating two medals.
"I believe Alister would have got a medal as well today so I can't help but think 'what if?' I should have had two boys there but only had one there."
Leat's win was part of a five-medal haul for New Zealand on day two of the Games yesterday.
The Leat brothers had trained together at the Judokwai North Shore club in Glenfield for 20 years.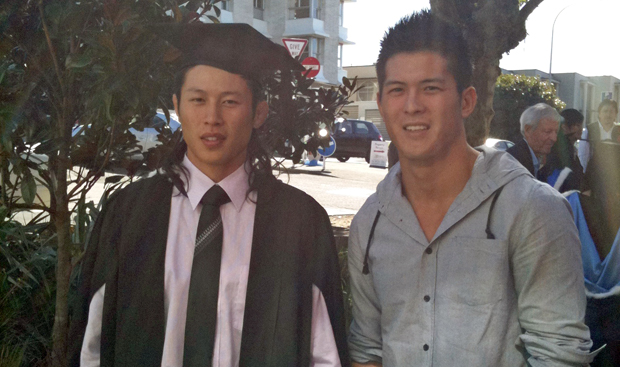 Alister Leat (left) with his brother at his graduation.
Yesterday, Adrian said the loss of his brother pushed him to excel at the Commonwealth Games.
"To lose him just a few months ago was more than I could handle and I was very close to giving up this sport, giving up this dream.
"But with a few strong people around me, and with my parents and my family, I got back on track. I'm here today and I've got a great result, so I've got to be happy with that. "It's a great shame that he couldn't be here to see [the final fight]. My medal is dedicated to him." Adrian, who found his brother's body, said the past few months had been "really, really tough" having to compete on his own, away from home, friends and family.
"But when the going gets tough, all I have to do is think about him, and I've got that extra 1 per cent where I can push through. That's easy motivation for me." As well as keeping him in his thoughts throughout the event, Leat competed with a more material memory of his brother — a tattoo that, when translated from Latin, read, "This is one of only two brothers".
"This was definitely dedicated to him and I definitely had it in mind the whole day," he said.
"I had a few emotional moments, especially during warm-up, when I thought about him, but you've got to try block that out and really focus on what you're doing up there." Alister, 28, was also a successful Judoka, having been listed to compete in the Beijing Olympics in 2008 before being ruled out with injury.
The boys' father, Martin Leat, said the family was grateful to the many people who have volunteered time and effort to help Adrian get to the games in Glasgow.
"Without them, Adrian wouldn't have made it there."
- Additional reporting Kris Shannon
Where to get help
• Youth services: (06) 3555 906
• Youthline: 0800 376 633
• Kidsline: 0800 543 754 (4pm to 6pm weekdays)
• Whatsup: 0800 942 8787 (noon to midnight)
• Depression helpline: 0800 111 757 (24-hour service)
• Rainbow Youth: (09) 376 4155
• CASPER Suicide Prevention
• If it is an emergency and you feel like you or someone else is at risk, call 111.