It looks like a giant piece of Lego - but it could be a vital building block in the urban intensification which is so clearly in Auckland's development future.
It's called PrefabNZ UNIpod and will be on show at the INEX interior and exterior design expo in Auckland next month (www.inex.co.nz), with visitors able to explore the prototypes - on display to the public for the first time.
UNIpod is a prefabricated, stackable bathroom and kitchen pod containing all the services - electrics, plumbing and ventilation - needed to host and operate a bathroom and kitchen. In the approximate shape of a big block of Lego, it is designed to be the nerve centre of any apartment, retirement home or even family home, providing all the key services for daily life.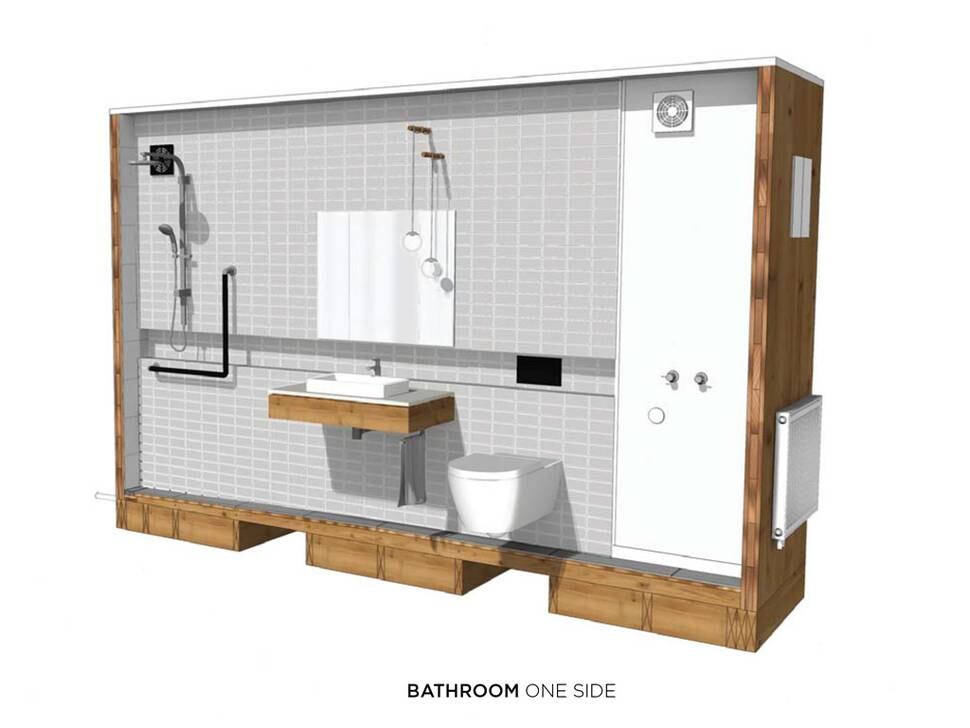 Why is this an important potential breakthrough? Because in Auckland, the unitary plan is calling for more intensive urban development and for up to 400,000 more homes in the next 30 years. A recent Treasury report says Auckland is currently 35,000 homes short (60,000 nationally).
So there are more people than homes - an imbalance city and national leaders are trying to address. While intensified development is the answer, or part of the answer, such building has to embrace quality, design, cost, speed, ease of construction solutions and more.
Quality prefabrication has a big role to play and UNIpod's open source pod technology is ideal for multi-residential developments, according to PrefabNZ's chief executive Pamela Bell.
"Prefabrication has to be a tool of our near future. The UNIpod, developed by the First Light Studio in Wellington, won a competition we ran, supported by the New Zealand Institute of Architects, the Retirement Villages Association, Lifemark and Victoria University's School of Architecture.
"It's the latest advance in prefabrication - taking over from previous developments like pre-nail roof trusses and wall frames, once a little-known concepts but now used in almost all new housing."
First Light Studio director Anna Farrow says the UNIpod is still a prototype - but the open source accessibility means anyone can pick up on the idea, improve it and put it into use.
"It is fully kitted out," she says of the pod. "It contains a bench, stove and a range hood on the kitchen side [of a double-skinned wall] and has room for optional add-ons like a dishwasher and laundry appliances - and the bathroom fittings back on to that.
"It's ideal for stacking, in a high-rise for example - the pods go on top of each other on each floor and make it very easy for the electrics and the plumbing to be connected up. The UNIpod are assembled off-site but are very easily transported to the development, wherever it is."
That could mean, in time, UNIpods have a wider range than just in Auckland - with many overseas cities having similar urban development needs.
"But the idea for now is to keep it open source so everyone can use it and maybe improve it," says Farrow. "It would certainly be great one day to walk into Bunnings or similar stores and see UNIpods for sale."
The concept of bathroom pods won support at the US Modular Building Institute's 'World of Modular' event in San Diego last year with cost-effectiveness and quality improvements heading the list of reasons to use them.
Time savings off and on site are also made (8 hours for a pod installation compared to 82 hours of conventional approach) and fewer defects (savings of up to US$700 per pod), safety, sustainability, convenience and profitability from economies of scale were all nominated by the Institute as advantages.
Interestingly, bathroom pods are not a new idea - they were used in accommodation at the Tokyo Olympics athletes' village in 1964, meaning our greatest track & field athlete, Sir Peter Snell, would have been an early user.
Similar pre-built bathrooms were also used for 350 homes as part of the Cromwell hydro scheme housing project and the company involved, De Geest Construction, has supplied over 7500 bathroom pods around New Zealand, Australia and the Pacific for hotel, hospital and residential developments.
But the UNIpod takes matters further by combining a bathroom and kitchenette and by becoming the nerve centre of the apartment or unit.
For more information go to www.in-ex.co.nz or visit www.facebook.com/INEXNZ/