Housing Minister Phil Twyford has referred a call to reform the $50 billion apartment sector to the Ministry of Housing and Urban Development.
Twyford last week got a draft bill proposing the overhaul of the Unit Titles Act from National MPs Judith Collins and Nikki Kaye.
Read more: National MPs Judith Collins and Nikki Kaye propose law strengthening in $50b apartment sector
"When I met with them earlier in the year about this, I acknowledged this is an important issue and one I am willing to work with them on. I'm happy to meet again once the Ministry of Housing and Urban Development have had a chance to consider it," Twyford said.
The Opposition MPs want long-awaited changes to the law governing apartments.
The act governs the management and running of thousands of apartments and the MPs want to strike a balance between the benefits of more compliance requirements and any potential costs.
The MPs see the opportunity to strengthen the existing regime in areas such as pre-contract disclosure, record keeping of body corporates, better management of conflicts of interests and proxy votes.
"The driver for this change has been concerns around a lack of transparency and inadequate long-term maintenance plans, and a clearer understanding of the role of a body corporate manager," Collins said last week.
Under-investment in long-term maintenance plans could result in large unexpected bills for homeowners if defects occur, or sharp rises in body corporate fees, the MPs said.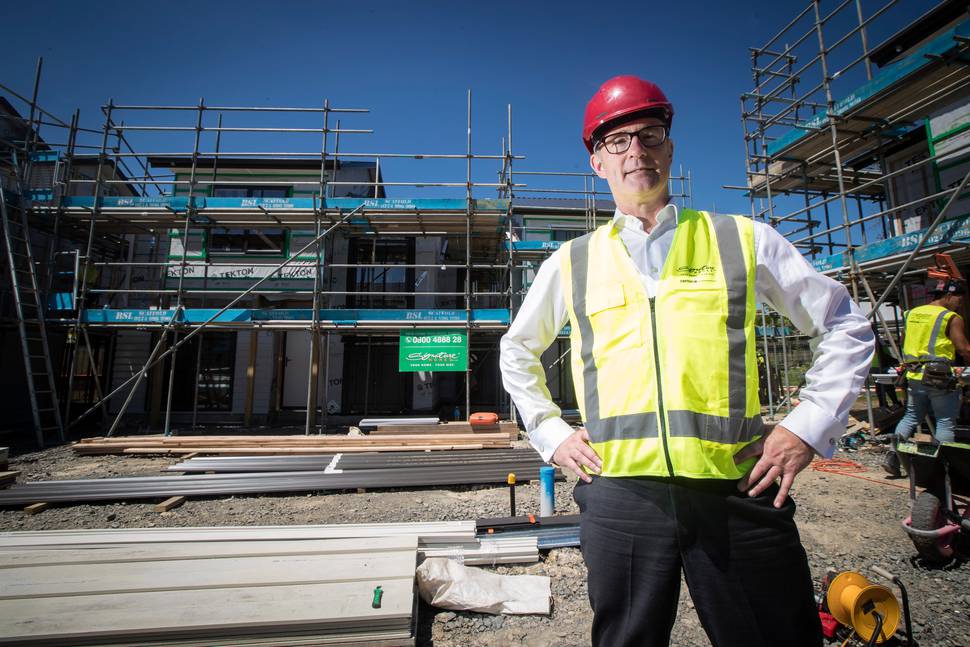 Twyford has already backed apartment law reform, but before Labour came to power. Last September, he said he also wanted change.
"We support reform of the act to update the rules on bodies corporate, giving more transparency and accountability and properly funded asset management plans."
The Act's governance provisions were too weak and there was a problem around long-term maintenance plans, Twyford said around early September, 2017.
He said the Act was not fit for purpose and a number of alarming cases illustrated defects around requirements for properly funded long-term maintenance plans and weaknesses in the governance requirements for body corporate managers.
The spotlight had gone on these problems with major weathertightness repairs to blocks which were shoddily built, Twyford said.
But one source close to the ministry said apartment reform was not "top of the list" due to work being carried out on the Government's healthy homes push as well as reform of the Residential Tenancies Act.
Although apartment reform was certainly seen as desirable, other Government initiatives were far more of a priority, the source said. If any moves are to be made on the Unit Titles Act, it is unlikely to be imminent.
Kaye said it was positive that Twyford had sought advice, given the major push from many sectors for law reform.
"I hope to meet with him and Judith Collins to try to ensure this legislation is progressed as soon as possible. The Home Owners & Buyers Association, the Body Corporate Chairs Group, the Real Estate Institute and the Auckland District Law Society all supported the change."
Rosanne Meo, Real Estate Institute chairwoman, expressed strong support for the law changing, saying there was an urgent need for greater transparency and greater access to key information for apartment buyers.
"With more people looking to buy apartments, whether as affordable housing or a luxury home, especially in our larger cities, it is imperative that purchasers can have confidence that their body corporate committee has a code of conduct to abide by and that conflicts of interest are disclosed by committee members and body corporate managers," she said.
REINZ wants body corporate as well as property managers to be licensed because they hold significant funds in their accounts.
The Home Owners & Buyers Association said it was routinely involved in resolving fallout from issues directly related to the "deeply flawed act".
Multi-unit dwellings all over New Zealand faced huge repair bills because of defective construction or lack of proper maintenance, it said. Owners were reeling at costs and the elected bodies corporate officers were struggling to work through complicated issues and they were not helped by the legislation.
Many issues were addressed in the draft bill "but much of the existing legislation remains flawed, unworkable and badly misunderstood by owners and bodies corporate alike. This results in uncertainty, stress, and often unnecessary expenses," said HOBANZ president John Gray.
He hopes Twyford takes urgent steps to adopt the proposed bill, "and we'll be pressing for much-needed, broader amendments to the bill when it makes its way through the select committee process".