Renting holiday homes has become a booming business in the Bay of Plenty - with one online booking site seeing an 81 per cent increase in listings in the area.
Tauranga and Mount Maunganui were listed as the third most popular holiday destination in New Zealand this month by both Bookabach and AirBnb – the two leading holiday rental websites in the country.
The increase in the number of listings in the city and region was significant on both sites.
There were 368 holiday homes in Tauranga/Mount Maunganui listed on Bookabach in 2015. As of earlier this month, there were 667 – an 81.25 per cent rise.
From 2015-2016 there was a 43.8 per cent increase in Bookabach listings in Tauranga/Mount Maunganui and it had continued to grow – 14.4 per cent between 2016 and 2017 and 10.2 per cent between 2017 and 2018.
Bookabach said the increase showed more owners were jumping on board and renting out their homes as visitors to the region increased.
On AirBnb, there are now more than 1200 listings in Tauranga – an 81 per cent growth year-on-year, with more than 2600 listings on the site in the wider Bay of Plenty region – a 76 per cent increase.
Tourism Bay of Plenty's Kath Low said the organisation was delighted to see the region feature on the lists.
"This region has been a holiday destination of choice for many decades and our VFR (visiting family and relatives) statistics are extremely high."
She said visitor spending in the Bay of Plenty, which was the national metric for tourism growth, was above the national average.
"However our commercial bank of accommodation is proportionately smaller when compared with the other major centres. Therefore it is no surprise that private accommodation and bach/AirBnb style accommodation is sought after."
Low said feedback suggested the region's commercial accommodation providers had been busy as well.
"When considering that Tauranga is one of the fastest growing regions with enormous commercial and tourism-related businesses being undertaken, there is demand for accommodation across multiple sectors."
Accommodation New Zealand Bay of Plenty chairman Tony Bullot said with tourism and events in Tauranga still on the rise, it was a growing market.
"And our members haven't seen a drop in demand but I do think the rise in Tauranga residents looking for emergency housing is related to homes they previously would have rented being converted to short-term rentals," Bullot, also the owner/operator of 850 Cameron Motel, said.
Bookabach's top 11 holiday destination list was collated from sales data and surveyed the most bookings between December 22 and January 7.
Coromandel and Lake Taupo were first and second respectively and Rotorua was fourth.
Western Bay of Plenty, which included Waihi and Papamoa, was seventh on the list. The list was based on the volume of bookings, not number of nights booked.
Meanwhile, AirBnb had Tauranga behind only Auckland and Queenstown in its top 10 New Zealand travel destinations, based on bookings during December and January.
Rotorua was sixth.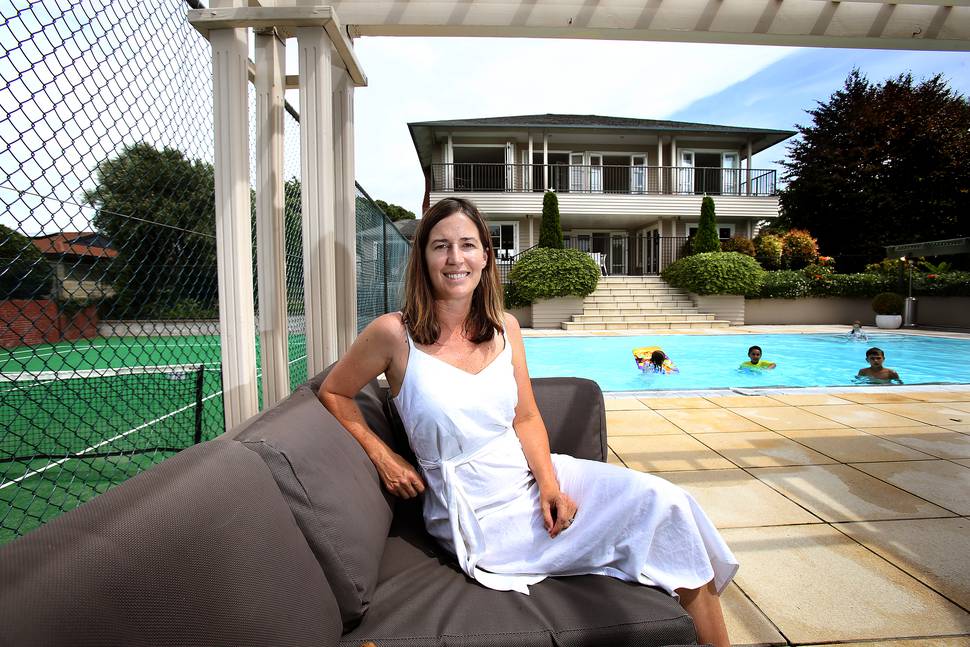 When Rebekah Hynds and husband Paul Young moved to Tauranga from Auckland, they were looking for a lifestyle change.
They found "Strathmore House" – a five-bedroom Matua home – and with it an alternative way of making money.
"When we saw the property it seemed a little bit extravagant at the time but we thought there's more than one way to skin a cat," Hynds, 39, said.
The property has a tennis court, a pool, a games room with a pool table, a gym, three bathrooms, three living areas and seven beds.
The couple bought the house about two years ago and in September 2016 started renting it out.
From $695 per night up to 12 people can stay there.
Hynds said they rented the house – which the family lived in – about 50 nights last year.
They stay with her family who live locally when it is booked.
Over Christmas, Strathmore House had one booking for 15 consecutive nights and before that – with a same day changeover – it was five nights. The weekend before it was two nights.
Guests were "from all over the place".
She said renting out the house had enabled her family to achieve the lifestyle they wanted and she was able to stay home with the kids and be home for them after school.
"I think people are getting a little bit more creative about how they make money and it's not just about working a 9-5 job, it's looking at what assets you have and how you can generate income from them," Hynds said.
The stay-at-home mum is starting a new business – an online store – and Young, 46, is a project manager for Bunnings.
Fast facts
•The average cost of a Bookabach property in Tauranga/Mount Maunganui was $365 per night, while it was $318 in the Western Bay.
•Bookabach data showed more than half of the holidays booked online this summer were more than six months ahead of the planned holiday dates.
•Bookabach said travellers, especially those based in Auckland, liked to holiday only a few hours drive from their home over the summer.
•The average AirBnb host in Tauranga is 47 years old.
•The majority of AirBnb hosts in Tauranga are women (76 per cent female, 24 per cent male).
•The average length of stay in Tauranga by AirBnb guests in 2.6 nights.
•The average AirBnb host in Tauranga earns $3000 a year.
•Nights hosted for a typical Tauranga AirBnb listing is 23.
Source: Bookabach and AirBnb