Shares in outdoor equipment retailer Kathmandu Holdings have risen after it posted a first-half result slightly up on last year.
The Christchurch-based chain reported net profit after tax of $10 million for the first half of 2017 to January 31, up 6.4 per cent on last year.
Total sales were $196.3m compared with $196m for the first half of 2016. Shares opened this morning at $1.93 before rising 0.52 per cent to $1.94.
Chief executive Xavier Simonet said the company had been affected by a strong US dollar but the results overall were in line with expectations.
"It is pleasing to exceed last year's first-half net profit while absorbing [about] $4m of adverse foreign currency impacts in gross margin," Simonet said.
"We achieved strong same-store sales growth in Australia which is our largest market, as we maintained rigorous cost control and continued to drive working capital efficiency," he said.
Same-store growth was up 3.4 per cent on a constant currency basis the company said. The result was in line with Kathmandu's latest guidance issued last month.
Most of the company's sales are from its Australian market with first half sales of A$121m ($132.72), up 1.8 per cent.
"It's not a bad result - same-store sales gained in Australia, up 5 per cent and in New Zealand 2 per cent," said Mark Lister, head of private wealth research at Craigs Investment Partners. "Retail is still in a reasonably tough environment at the moment."
Lister said the company has made some headway in addressing some of the strategic issues that were compounded by unfavourable weather, but there was still a way to go in "bringing the business back to its former glory" when the shares traded around $4 apiece.
New Zealand is Kathmandu's second largest market, with total first half sales of $68.8m.
Sales in the UK declined slightly with the closure of three stores which the company said reflected its decision to focus on international growth through online channels and wholesale partnerships rather than its own bricks and mortar stores.
Simonet said the company was in the process of finalising agreements with a few strategic retailers in the UK and Germany to run trials with Kathmandu product in their stores for European winter 2017.
The company closed one store in Australia while opening two more, saying it would continue to expand its footprint in the country as was justifiable.
Online sales increased by 18 per cent, with online now making up 7.4 per cent of total sales.
The business, which under previous management had been criticised for carrying excessive stock, reduced its inventory by 6.7 per cent or $6.9m from $103.3m worth of inventory in the first half of 2016 to $96.4m this half.
"The reduction in inventory is the result of our continuing investment in forecasting and planning technology since FY2014," the company said.
"More accurate buying, to reflect store range differences, provides efficiencies in our working capital requirements."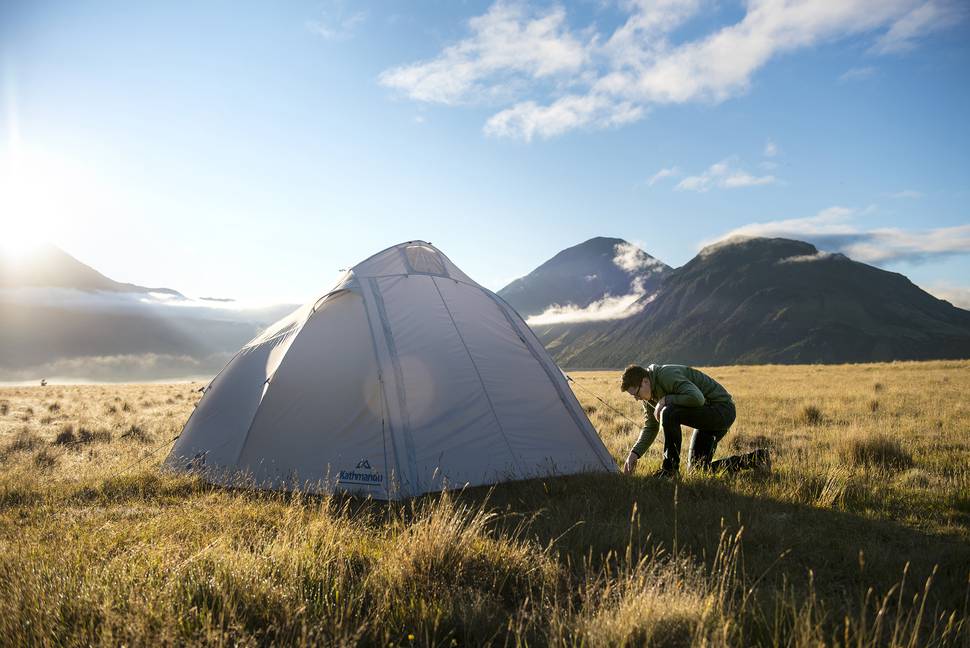 The company also invested $6.8m in projects during the first half, primarily in the expansion of its store network, as well as completion of its Melbourne distribution centre which it said would support its future growth plans.
"We have had a solid start to FY17, but as always the success of our full year result will hinge on key sale periods that fall in the second half," Simonet said.
"We have worked hard to minimise the impact of currency on our gross margin through sourcing negotiations, product newness, price action, improved stock management and cost control."
He said maintaining gross margin and operating efficiency would continue to be a key focus for the business.
"The Australasian business provides the foundation for our brand to expand internationally. As we look forward past FY17, I am excited about the progress we are making towards securing new international wholesale relationships."
Simonet took over as chief executive in January 2015 and under his management, the company has opted for a more cautious approach to sales and keeping expenses under control.
"Last year we focused very much on reducing costs and driving efficiencies, and for the last six months we've really delivered sales growth," Simonet said.
"Over the last few years we've invested a significant amount of money in Australia and opened many stores and now is really the time to leverage our investments, drive market penetration and generate growth."
Kathmandu would pay an interim dividend of 4 cents per share in June. The company's share price has risen 23.54 per cent in the last 12 months.